Immigration Reform Issue Threatens Families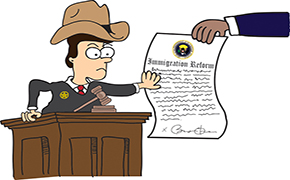 Sophomore Naidu Hernan­dez is seeing history re­peat itself. Families across the nation will be torn apart if the federal government doesn't step in.
"I've seen in the news – this was a couple years ago: this mom and dad were deported, and their kid was two or three," Hernandez said. "They didn't even have time to decide if they wanted to take him with them."
These stories hit close to home for Hernan­dez, whose parents immigrated to the United States from Mexico 25 years ago. More recent­ly, at the school Hernandez at­tended before Hockaday, her mother faced discrimination due to her race during an argument with administra­tion, when the principal threatened to call the immigra­tion authorities.
"My mom was like, 'do it!'" Hernandez said. "The principal thought that she was illegally here, but she wasn't. The princi­pal didn't know that."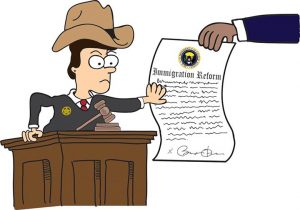 However, some kids face very different situations. When it comes to those circumstanc­es, Hernandez has just one question: "what's going to hap­pen to the kid?"
A question she may very well ask, in light of Texan judge Andrew S. Hansen's overturn of President Obama's recently proposed immigra­tion reforms. On Feb. 16, Han­sen challenged the reforms as they applied to Texas, claim­ing that they had overstepped boundaries between federal and state legislation.
The majority of these proposed federal reforms fo­cused on undocumented im­migrants currently in Ameri­ca. One specific change is the Deferred Action for Parents of Americans Act, which would protect the parents of children born in the United States by preventing their depor­tation.
Without these chang­es, keeping families to­gether is the main goal for many organi­zations that sup­port im­migrants and refugees, such as Mosaic Family Services. Mosaic provides counseling and protection for immigrants, ref­ugees and victims of abuse and violence. They also serve as ad­vocates for anti-trafficking and youth outreach. The Hockaday Human Rights Committee vis­ited Mosaic on March 21 to help clean the family center and give gifts to the children there.
Meijken Westenskow, who works at Mosaic as the legal di­rector, feels that the overturn­ing of these proposed reforms "touches on one of the greatest tragedies in our current immi­gration system."
"Judge Hansen halting the executive action has been tremendously deflating for im­migrant communi­ties," Westenskow said. "These actions have a potentially life-changing im­pact on immigra­tion communities."
Hansen was not the only judge who disagreed with these reforms. Twenty-five other states ruled similarly, for a vari­ety of reasons, including stron­ger state economies and federal border security.
For Texas, reasoning cen­tered more on the former. The state government claimed that it wanted to decrease the num­ber of driver's licenses being sold to illegal immigrants, since the licenses cost more to print than they are sold for.
However, for the fami­lies they would affect, the re­forms mean so much more– they would help families stay together.
Senior Elizabeth Bell, co-president of the HRC, has been keeping up with the news about the overturn of the re­forms. "It seems like [Obama] proposed reforms that would help people," Bell said, on those immigrants already in the country. The reforms proposed "a whole list of different condi­tions that would help them" to stay in America.
The reforms were meant to focus on immigrants who "[do] not have a criminal his­tory and [have] strong ties to the United States," Westens­kow said. These strong connec­tions can include having chil­dren who are citizens, having come to the United States as a young child or having strong employment connections.
Looking to the future, Bell acknowledges how difficult it is to make a hard-and-fast rule when it comes to a family's legality. She suggests using a "case-by-case basis and paying attention to the situation."
Hernandez had a firmer stance on the issue, though less on the legality of it and more on the ethicality. "Texas has a lot of issues and a lot of things to deal with, not just immigration," Hernandez said. "I just have a thing against families being separated in general."
Because she is in contact with so many families through Mosaic's legal department, Westenskow knows firsthand the struggles they go through to stay together. "Many parents make tremendous sacrifices to raise their children here in the United States," she said.
President Obama met with immigration advocates on Feb. 25 to try and further the reforms.
– Maria Katsulos