The Basis Behind the Binge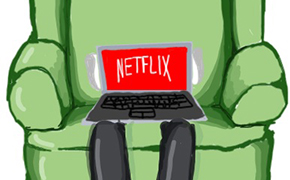 A recent study reveals new findings about watching Netflix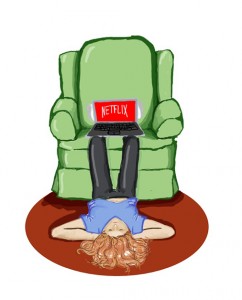 It's Saturday night and soph­omore Emma Deshpande has been in her bedroom for the past three hours watching Netflix from her lap­top. It's dark and the only thing that can be heard, besides the video she is watching, is the sound of her munching on oreos and ice cream.
She is not alone. Seven­ty four percent of the Upper School spends two or more hours at one time slumped in their bed or couch watching Netflix on their laptops, accord­ing to a survey of 210 students.
Chad Bingo, a senior at Si­ena College in Albany, N.Y., who is majoring in actuarial science and marketing and has been studying the phenomenon of binge-watching, specifically through Netflix, wouldn't be surprised by this number.
"It isn't that uncommon for people to watch an entire series in a weekend, and that's what we were trying to ex­plore," Bingo said.
Bingo, whose work was featured recently on the Na­tional Public Radio last Febru­ary, said it is extremely diffi­cult to define "binge-watching" since episodes are of different lengths. He has been research­ing the actions of Netflix and television viewers along with his marketing professor Raj Raj Devasagayamsince his sophomore year.
When Bingo researched the term "binge-watching" before he started this study, he did not find anything pub­lished in scientific journals. The term was mainly used in popular media.
Deshpande is an avid Netf­lix viewer but does not see her­self as a binge-watcher.
"I consider myself a Netf­lix enthusiast," she said.
Unlike other scientific fields, extensive research is still yet to be done on this topic.
"We haven't really seen anything, which is one of the reasons why we are push­ing this," Bingo said. "It's be­coming very popular for the public and everybody else, including myself, to watch this way, but no one has re­ally dove into why people are doing this."
At first, Bingo's research focused on why people view so much TV and why they watch episodes back-to-back. Between his sophomore and junior year of college, he started conducting focus groups and surveys.
He asked his focus groups questions such as, "have you ever felt addicted to a show? Who is your favorite charac­ter?" And he discovered a com­mon theme in the answers.
"We were finding that there is this whole relation­ship that we are forming with the characters. That, we believe, is what is caus­ing it," Bingo said. "It was as if [the viewer and character] were dating."
The feeling he discovered that people were experiencing after finishing a series was sim­ilar to that of finishing a book.
"Have you ever read a great book? You know you finish the final page in the book, and you close it, and that's it? You are never going to get that feeling of reading it for the first time again, and if it's the end of a series, you will never get any­thing else other than that," Bin­go said. "They were feeling this [empty feeling] because they wouldn't be able to see their fa­vorite characters anymore."
In some instances, Hocka­day students are a testament to Bingo's findings. Sophomore Asiyah Saeed feels this empti­ness after finishing a series that has aired for multiple seasons, such as "Psych" and "Monk."
"Short series, you don't get as attached, but shows that have been going on for years and have a lot of episodes, and they are really good shows, you feel sad when they are over," Saeed said.
This, however, isn't always the case. Deshpande does not relate to the characters from satirical shows such as "Ar­rested Development," but she, like Saeed, feels connected to characters from certain shows.
"On a really dramatic show like "One Tree Hill" and "The West Wing," you kind of grow to be attached to these other characters," Deshpande said.
Some characters are so impactful that students think about them outside the realm of Netflix. Sophomore El­lea Lamb sometimes see things that remind her of her favorite TV show characters.
"The other day, I saw a dress and was like 'hey, that looks like some­thing Blair Wal­dorf would wear,'" Lamb said.
Bingo's survey tar­geted four focus groups of a variety of ages: the first was high school se­niors over 17, the second group included people between the ages of 40 and 80 and the other two focus groups were parents and young professionals ages 25 to 35.
The minimum age re­quirement for a research sub­ject at Siena College is 17 years old. Thus, younger groups could not be surveyed. Al­though the ages of people sur­veyed were variant, the results were consistent throughout all four groups.
One of the first things Bin­go's survey found was that people thought about charac­ters from their television series during the day and paid special attention to certain characters whenever the show was on.
"People were admitting to feeling addicted to shows in each bracket," Bingo said.
However, Bingo could not entirely explain why this occurred.
Furthermore, he has re­cently released another survey that is expect­ed to be com­pleted by May and will try to define "binge-watching." Bingo is currently waiting for 400 plus responses.
"We have an idea [of the re­sults]. We think something is there," he said. "We believe that this is it, but we need hard data to back it up, which is what we are trying to do right now."
– Sonya Xu