Stronger Alumnae Chain Wanted
Visioning Day sparks discussions on the need for stronger alumnae-student connections.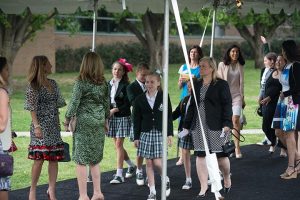 The need for stronger alumnae-student connections rose as utmost priority out of the many conversations stemming from Visioning Day.
While many attendees provided positive feedback on these relationships, others expressed their desire and hope for stronger connections through school events and programs.
Director of Alumnae Relations Amy Spence finds alumnae can inspire students in unique ways.
"Alumnae are role models and inspire our girls to take risks in life that they might not otherwise take," Spence said. "Our girls see Hockaday alumnae doing things that they did not know were available to them, and they are inspired to go into the world to try new things."
Senior Madalene Danklef, Student Relations Board Chair and member of the Student Relations Board for four years, said, "We as high school students especially are always seeking college and career advice, and I think alums provide a unique perspective on this because they were once sitting in our seats at Hockaday.
She also thinks that  these connections would be a very good resource for Hockaday students when they graduate and are potentially looking for a job or move to a new city to reach out to and network with fellow Hockaday alumae.
Two longstanding Hockaday programs that connect alumnae to students are Net Pals and Daisy Chain.
Net Pals is an online pen pal program in which alumnae serve as mentors to students by providing career and college insight and mentoring.
Alumnae who participate in Daisy Chain help Hockaday's most recent graduates become adjusted and acquainted with the new cities they have moved into for college.
Net Pals and Daisy Chain have made significant impacts on the lives of current students, recent graduates and alumnae.
"There are countless stories of alumnae who have secured internships, job interviews and careers as a result of an alumna connection they made," Spence said. "Alumnae are great resources for our girls and are willing to provide assistance and guidance to other alumnae."
Two examples of such successful connections include an alumna in the film industry who invited her Senior Project intern to work on a professionally made film, and a Daisy Chain participant who formed a strong friendship with a recent graduate. Senior Project Week was a program that connected seniors to alumnae who provided them with internships.
The friendship probably would never have existed without Daisy Chain, Spence said of the latter example.
George Lamb, a member of Hockaday's Board of Trustees and father of senior Charlsea Lamb and sophomore Ellea Lamb, also attended Visioning Day and he found many of the conversations useful.
"I heard that both students and alumnae would like for their connections to be closer," Lamb said. "It is not that the relationships between them are strained or missing completely; just that both groups would like to enhance those relationships."
Lamb believes that the ideas from the discussion have the potential to be successfully implemented.
"The strategic planning process growing out of Visioning Day has not yet reached the point of designing initiatives to improve alumnae-student relations," Lamb said. "I do expect, however, that the planning process, with input from alumnae and students and other stakeholders, will include specific initiatives on this point."
According to Danklef, one specific networking idea that originated from Visioning Day discussion was giving current Upper School students a list of alumnae who would be willing to communicate with students about their professions in an effort to provide internship or volunteer opportunities to current students.
Danklef said that another possibility, if the list did not work, was just "generally fostering communication between alumnae, specifically young alumnae, and students."
But there are more ways for current students and alumnae to connect. According to Spence, Senior Project Week, Middle School Career Day and Hats Off to HAARTS are useful networking programs as well.
Carol Wasden, director of college counseling, mentioned her office's use of Naviance to connect alumnae with current students.
"In the college counseling program, we add into each college's profile in Naviance the names and e-mails of Hockaday graduates who are enrolled there," Wasden said. "As juniors and seniors research colleges, they can reach out to alumnae at colleges they have an interest in attending."
The college counseling office also facilitates opportunities for juniors to speak to college-age alumnae at an annual January panel and for seniors to speak to them at end-of-senior-year "off-to-college" programs.
Spence finds that there will be more opportunities for students to establish relationships with alumnae, as the alumnae relations department is listening carefully to new ideas and working to implement them.
"The Alumnae Association will continue to offer our successful programs such as Net Pals and Daisy Chain, and we will work to ensure these programs are filling the appropriate needs for alumnae and student participants," Spence said. "We are also committed to discussing and implementing new programs that would benefit alumnae and students over the next 100 years."
– Catherine Jiang