Beads Bring in Business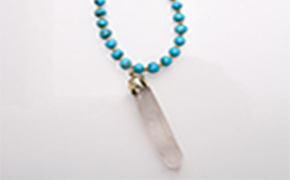 Three juniors start up new company GCE Jewelry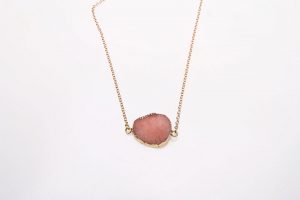 At noon on a Sunday, juniors Caroline Slaton and Grace Warner sit down be­fore a table covered with glass beads, clasps, statement beads, stones and pendants. Each grabs either a piece of metal or stretch cord from a spool and begins to weave in different colored beads, forming two bracelets.
Later in the day, junior Emily Routman takes those bracelets and begins to plan the next trunk show.
GCE Jewelry, as in "Caro­line," "Grace" and "Emily," has had more than 300 or­ders and two trunk shows, one on Jan. 17 and the other on March 1.
In both trunk shows, GCE Jewelry was able to reach its sale goal, almost selling out of products.
Junior Sadie Lidji, who bought a beaded necklace from GCE Jewelry, gave the company a positive review.
"I bought it because I re­ally love the design and also because I wanted to support friends and people my age in pursuing small business," she said.
GCE Jewelry finds its in-person customers at Hocka­day and its other custom­ers through a shop on the online marketplace Etsy, as well as its Instagram page, gce_jewelry.
"We're starting to get it out there," Slaton said.
However, in the process, they have had to make fi­nancial sacrifices.
"We have to spend money to make money," Routman said. "We dip into our personal funds to buy supplies. We still need to find the balance of buying the right supplies for the demand of the customers."
Slaton and Warner credit their spontaneous personalities for inspiring them to create GCE Jewelry. Routman joined the compa­ny shortly after Slaton and Warner founded it.
"Basically, we went to Jo- Ann's one day and were like 'let's make some homemade jewelry,'" Slaton said.
This spontaneity fits perfectly with their love for jewelry.
"I love necklaces, and I love stacking necklaces," Sla­ton said. "I got tired of paying for nice jewelry, so I decided to make my own."
While Routman, Slaton and Warner all make jewelry and help publicize, they split their work in other areas.
Routman's is the com­pany's organizer. She drafts emails to possible buyers, runs errands, plans trunk shows and makes legitimate business decisions.
Slaton and Warner work more on the creative side of the company and are the pri­mary makers of jewelry pieces.
When Etsy or custom or­ders arrive, however, there is a designated person to buy the supplies, another to make the piece and another to ship it.
Routman, Slaton and Warner find that they often collaborate informally by building off of and improving each other's ideas.
"The first time we made bracelets, we kind of sat down and did it together while watching Netflix," Warner said. "We would make some­thing, one of us would take ideas from the other, build on it and make something else cool. We just really build off each other's ideas, and it works really well."
Slaton and Warner find that making jewelry for the company is a "huge stress re­liever" and "very satisfying."
Routman agrees that making jewelry is entertain­ing but also educational and helps build character.
"At first it was for fun, but now I think all three of us genuinely enjoy the business aspect of it as well," Routman said. "We have learned so much about demand, suppliers and profit. This is really helpful to get a taste of 'the real world' of business. Maybe we will pur­sue a career in business."
The three students are in­creasingly focused on grow­ing their business.
"It's a great way to make money. It's something that we enjoy," Warner said.
Although they do not have an official mentor, they seek advice from Warner's mother, Suzanne Warner, who works in the fashion industry.
"I always wanted the girls to be inspired and feel em­powered from within," Su­zanne Warner said. "They did it their way and stayed true to their design DNA and core target market."
Suzanne Warner has a hands-off but readily avail­able approach to providing advice to the three budding businesswomen.
"Our relationship can be considered thought-proving," Suzanne Warner said. "They receive a rhetorical answer from me for any questions they have. I would answer one question and they would move with it in many ways."
Slaton, Warner and Rout­man passionately take the el­der Warner's advice and put it to good use.
"I think we are really look­ing forward to creating more of a name brand, hopefully selling our jewelry in several stores and reaching a wider network," Routman said.
For GCE Jewelry products, go to https://www.etsy.com/ shop/gcejewelry.
– Catherine Jiang