Alumna Broadens Her Career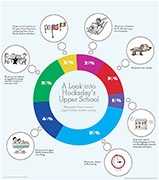 Alumna Sally Horchow enters the Broadway production scene like her father Roger Horchow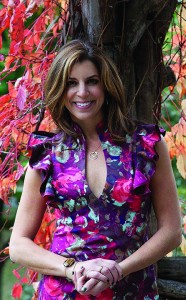 Careers are, for the most part, guided by profes­sional experiences gained during adulthood. The last place you would expect pro­fessionalism to come from is an elementary school classroom.
But for alumna and Broad­way producer Sally Horchow '88, skills she currently relies on were attained during her lower school days.
"Certainly learning to be a good decision-maker and a leader were skills that I learned at Hockaday, from day one in Mrs. Charlene Levering's first grade home room," she said.
While Levering played a meaningful part in Horchow's development, her father was also instrumental in her success.
As a child, Horchow and her two sisters (Regen Fearon '80 and Lizzie Routman '82) ate, slept and breathed the life of the theater. Horchow's father, Roger Horchow, became a note­worthy producer after he sold his family company, the Hor­chow Collection, in 1988. His initial production, "Crazy For You," went on to win the 1992 Tony Award for Best Musical.
Throughout her child­hood, Horchow studied the tac­tics of her father. As an adult, Horchow realized that she was interested in the production business and joined her father.
"I have been watching and learning what I could all these years, as I had other jobs in oth­er industries, from his hands-on experiences," Horchow said.
Before she became a pro­ducer, Horchow dipped her toes in the water by assisting her father.
"I simply gave my opinions and consulted with my dad about the projects that he was investing in through his com­pany, RH Productions, in which my two sisters and I are part­ners," she said.
Now, as a producer, Hor­chow has filled the big shoes that her father set out for her.
Her job varies with each and every show that she takes on. For some shows, Horchow must deal with all of the chal­lenges that come with funding a Broadway show.
"[Production] always in­volves raising money to get a show up and running, and then after that, you oversee all the ways in which that money is spent–like in advertising and marketing the show," Hor­chow said.
Other times, Horchow takes more of an inventive role in the production of the musi­cal or show.
"Sometimes, it's more cre­ative–like if you obtain the rights to a project and put the creative team together–or if you are involved with the cast­ing," Horchow said.
Within this creative team, Horchow works with the direc­tor to cast the production and later with the other various de­partments.
James Lapine, the director of the 2012 Broadway revival of "Annie," worked closely along­side Horchow throughout the duration of the production. "Annie" was Horchow's first-ev­er show and went on to receive a Tony Award nomination for the Best Revival of a musical.
Lapine has worked in both theater and Broadway, amount­ing to more than 35 years of ex­perience. Based on his experi­ences, Lapine believes that the duties of a producer err on the side of advertising.
"As a producer, one has to also keep an eye on the budget of a show and make important decisions about how a show is advertised and presented to the world," Lapine said.
According to Lapine, the struggle with the production was portraying the disparity between rich and poor. Fortunately, the producers played a large role in making sure this happened.
"Sally Horchow and my fellow producers were greatly supportive in my efforts to re­think the show and at the same time be respectful of it and honor all that is great about it," Lapine said.
Most recently, Horchow and several other producers collaborated on a recent Broad­way show, "The Heidi Chroni­cles," which made its debut on March 19 in New York City.
"The Heidi Chronicles" is a musical based off of the original play created by Wendy Wasserstein, a famous female playwright. It spans 20 years of protagonist Heidi Holland's life as she takes on the world of men, politics and feminism. Under Wasserstein, the femi­nism-driven play won both the Pulitzer Prize for Drama and a Tony Award for Best Play.
Although Horchow faced the challenge of matching the vigor and tenacity with which Wasserstein first produced the show, she noted the positive points about the revival of "The Heidi Chronicles."
"Wendy Wasserstein was a beloved, talented playwright, and besides the fact that the play is so wonderful, witty, clever and poignant, there are many people who remember her fondly and are excited to see her work again," she said. Horchow and the other pro­ducers are thrilled to bring Wasserstein's work to another generation of theatergoers.
Horchow worked along­side several other producers, as well as the rest of the cast and crew. According to Will Trice, one of the producers who worked with Horchow, ev­erybody on a producing team brings something different to the table.
"Sally is extremely intel­ligent and passionate about ["The Heidi Chronicles"]. Her voice in the room is always in­sightful," Trice said, attesting to Horchow's love for production.
Although Horchow's life now seems consumed by the world of production, she de­veloped a love for design and lifestyle before her work in theater. She continues to carry out these passions to this day through a website called Joyus. com, where she is able to ex­ercise her expertise in these areas, while simultaneously opening the new chapter of production in her life.
"I'm currently consulting with an online retailer based in San Francisco that uses shop­pable videos. I am their Life­style Curator, and my job is to help the company roll out their new home and lifestyle catego­ry, by giving them product sug­gestions as well as hosting the videos for the products that I choose," Horchow said.
On the Broadway side, Hor­chow looks onto a new horizon with yet another musical in her future. Currently, Horchow is collaborating with several fa­mous musicians to co-produce a musical that is affiliated with the award-winning "Frozen" team.
"My next show is a new mu­sical by the husband-and-wife team behind "Frozen" and that famous "Let it Go" song, Kris­ten Anderson Lopez and Bobby Lopez. It's called "Up Here," and it will premiere at the La Jolla Playhouse this summer and then move to Broadway there­after," Horchow said.
Horchow always knew she wanted to produce, and as for her name in the industry, Horchow has definitely found her way.
---
Mary Claire Wilson, Assistant Sports and Health Editor