Freshman Turns the Page to a Better Future for Children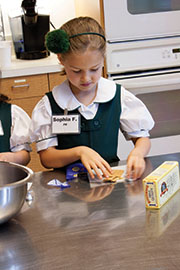 Freshman Mary Orsak founded an organization that distributes books to help improve young adults' education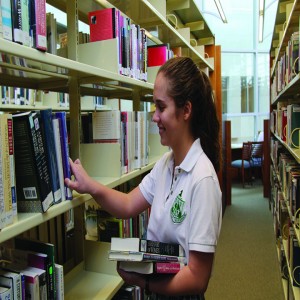 Eighty percent of high school students in the United States graduate, ac­cording to a report by the U.S. Department of Education.
This means that 20 percent of students are not graduating, and freshman Mary Orsak is working to help improve that number.
Last December, Orsak founded Story Power Incorpo­rated, a non-profit organiza­tion that raises money for pur­chasing books to send to Dallas Independent School District middle schools.
"We get books about in­spiring women, and we put them into middle school librar­ies to help girls value their edu­cation and pursue careers that they otherwise might not have known about," Orsak said.
Orsak first developed the idea for this organization dur­ing the summer before her eighth grade year, while partic­ipating in the People to People program at Yale University in 2013. People to People is a pro­gram designed to build young adults into impactful leaders. Orsak was nominated by Head of Middle School Linda Kramer.
"[In the People to People program], they had us develop a program that we thought would help our community. We went through a lot of the business steps," Orsak said. "They helped us get it started and then they sent us home to actually carry out the project."
Orsak's first project was to send a set of 10 books that Story Power had selected and pur­chased to each of the 36 DISD middle schools. Corey Lott, li­braries and academic research department chair, said that the books will have a lasting impact.
"If children can be hooked on reading early, it can encour­age a life-long love of books and learning," Lott said. "You never know where the book that they're reading will take them two days, four months or a year from now."
Director of Service Learning Laura Day said she also believed that encouraging reading early will have a ripple effect to prevent and improve other problems.
"I love working in homeless shelters and providing food and all of that kind of stuff, but it's kind of a band-aid. Improving literacy is really preventative to those other problems, which is why it's so important," Day said. "I think we need more kids like Mary who come up with ideas and implement them. We have the power within this school to make a difference."
Orsak plans to expand her organization to donate books to elementary schools and high schools.
"We're constantly looking for ways to extend our impact. We're going to run a program this summer at the West Dallas schools, where we'll do a Read- A-Thon and inspire students just to read in general," Orsak said. "We'll promote it through book discussions and eventu­ally have prizes for the school. We're also hoping to help their school libraries, whether it's through painting shelves, orga­nizing books or anything else."
Orsak said she hopes to in­volve more Hockaday students.
Story Power will be host­ing a book donation within the next few months. A date has not been set. The books will then be transferred to the DISD middle schools.
"What's kind of neat about books is that not every story is a 'pretty story,' and sometimes the people in the books have to overcome real difficulties, just like in real life," Lott said. "If the kids can read about inspiring people, hopefully they can feel motivated themselves to move forward and overcome any dif­ficulty or circumstance."
So far, Story Power has raised approximately $8,000.
"Our goal is to raise $20,000 by the end of the year," Orsak said. "I really think that we can make a difference with each book."
For more information on how to donate, visit www.story-power.org.
– Courtney Le