Children enrolled at the Child Development Center begin exercising at a young age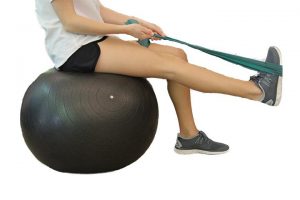 On a sunny morning in April, a cluster of energetic toddlers gathered around Angel Duncan, director of the Child Development Center, as she explained the directions for a game that involved playing with a parachute. As Duncan explained the directions, the children felt excited and ready to play; little did they know that the parachute would help them land in a healthy place.
Research conducted by My Gym, a New Hampshire-based children's gym, revealed that these types of activities may help young children build life-long exercise habits without them even knowing it.
My Gym claims that their programs are based on extensive psychological and physiological research.
According to Michelle Burns, the owner of My Gym, their method aims to keep fitness fun and interactive, "while still developing motor coordination, flexibility and balance at an early age," she said.
Hockaday's CDC shares many goals with My Gym. Their activities come in the form of games that introduce children to the idea of exercise and educate them on how to lead a healthy lifestyle.
And Hockaday goes a step further than My Gym by offering education on nutrition, anatomy, health and wellness for young children.
"During physical education class, gym teachers focus on educating children on the different parts of their bodies, such as the names of the different muscles and bones," Duncan said.
But Hockaday's CDC is aware of the physical limits of its "littlest ones." Infants, whose ages range from five months to two-years-old, complete a series of relaxing movements that are collectively known as Brain Gym and are beneficial to these kids in more than one way.
"These gentle movements cross the midline of the body to calm the infants when they are crying," Duncan said. "Another benefit of Brain Gym is that it is proven to help form the skills needed for reading comprehension," Duncan said.
"Although these infants are still too young to truly work out, the CDC strives to foster healthy habits for children at a young age by introducing [children] to the ideas of nutrition and fitness," Duncan said.Upper School history and economics teacher Joni Palmer, whose daughter is enrolled in the CDC, agrees with Duncan and believes that "having an active lifestyle is a very important part of being a healthy person."
Palmer's 14-week-old daughter, Renee, is already very active around the house.
For this reason, Palmer does not specifically "focus on modeling exercise or activity for her daughter" at this time, but she believes that it is crucial to establish a healthy lifestyle at a young age.
Palmer said that children who are accustomed to being active—playing outside, hiking, walking, participating in team sports, taking dance lessons, etc.—will grow into adults who want to continue to be active.
Although the CDC's fitness program currently addresses the needs of its children, Duncan is open to the idea of tweaking it in the future—or even modeling a fitness plan like My Gym's.
"We briefly discussed the idea of offering exercise classes for parents and children to do together, just like My Gym," Duncan said.
Most of all, Duncan is interested in exercising children's brains just as much as their bodies. "Physical exercise is very important, but we're equally interested in the children's cognitive and emotional development, in raising whole, healthy children."
– Eshani Kishore