Alumna Jane Beaird is Anne Hathaway's body double in "The Intern"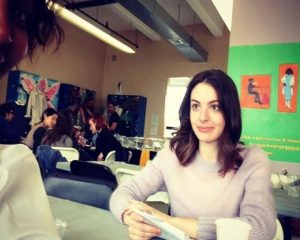 At 5:30 a.m. on a cold November day in Brooklyn, a general humdrum of noise echoed through the room as cast members rushed around frantically to set up scenes for actors and practice their lines. Behind the scenes, Jane Beaird '06 got her nails done and changed into another actress' costume— Anne Hathaway's.
Beaird earned the part of Anne Hathaway's body double in the movie, "The Intern," which will be released on Sept. 25 in theaters across the nation.
It wasn't until Beaird's friend, Wesley, called her about a casting call for the film that Beaird was introduced to acting. "They were looking for body doubles for Anne Hathaway's role, and my friend recommended trying out because of my resemblance to Anne," Beaird said.
Since she was young, Beaird has been compared to Anne Hathaway countless times. "It's something that's basically followed me my entire life," she said.
After "The Princess Diaries" came out in 2001, strangers approached Beaird, mistakenly thinking that she was actress Anne Hathaway.
Beaird decided to audition to be a photo double and stand-in for Anne Hathaway.
"I eventually plucked up my courage and decided to try out because many people say that I look a lot like her," Beaird said.
After a preliminary audition that consisted of reading Anne Hathaway's lines, Beaird received a call back to try out to be Hathaway's body double.
Body doubles are chosen based on criteria such as an actress' hair color, waist size and whether or not she is professional around high-profile celebrities.
Beaird was taken into a room where casting director Billy Dowad and Hathaway evaluated her and many other girls who were also trying out.
All of the girls auditioning were asked to wait in the lobby after Anne Hathaway spoke to them.
"The moment when one of the assistant directors pointed at me was absolutely incredible," Beaird said. "It felt like a dream come true."
After Beaird received the good news, she went back to work for the afternoon but could hardly contain her excitement.
Later that night, Beaird called her mother to share the good news.
"After I received the part, I called my mom to let her know, and she screamed on the phone," Beaird said.
Although Beaird has always been interested in the arts, her foray into the acting world happened relatively recently.
"I didn't think that I was going to go into acting while I was in high school," Beaird said. "I thought that I would be a teacher and a full-time artist who lived in New York and dabbled in the creative arts."
Beaird's interest in the arts has remained steady throughout her life. Beaird said that AP Studio Art teacher Juliette McCullough was one of the people who influenced her the most while she was at Hockaday.
"Mrs. McCullough emphasized that you don't just have to be one type of artist," Beaird said. "There are many different types of creativity that can be found within any industry."
To this day, McCullough appreciates Beaird's intelligence and good-natured personality.
"Janie always took everything on with such a willingness. There wasn't just one thing that she liked or enjoyed," she said.
Beaird's teachers from her time at Hockaday, including her advisor, Kyle Vaughn, fondly remember witnessing these same character traits within teenage Beaird: talent, humility, kindness.
Kyle Vaughn was Beaird's advisor in Upper School. "She was one of the kindest and brightest kids I've ever worked with," Vaughn said. "She was very talented in the arts, especially visual arts and writing."
Vaughn recalls when Beaird gave him an example of her writing, a poem that drew inspiration from a photo from Hurricane Katrina.
"She wrote a poem about a famous photo that had circulated around," Vaughn said. "It was very interesting to see how viewing a piece of visual art inspired her to create a piece of literary art."
After Beaird graduated from Hockaday and started college at Wake Forest University, she was selected as an intern for a prestigious program called Washington Very Special Arts in Washington, D.C. during her sophomore year.
The program aimed to helped people with special needs using art, and it invited various artists from New York University to present their work to interns.
It was there that Beaird realized that New York was the place for her and decided to transfer to NYU.
After she graduated from NYU, Beaird took up several jobs within the city: first as a studio assistant for an artist, then as a fashion designer at Parson's and finally as an assistant sweater designer at the department store chain Lord and Taylor.
Beaird then found her way to acting through "The Intern." Her job as a body double and stand-in, however, wasn't completely perfect.
Beaird had to make sacrifices, both personally and professionally. "Being a body double is a full time job," Beaird said. "I had to quit my other job."
On the other hand, Beaird believes that she has gained many new skills from the experience.
"The director, Nancy Myers, had us act out the scenes," Beaird said. "It was like being thrown in a fire. You had to pretend that you could do it."
While on the set of "The Intern," Beaird memorized her set-up lines instead of reading them directly from the script, an action that impressed the crew.
Beaird stood in for Anne Hathaway in the film while other actors were practicing their lines or setting up the scenes.
However, Beaird's role mainly came into play when the camera was focused on a an important text message that Anne Hathaway was sending. During these scenes, the camera zoomed up on Beaird's hands, rather than Hathaway's.
During filming days, Beaird also helped lead actor Robert DeNiro practice his lines and had the opportunity to chat with Anne Hathaway between scenes.
Beaird and Hathaway have become friends through their work together. "Anne is a lovely person and very serious about her work, and working with her on the movie was an incredible experience," Beaird said.
Beaird's talent and hard work on "The Intern" have also helped her acquire roles on the sets of "Forever" and "Law and Order," in which Beaird has met personalities such as Kathy Griffin and Clive Owen.
Currently, Beaird is continuing to maintain her interests in the arts, including painting and sewing. She is also working on a show called "The Nick" with Ky Zilmax and plans to continue her acting career.
Beaird believes that Hockaday had a strong influence on her success with "The Intern."
"In acting, it's important to have good relationships with the film crew and a positive attitude," Beaird said. "I think Hockaday really prepares you for that."