The 10 Most Influential People on Campus
During the 2014-2015 school year, many people influenced change in the Hockaday community. The Fourcast has chosen 10 members of the faculty, administration or student body who have taken particularly innovative strides this year. Colleagues of each featured member were asked to submit a short paragraph describing how the following people have influenced Hockaday throughout the year.
LAURA DAY
Director of Service Learning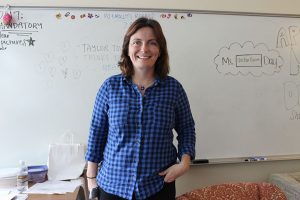 Ms. Day has a dynamic energy that instantly makes whatever she is doing or teaching engaging. In addition, she is a collaborator at heart, always trying to see multiple perspectives, work alongside students and be an advocate, mentor and role-model as she helps guide students through student-led initiatives. This year, this mentality was evidenced in her new role as the Rainbow Alliance club sponsor. Ms. Day was supportive to the students as they worked to put together the LGBT Awareness Week. Through both her role as Director of Service Learning and with the club, Ms. Day has been available to answer tough questions and be an advocate for and listener to many students. Ms. Day is also an out-of-the box thinker and has big ideas, which she pursues boldly. Her goal is to give students experiences that will stick with them and be truly meaningful. This year, she took students on the Poverty Immersion Simulation Trip over spring break and also continued the weekend retreat in West Dallas tradition. These retreats are just one example of a positive, engaging and challenging learning environment that Ms. Day creates. I admire Ms. Day's positivity and ability to think creatively.
SARAH SATINSKY
ADMINISTRATIVE ASSISTANT
MESHEA MATTHEWS
Director of Residence Life & Global Outreach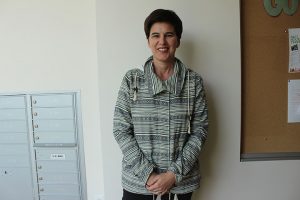 Chief Matthews has definitely turned things around in the Home Department. We are like one big family over here—sharing family dinners, making videos and going on outings as one family group, such as the Emerald City concert at the Arboretum. We even had a luau with a whole roasted pig and Hawaiian dancers! There have been innovations like Boardingware, which makes it easy for us to keep up with everyone's whereabouts electronically. There are new decorations everywhere, helping the dorm to feel more homelike. Chief Matthews is like a little spark plug, igniting fun and excitement with all of her wild ideas. I'm really looking forward to next year. I can't wait to see what new adventures she has planned for us.
VICKI PALMER
DORM MOM
JT COATS
Chief Financial Officer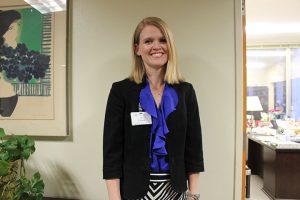 J.T. Coats, as CFO, wears many hats in the day-to-day operations of a very busy school. Now, her favorite fashion is the proverbial hard hat! Taking over as CFO in 2013 brought with it the joys of construction management. Mrs. Coats plunged head-first into a fairly new arena for her when, as Controller, she assisted the former CFO with managing only the financial side of construction. She now manages the whole process. Construction management is very time consuming in itself. It involves numerous ongoing meetings with contractors, faculty and staff, constant decision making in space planning, what materials to use, furniture, scheduling, etc., to procuring funding for the project and then managing the funds throughout the process. I have watched [Coats] grow in confidence and knowledge with each project, from the Dormitories and Science Building remodel in 2013-14 to the current Centennial Fine Arts project. She has tackled this, helping to keep the train on the tracks, as well as all her other duties as CFO with diligence and determination, a great sense of humor and throw in motherhood too! She is an energizer bunny!
MARK BUSCHARDT
FACILITIES MANAGER
MEREDITH BURKE
Senior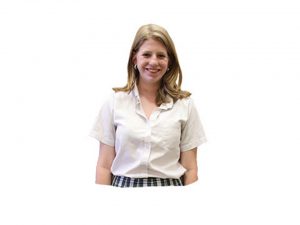 Meredith is always trying to make everyone's day a little happier. This holiday season, when everyone was stressed, she surprised all the seniors by decorating the senior hall. What made it even more special to our class was that she made a unique snowflake for every unique girl in our grade. All of December, the lights and snowflakes made people smile. At first, no one knew who had decorated the hall, but it eventually came out that it was Meredith. It was a secret to all of us because Meredith did not want it to be about her, she just wanted everyone to have a little holiday cheer. She also has so much passion for our grade and Hockaday. She always is participating in school activities and there to support everyone. The Hockaday community will be a little less cheery and less decorated without Meredith next year.
ABBY BECK
SENIOR
SHELLEY CAVE
Director of Learning Support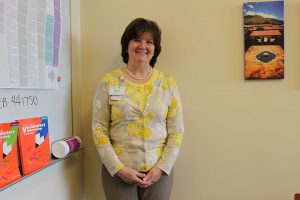 While this is Mrs. Cave's first year at Hockaday, she has hit the ground running and, in a short time, has already improved the learning experience of many students. Wanting to understand the school's culture and needs, Mrs. Cave jumped into visiting classrooms across all divisions, meeting with departments and talking with students and families. With the knowledge gained, she has worked with teachers on how they appropriately challenge students to learn and with students to empower them to get all they can from their learning experience. Mrs. Cave is open, accessible and a wealth of knowledge every student should tap into.
MARGARET MORSE
UPPER SCHOOL COUNSELOR
STUDENT COUNCIL
Student Leadership
The Student Council facilitated discussions with the Upper School student body to hear ideas; they reported to a group of teachers and administrators what they learned from those discussions, and they planned spirit week activities throughout the year to foster an environment of well-being and to build community. This year's Student Council acted on ideas initiated by the 2014 Student Council, and their positive impact has been enjoyed by everyone.
JOHN ASHTON
HEAD OF UPPER SCHOOL
TORIE REYNOLDS
Director of Food Services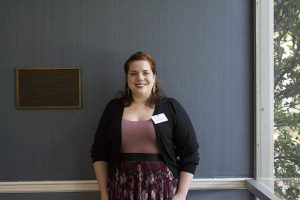 With over 1,200 students, faculty and staff to feed at Hockaday, Ms. Reynolds is somehow able to come up with exciting and delicious menus for us each week, keeping in consideration everyone's dietary needs. This year, for example, she added more gluten-free options, like gluten-free bread, vegan options and healthier vending machine options in Tarry House. The boarders especially appreciate Ms. Reynolds and her efforts. Day students just eat here at lunch, but the boarders have breakfast and dinner here as well, so we get even more great food. Not only is Ms. Reynolds consistent with the quality of the food, but she also incorporates food from other cultures. Boarding likes to celebrate a few foreign holidays each year with a special dress dinner, and it's something our overseas students really appreciate. For example, this past year, we celebrated Chinese New Year, and Ms. Reynolds and the kitchen staff put on a fantastic dinner that incorporated traditional Chinese food like dumplings and eggrolls. Without them, Hockaday really wouldn't be able to function.
AMANDA XIONG
JUNIOR
AMY BANKS
Lower School Science Teacher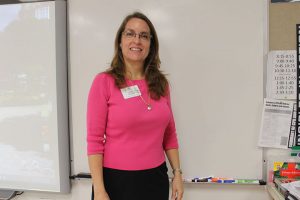 Enthusiasm. Passion. Optimism. Mrs. Banks shows these every time she meets with her students in Lower School. She encourages girls to think, reflect and wonder. During the fourth grade Invent to Learn class [the class that Mrs. Banks started this year], Mrs. Banks gives her students the opportunity to take risks in a safe environment. Girls hammer, drill, sew, write code and create designs using 3-D software; they move among projects with independence, focus and determination. Mrs. Banks pushes her students to be creative and collaborate with each other, and she brings energy and innovative ideas to Lower School.
KAREN ROBERTS
TECHNOLOGY INTEGRATION SPECIALIST
SAMANTHA TOOMEY
Senior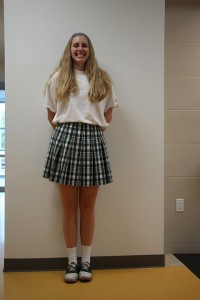 Samantha Toomey's support for the senior class is unparalleled. Her dedication, optimism and overall enthusiasm has made Sam the unofficially official "cheerleader" for the class of 2015. Starting with the first college acceptance letter received by a member of the class of 2015, Sam used outlets such as Facebook and Twitter to publicly praise and congratulate every single girl in our class on their acceptance or commitment. After one student received admission into her top choice, the first thing she said was, "I'm so excited for Sam to write on my wall." This is the type of effect Sam has on people. They want to be around her and to be acknowledged by her because her love and enthusiasm for our grade is infectious. I personally can't and don't want to imagine a morning without Sam yelling "good morning!" down the hallway with genuine energy and positivity. Sam is without a doubt one of the backbones of our grade. The kindness and humor she brings with her wherever she goes brightens even the most frustrating of days. On behalf of the class of 2015, we love you Sam, and as you say, "Ball is life."
AVERY BAKER
SENIOR
KIM WARGO

Eugene McDermott Headmistress
Ms. Wargo inspires me every day as she leads the school during this, another busy year. This year among many other responsibilities, she has led and encouraged students, parents, faculty, staff, alumnae and trustees as Hockaday's new Strategic Plan to guide the school for the next five years has been written, a Mission Statement has been crafted, Self-Study reports for the 2016 ISAS Accreditation have been completed and construction of Phase II of the Centennial Center for the Arts has begun. Her commitment and dedication to the School, to the girls and to the community is exhilarating!
NITA BREWER
ASSISTANT TO EUGENE MCDERMOTT HEADMISTRESS
– Compiled by Megan Phillips