From Halloween to spoons, the Class of 2015's activities have developed a cohesive community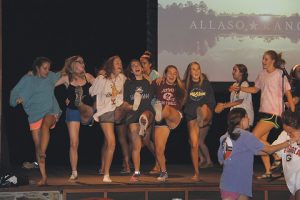 At 12:30 p.m. every day, the Dining Hall swarms with ravenous Upper School students eating lunch and chatting eagerly with their friends. Suddenly, at 12:30 p.m. on an unassuming Wednesday, an ear-piercing scream rings out amongst the buzz of conversation: one Hockaday senior, standing behind a shocked classmate, triumphantly waves a spoon in the air, having successfully "killed" her target in the senior class-wide assassin game.
Senior Lauren Axmann, the student behind the game, believes that it was instrumental in bringing the entire class together. In order to enter, a senior had to give Axmann $1 in exchange for a spoon with another senior's name on it— the target. The senior then had to "kill" her target by stealthily touching the target's neck with her spoon. Eventually, about 100 people—a vast majority of the grade—participated.
"I think everyone had a blast. The first day was simply chaotic," Axmann said. "Everyone was super scared."
And scared they were. Seniors could be seen wearing hoods at lunch to cover their necks to protect themselves.
This assassin game is just one of the numerous senior activities that have taken place this year. The Class of 2015, who will be leaving Hockaday's halls in a matter of days, has become a close community of sisters through various bonding experiences and shared memories.
But this bonding did not happen overnight. For senior class president Morgan Hurst, and many others, the senior retreat at Allaso Ranch back in September 2014 was the senior class's first true bonding moment. As the seniors tried to decide on a commencement song, they decided to play various songs using the speaker system. Soon, everyone started singing and dancing, and even the teachers joined in as well.
"That was the first time we all looked around and realized that this is really our last year together," Hurst said. "We realized that we should really spend more time together to bond."
Activities such as Daisy Day and decorating the hallways for Halloween also helped in bringing the whole grade together. The unofficial Class of 2015 slogan, "Young Money XV," originated when the girls tried to think of a post-assembly chant and is now a well-known inside joke among the grade.
Even though the painting of the parking spaces originated last school year, the spaces this year were assigned before school started, and all of the girls had more time to plan and paint together.
Form IV Dean Rebekah Calhoun noticed that even surviving the infamous college application process helped bring the seniors together.
"The girls have just done a fantastic job of showing support for all sorts of individual accomplishments, such as college acceptances. There is a positive vibe among the girls that comes from their sincere appreciation for each other," Calhoun said.
Calhoun is currently working on organizing a gradewide sleepover for the senior class. The event, originally pitched by some Hockaday seniors and approved by Head of Upper School John Ashton and Assistant Head of Upper School Elizabeth Jones, took place on Thursday, May 21, the day before Splash Day. Calhoun believes that the sleepover—a night filled with games, movies and food—was the perfect opportunity for the girls to share one last overnight experience.
According to Hurst, all of this bonding can be perceived simply by observing the senior hallway. In previous years, the girls would sit in the halls clumped by clique.
"Now, we just sit out there and talk across the hallway to random people. It doesn't really matter who you sit with. You'd just sit down and join any conversation. We've created a grade-level friend-group," Hurst said.
Upper School history teacher and Form IV advisor Steve Spencer agrees as he observed his advisory grow through their years in Upper School.
"My advisory did not start out an extremely close-knit friend group, but I've seen them become much closer," Spencer said. According to Spencer, people who normally would not have been friends in Middle School have become much closer. The whole class has congealed.
In the end, Spencer believes that the special commitment the Class of 2015 has for each other makes them stand out from previous senior classes.
Hurst also believes that their sisterhood will transcend beyond the boundaries of 11600 Welch Rd.
"This feeling will definitely continue past Hockaday. I can't wait to hear about girls I once knew at Hockaday doing really cool things," Hurst said. "I'm going to be there to support them, and I know they're going to be there to support me."
– Elizabeth Guo