Boarding Department Calls to Girls Worldwide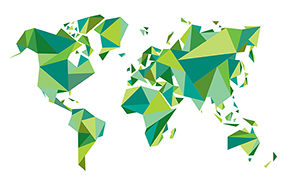 Hockaday's efforts to attract students span both domestically and internationally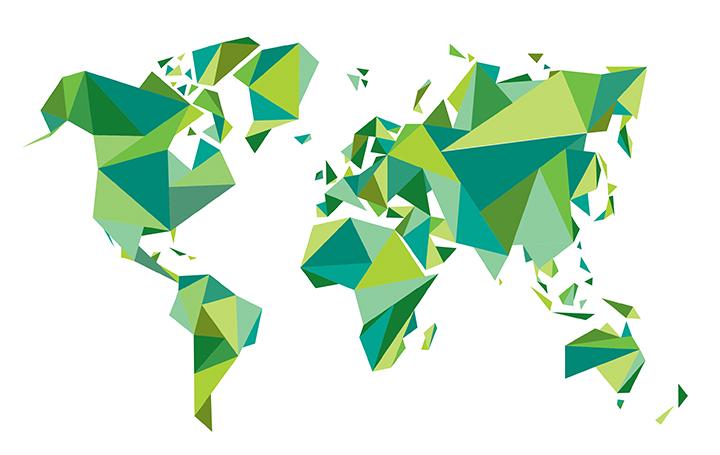 Upper School Head John Ashton sat in a school gym on a sunny and warm November day in 2011. Wearing his usual coat and tie, he proceeded to interview current senior Sara Mustafa, who was a freshman at the time. He asked about her interests and hobbies — routine questions asked to any student applying to Hockaday. The two were sitting in the gym of Mustafa's school at the Aramco Residential Camp in Dhahran, Saudi Arabia.
"I wasn't as nervous as I thought I would be, [but] I remember walking out of that interview feeling very proud of myself," Mustafa said. "It was definitely a surreal moment for me because, little did I know in that moment, my decision to go to Hockaday would change my life for the absolute best."
Hockaday accepted Mustafa in March 2012, and she joined the Residence Department as a sophomore on Aug. 20, 2012.
Meshea Matthews, director of residence life and global outreach, works closely with boarding students each day and assists with recruitment and student life. Matthews wants Hockaday to recruit students who will bring something unique to the community.
"Our efforts spread far and wide both domestically and internationally. We want to have students who are engaged," she said. "We think a lot about this when we go through our questions – what will you bring to campus as you come here?"
According to Boarding Recruiter Molly Averitt, students become interested in Hockaday as a result of a variety of efforts: school fairs around Dallas and in both domestic and international cities, features in publications, open houses and receptions.
In addition to the schools' general efforts to reach out to students, some relationships are much more personal. Eugene McDermott Headmistress Kim Wargo forms relationships with schools and boarding consultants who help parents find schools for their children.
"Just like in any industry, word of mouth and networking is important and it's important in this area too," Wargo said.
Each year, Averitt and her colleagues visit a number of states and countries. Some of these are visited annually.
"I visit California, Oklahoma, Louisiana, Colorado, New Mexico, Tennessee and Kentucky. It varies from year to year," Averitt said.
In cities around the United States, Averitt talks to seventh and eighth-grade girls both private and public middle schools about possibly applying to Hockaday.
Many of these visits are to schools that Hockaday has close connections with. For example, each year, she visits the Southfield School in Shreveport, La., where the high school placement counselor will pull two or three students who she believes might be a good pick for Hockaday, so that Averitt can speak to them in a small group.
Outside of the U.S., Averitt and other members of the Admissions Department — Cyndi Lewis, associate director of Admission & Financial Aid and Lower School coordinator; Cathy Bruff, assistant director of admission for Middle School; Jen Liggitt, assistant head for Admission & Enrollment Management; Katie Townend, assistant director of admission for Upper School — travel to recruit students.
Outside of the Admissions Department, Matthews, Ashton and Middle School history teacher Marshall Johnson have traveled in the past to recruit students. Next year, Elizabeth Jones, assistant head of Upper School, will also take part in recruitment.
They generally travel to Mexico, China, Hong Kong, Korea, Thailand, Japan, Singapore and Saudi Arabia. This past year, Hockaday sent recruiters to Kuwait, Grand Cayman and the Bahamas for the first time.
In contrast to colleges, Hockaday does not directly recruit students specifically for sports or fine arts.
"Hockaday would have the philosophy that we want the best all-around fit for the girl and the school," Wargo said. "We want girls who are interested in participating in the life of the school. We want girls who are interested in the arts and interested in athletics, and interested in clubs and interested in music and all of those different things."
Wargo also believes in the importance of diversity. In the past four years, Hockaday has travelled to 19 different domestic cities and 22 international ones.
"The entire Hockaday community benefits from the range of cultures, experiences, and educational values that the boarders bring to our school," Averitt said.
Junior Christine Lee Fatt
Lee Fatt came to Hockaday from Jamaica this school year. She was attracted to the school for both the academics and the fine arts and first heard about the school through an agency that helps students find boarding schools.
Once arriving, it didn't take her long to feel right at home.
"We had these activities for boarders to get to know each other, like games, that made me get to know other people. I was more comfortable," Lee Fatt said. "It was not a bad transition."
For Lee Fatt, English class has proved to be the most challenging aspect of her time at Hockaday thus far.
Junior Sarah Chan
Originally from Beijing, where she attended an international school, Chan was attracted to Hockaday for the academics, along with the fact that Hockaday provided boarding in eighth grade.
Having been a boarding student for almost four years, Chan has learned how to live on her own and often has to solve problems without the help of her parents.
"The environment and community here was completely different from my old school," Chan said. "You could tell that everyone here wants to do good in school and they actually care about learning."
Senior Sara Mustafa
Mustafa was attracted to the fact that Hockaday is in a major city. Her parents wanted her to be in a big city so she could be close to an airport also have the convenient access to nearby shopping.
Hockaday has given her a sense of community and family. Her favorite part is meeting new people.
"These are relationships that will last a lifetime," Mustafa said.
She has also been able to grow as a person.
"Since coming to Hockaday, I feel like I'm more confident just in the way I approach things," Mustafa said. "It's given me room to explore who I am and who I want to be."
– Sonya Xu