JV Lacrosse Dominates Districts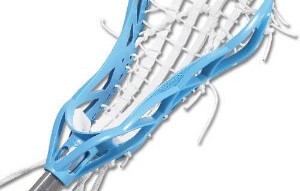 Junior varsity lacrosse triumphed for the second consecutive year in the North Texas District Championship
With seven minutes left in the game at the third annual junior varsity district championships, sweat pours down the faces of Hockaday's team and varsity coach Elia Stanfield frantically points to a diagram on her clipboard during a timeout. Hockaday is down by one, 7-8, versus the Flower Mound Lacrosse Organization, a team with the same season record as Hockaday's JV—undefeated. As the whistle blows, the Hockaday junior varsity team charges onto the field.
The game quickly changes pace when freshman Genny Wood scores two goals in three minutes, and junior Megan Fitzpatrick nets the 10th goal of the game.
For the second year in a row, the junior varsity team won the North Texas District Championship, held on April 26.
On February 23, the junior varsity team started practicing together. Private schools have specific rules as to when they start and end their season. Most of its opponents that it plays are club teams because it is not a UIL sport for public schools, who can practice year-round. Per the Southwest Preparatory Conference rules, no spring sport can start preseason before Feb. 2.
But junior varsity coach Amanda Miller sees this as an advantage.
"Playing a sport year-round does not necessarily mean players will be better than those who do not. Athletes may get burned out on their sport of choice when they play year- round, which can lead to injuries," Miller said. "Playing other sports has its benefits. I have found that this increases a player's overall happiness and helps them pick up new skills that can transfer to their favorite sport."
For example, sophomore Shannon Anderson, who began playing lacrosse in eighth grade as a student new to Hockaday and is now one of the JV team's top defenders, also plays select and varsity soccer.
This season, the junior varsity team had both new players and experienced players.
According to freshman goalie Michelle Mankoff, the team bonded well this year.
"Not the type of bond from team lunches, but a bond where we knew how to win," Mankoff said. "It didn't matter whether you had played before or not."
The team had games at least once or twice a week and practiced for two hours a day—the same amount as the varsity team.
"As a coach, I could not be more proud of the way the girls played this season," Miller said. "They really came together and played as a unit, and each contributed something unique and necessary for our team to be successful."
For many, lacrosse starts early: freshman Claire Jurgensmeyer started in third grade and now plays for the club team Coast2Coast.
"I started playing because everyone in Highland Park at least tried lacrosse," Jurgensmeyer said. "My sister already played, and it always seemed like a fun sport. I guess it was like our mainstream sport."
According to a press report released by U.S. Lacrosse, lacrosse is currently the fastest growing sport in America at both college and high school levels. In the 2013-2014 season, 290,046 teenagers played high school lacrosse. At the NCAA level, more than 35,000 players competed on varsity, club or junior college teams. Sixty new varsity programs were added in the 2013-2014 season alone.
Head of Athletics Tina Slinker shared her theory on the growth of the sport.
"The growth of high school and youth lacrosse programs is mainly because more and more colleges are offering it as a NCAA sport, which means scholarships," Slinker said.
For Hockaday, seven students have gone on to play collegiate lacrosse, most notably Taylor Thornton, who plays for Northwestern and was nominated for the 2013 Sports Illustrated College Athlete of the Year.
Traditionally an East Coast sport, lacrosse arrived in Texas in 1971, when the game between Johns Hopkins and Navy, who have a bitter rivalry in men's lacrosse, was played at the Houston Astrodome. Three weeks later, the Dallas Lacrosse Club was founded. In 1972, the first full field lacrosse game was played at the St. Mark's School of Texas.
In Texas, women began playing collegiate lacrosse on a club level at the University of Texas in Austin in 1975, but the program died out due to no real competition from other Southwestern schools. The first high school lacrosse programs for men and women were established at St. John's School in Houston in 1987 and 1990, respectively. The Texas women's high school lacrosse league began formally in 1993, with teams from Kinkaid, Houston Episcopal School of Dallas and Greenhill and clubs from Dallas, Plano, Richardson and Coppell.
Lacrosse started at Hockaday much later, in 2002, when it became recognized as a school-sponsored sport and became an SPC sport. However, the team rose to the top quickly, winning the SPC championship the following year.
"I think that lacrosse has grown in Texas because the good coaches that programs have brought here have really helped the spread of the sport through both recruitment and training," Stanfield said.
According to coach Stanfield, while men's lacrosse has gained more momentum than women's lacrosse, this has only contributed to the sport's growth. Stanfield, who played for Syracuse while in college, moved to Texas in 2006 to coach the first women's lacrosse team at the University of Dallas.
Miller, who played for St. Mary's and internationally in college, also moved to Texas for lacrosse to coach the Highland Park girls lacrosse team.
"Lacrosse has grown tremendously in the last seven years due to the media coverage and national exposure, along with the number of programs that are now available in Texas at the club, youth and high school level," Miller said. For Hockaday, it's sticks up and slassinate!"
– Kate Clement