Pregame Rituals Help Athletes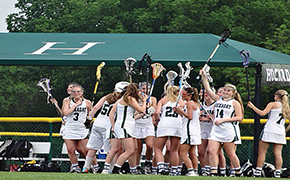 To raise spirit and get in the right mindset before games, Hockaday athletes turn to pregame rituals
Three minutes until the big game. The Hockaday varsity field hockey team huddles in the middle of the field, shaking with excitement and anxiety. As they prepare themselves for the SPC championship, the team starts chanting, "Here we go, ride that pony; this is how we do it," a routine they have practiced before all of their games. Adrenaline pumping, they jog out onto the field, take their positions and wait for the referee whistle. But they'll have to wait until the end of the game to find out if their pregame ritual was effective.
In past years, Hockaday sports teams, such as field hockey and swimming/diving, have been successful—from setting personal records to winning the Southwest Prepatory Conference. Talent, perseverance and dedication all contribute to their success, but there is also a little bit of luck involved. To ensure that this luck is on their side, many athletes indulge in pregame rituals before their events. Crew, track and field, field hockey and lacrosse are a few of the many teams that have a longstanding tradition before their games, regattas or meets.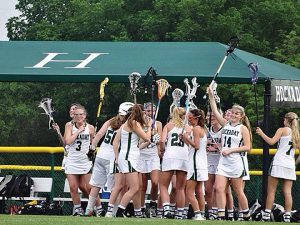 But some routines are not necessarily all about singing and dancing. According to senior crew captain Elizabeth Michel, eating is also a popular tradition.
"In Austin, we always go to Whole Foods and Amy's Ice Cream the night before [a regatta]," Michel said.
According to Michel, the whole team has participated in this tradition since her sophomore year. And on the morning of the regatta, they listen to music to get into the right mindset.
Michel said that some members are more superstitious than others. Junior rower Manisha Ratakonda, for example, usually prays to "rowseidon" for good luck.
Other athletes like junior Sam Taussig practice their rituals minutes before they compete. Before every meet, Taussig jogs a couple of laps around the track and does running drills. Right before her event, she does a couple sprints for a burst of energy. She walks onto the track, stretches her calves and waits for the gun to go off.
Taussig has performed this routine consistently since middle school.
"Honestly, I think it just helps me get in the mindset, and it also gets my heart beating a little, which I like before a race," Taussig said.
Freshman Olivia Naidu has a similar ritual before lacrosse games. She likes to be alone before a game and listens to music. It helps her collect herself and walk into the game with a calm, composed mindset.
"I'm the kind of person [who] likes to be prepared for anything I'm about to walk into, and my ritual helps me with that," Naidu said.
Pregame customs are not confined to our generation. Assistant varsity lacrosse coach Meagan Rowe had a tradition when she played college lacrosse. She had to listen to two specific songs, win a game of solitaire on her iPod and have a teammate braid her hair before every game.
There was no science behind her ritual; she just started in her freshman year of college and it stuck.
"I don't know if it actually helped me or not, but we had some pretty successful seasons," Rowe said. There was never a bad outcome when she did not perform her ritual, but Rowe said it "kind of became a team joke."
There has been some debate about pregame superstitions and if they actually benefit the team or players. In their book, "The Mental Game of Baseball: a Guide to Peak Performance," authors H.A Dorfman and Karl Kuhel elaborate on the psychological impact of pregame traditions. They contend that players put their bodies into it, but not their minds.
Rowe agrees with this theory. She believes that, sometimes, pregame superstitions can be a downside, depending on the athlete. As a coach, she would not recommend having a pregame ritual, but she understands if an athlete has one. Though she had a pregame ritual, she never believed that it actually affected how she played.
"When I stepped on the field, nothing else mattered," Rowe said.
Pregame rituals extend beyond the Hockaday commuity. Professional athletes and teams practice them as well. For instance, before big games, the Ecuadorian national soccer team enlists in the aid of supernatural spirits. They hire a witch doctor.
John Henderson, an intimidating NFL athlete, has a painful pregame ritual. He has his trainer slap him openhanded before a game.
Pregame rituals have their pros and cons. According to sports psychologist KristenDieffenbach, "You should be in charge of your pregame ritual, not the other way around."
– Neha Dronamraju