To Read or Not to Read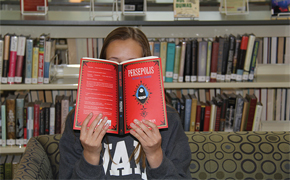 Banned books across America cause controversy.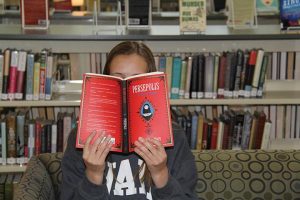 If you traveled to St. Joseph School's library in Wakefield, Mass. and scanned the shelves looking for J.K Rowling's "Harry Potter and the Sorcerer's Stone," to your disbelief, you would not find this popular novel—perhaps its lying hidden under an Invisibility Cloak. Later, you would only find out that the library had forbidden access to this magical world.
The school banned this novel in 2008.
In 2008, Pastor Ron Baker of St. Joseph's Catholic Church spoke in an interview with FOXnews.com, deeming the Harry Potter series "a vehicle to become involved in the occult," deciding that it should not be held in the school's library.
This was not an isolated event. Often criticized for promotion of witchcraft, cults and magic, the Harry Potter novels were included as some of the most challenged books of the 21st century, according to the American Library Association.
Censorship of books has occurred throughout the world for many millennia and still takes place in modern society. In fact, only five and a half miles away from Hockaday, Highland Park High School has suspended seven books that discuss complex topics, ranging from poverty to race relations to religion, from its curriculum last September.
However, Superintendent of Highland Park Independent School District Dawson Orr almost immediately reinstated all seven books after approximately two thousand Highland Park parents and students signed an online petition.
While Abby Harrison, Highland Park High School librarian, refused to comment, Director of Communications for H.P.I.S.D. Helen Williams did not want to dwell on the past suspension of the books and preferred to comment on the future. "As we enter the final month of our school year, our focus is on making sure the right policies and procedures are in place going forward into the next school year," said Williams.
This suspension of the books upset current Highland Park freshman Derek Wu. "Honestly, I feel like it wasn't right for the school to ban the books. It simply isn't right for a small group of parents to take a very good book away from all of the student body."
One of the books temporarily banned from H.P.I.S.D. classrooms was "The Working Poor: Invisible in America." This nonfiction book, written by Pulitzer Prize-winning journalist David K. Shipler, tells the story of working Americans who struggle to escape their poverty.
Hockaday junior Sidra Siddiqui disagreed with the actions of the Highland Park administration, especially with the suspension of Shipler's book.
"If I am really interested in socioeconomic status in current American politics, I should be able to gain access to that information, regardless of what people around me think about it," Siddiqui said.
But the issue of banning books in schools is not new. In fact, it has been raised to the level of the Supreme Court in the past. In 1982, the Board of Education in Island Trees School District in New York City removed nine books from their reading list, including Kurt Vonnegut's "Slaughterhouse-Five." Steven Pico and other students in this district sued the school for denying their First Amendment rights to receive information.
In this case of Board of Education v. Pico, the Supreme Court ruled in favor of the students, declaring that "local school boards may not remove books from school library shelves simply because they dislike the ideas contained in those books."
Regardless of the Supreme Court's rulings, parents continue to attempt to shield their children from what they perceive to be mature content.
Speak Up for Standards, a Highland Park parent group, wants to reconsider seven books that are on a re-approved list for H.P.I.S.D. One of these books, "I Know Why the Caged Bird Sings" by National Medal of Arts recipient Maya Angelou, is a widely praised coming-of-age novel that details the African-American experience and was nominated for the National Book Award in 1970.
According to Corey Lott, Hockaday director of Libraries and Academic Resources, Hockaday has never attempted to ban a book during the 11 years she has worked at the school. She said that there is a formal system in place if parents or students wish to discuss any concerns that they may have with a book, but she has not experienced this.
Outside of Highland Park, Marjane Satrapi's "Persepolis" is another one of the most challenged books, as determined by the ALA. It is criticized for offensive language and political viewpoints. This novel is included in Hockaday's curriculum for freshmen English classes.
Hockaday English teacher Brian Hudson said that the school continues to teach "Persepolis" because it allows students to consider world issues from different perspectives. The freshman course, The Danger of a Single Story, for example, aims to expose students to different parts of the world, and Hudson said that Satrapi's novel captures this well by portraying the story of a young girl in Persia during the 1979 Iranian Revolution.
"It is a great text for talking about lots of issues that are important around the world, and it challenges us to think about the complexities of the Middle East," Hudson said.
Harvard literature doctoral candidate and New Yorker contributor Annie Wyman argued that students should discuss uncomfortable topics such as wealth and race because it leads to a greater understanding of their community. However, Wyman notes that Highland Park suspended books that included views that differed from the affluent town's community values.
However, they do not completely censor these ideas; Wu notes that Highland Park parents would allow their children to see an R-rated movie, but they still can't read about the same mature themes featured in the movie.
Lott echoed this point. Every day, the New York Times publishes articles about controversial social problems that plague modern society, but she has never heard about someone banning this newspaper. Perhaps books are an easy target for censorship, according to Lott.
"I think that is the reason why parents want to ban books," Lott said. "Books have a way to expose the scabs that nobody really wants to discuss, but you can't deny that they are not there."
Ten Banned Books You've Probably Read
The following books are not banned at Hockaday but have been banned in some schools nationwide.
The Absolutely True Diary of a Part-Time Indian
by Sherman Alexie
Reason: "anti-family, cultural insensitivity, drugs/alcohol/smoking, gambling, offensive language, sex education, sexually explicit, unsuited for age group and violence."
Persepolis
by Marjane Satrapi
Reason: "gambling, offensive language, political viewpoint, politically, racially and socially offensive"
Catch-22
by Joseph Heller
Reason: Describes women as "whores"
The Catcher in the Rye
by J.D. Salinger
Reason: "blasphemous, filthy, negative, obscene, foul and
undermines morality"
The Great Gatsby
by F. Scott Fitzgerald
Reason: language and references to sex
To Kill a Mockingbird
by Harper Lee
Reason: degrading, profane, racist and "promoting white supremacy"
The Perks of Being a Wallflower
by Stephen Chbosky
Reason: drugs/alcohol/smoking, homosexuality, offensive language, sexually explicit and unsuited for age group
Moby-Dick
by Herman Melville
Reason: "conflicted with their community values"
Animal Farm
by George Orwell
Reason: offensive to Islamic culture, political theories and Communism
The Call of the Wild
by Jack London
Reason: dark tone, bloody violence and too radical
Source: American Library Association
– Mary Orsak