Faculty Brings Their A Game
On Sept. 9, Varsity Volleyball took on the Faculty and Staff.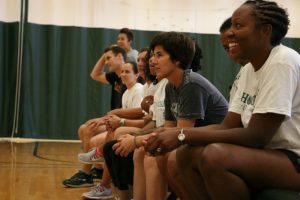 Constant cheering from the students, parents and faculty, who tightly packed in the stands, filled Penson gym Wednesday night, during all three sets of the 2015 faculty vs.
varsity volleyball game.
With faculty players such as Upper School Spanish teacher Alejandra Suarez, Upper School Head Terry Murray and Upper School Latin teacher Andre Stipanovic, know as Dr. S, the crowd was in for an exciting game.
Murray communicated excellently, taking a leadership role throughout the entire match.
Defending their 2014 title, the faculty fought hard in the first set. The score tittered varsity to faculty in the lead. Although they might not have been as sharp as varsity, their moral was off the charts.
"They were spontaneous and erratic from the get go," sophomore varsity player Claire Jurgensmeyer said.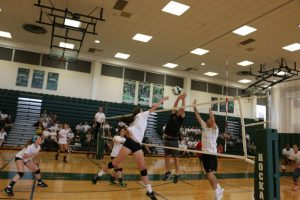 There were, however, a few standouts on the faculty team. Their entire front row was stack with six-footers, able to block most hits from the varsity girls, including Murray, who had never played volleyball before. Correction: he tried out in high school and it "didn't go so well," according to him.

But with the overwhelming energy in the gym, varsity refocused and could not be stopped.  As the faculty got sloppier, the score was building for varsity. Junior Charlotte Toomey had four aces in a row, ending the second set with 25-16.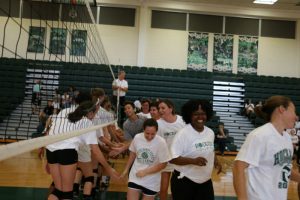 For the third and final tie-breaker set, each side put up a strong fight, everyone diving for each ball, even after they touched the ground. As tensions grew, Murray and Wellness Center trainer Jenny Francuski jokingly, argued every call with the referee. However, the faculty were unable to rally after their loss in the second set losing 15-6.
"It just reminded me of how old I was," Francuski said. 
– Emily Fuller – Video Editor –