Southern Roast Chicken. Salmon with Creamed Spinach. Maryland Style Crab Cakes. These new lunch line options are not only meant to sound appetizing. They're meant to be healthy.
This fall, the Hockaday cafeteria added "light" items to its menu. This comes on the heels of a national movement towards healthy eating.
A New Look at National Health
One in three children in the United States is overweight. 17 percent of American girls ages two to 19 have a body mass index of 30 or higher (a healthy BMI is in the range of 18.5 to 24.5). In Texas, 29 percent of the population is obese.
These are the Center for Disease Control and Prevention's latest findings.
As First Lady Michelle Obama said in a May Good Morning America interview, "We all know the numbers." But while the statistics come as no surprise, they are still staggering.
The consensus among national leaders is that the trouble begins in childhood. USA Today mantains that the issue should be tackled at school, where teens and children consume half of their daily calories during the school day.
In response to the national problem, the First Lady started the national initiative "Let's Move," an ambitious plan to "eliminate this problem of childhood obesity in a generation."
The movement personally resonates with Obama, who says her "wake up call" came when her two daughters, Malia (11) and Sasha (8), began to become overweight.
"In the end, as First Lady, this isn't just a policy issue for me. This is a passion. This is my mission. I am determined to work with folks across this country to change the way a generation of kids thinks about food and nutrition," Obama says on her website, letsmove.gov.
It is not all talk, either. The government has taken significant steps in what has been dubbed by critics and supporters alike as "the war on fat."
President Barack Obama signed a Presidential Memorandum creating the first Task Force on Childhood Obesity to "conduct a review of every… program and policy relating to child nutrition…." (letsmove.gov).
The U.S. Department of Health and Human Services allocated $119 million to states to improve nutrition. The Child Nutrition Act, if reauthorized this fall, will provide a $20 billion budget increase to provide nutritious school lunches.
Not only is the country experiencing a policy shift, but also a cultural shift. As Supersize Me's Morgan Spurlock said in a recent interview for the website IGN Entertainment, "[You] [can't] open up a magazine, you [can't] read a newspaper, you [can't] turn on the TV without hearing about the obesity epidemic in America."
Media icons like Jamie Oliver, creator of Jamie Oliver's Food Revolution and advocate for school lunch reform, have been on the forefront of a healthy trend. On average 5.5 million viewers tuned in to watch the British chef try to turn around an American public school district's lunch time offerings (TvBytheNumbers.com).
Oliver's so-called "Food Revolution" has continued to captivate his audience outside of the show. To date, 616,816 people have signed the petition on his website that reads, "I support the Food Revolution. America's kids need better food at school and better health prospects."
America, both politically and culturally, is addressing the growing epidemic of childhood obesity and the general lack of healthy habits in adolescents and children.
In the Hockaday Cafeteria
Hockaday is undergoing a food revolution of its own. Logically, this revolution begins in the lunch room.
Hockaday Head Chef Tyler Aponte says adding the light options was simply part of a natural progression. "It wasn't something we really thought about. People kept asking for lighter things," he says.
The light options, denoted by the letter "L" on the lunch menu, have fewer carbohydrates, less fat and fewer calories. At least one lunch and one dinner entrée meet the light standards each day. Often, the light meal is a version of the main entrée.
Torie Reynolds, Hockaday's director of food services, has noticed that "there are a lot of people that are more health conscious who are really trying to take care of themselves." So she considers providing light options the responsibility of the cafeteria staff.
"I think it is our responsibility—feeding all of you—to set a trend and a standard that it is important what you eat, and it is important to be healthy," she says.
Hockaday students, for the most part, seem to be receptive to the concept of light items. According to a recent survey by The Fourcast, 84 percent of Upper School students stated interest in trying the entrées, even though only 39 percent knew the light items existed.
According to the feedback he has received from students and staff, Aponte says that "so far, everyone is enjoying the light option."
The secret to the light items' success, says Reynolds, lies in using herbs and seasonings to make healthy food taste good. "Something doesn't have to be fried or have a lot of butter to have flavor," she says.
Aponte says the most useful component in preparing a healthy meal is "just knowing your flavors. When you have a good flavor, that's enough."
Alicia Love, mother of freshman Allie, also considers the taste of the healthier options important. She says thinks students will try the items "only if something entices [them]."
"It really depends on what association [they] make with it," she says.
But Hockaday is not suggesting that students must make perfectly healthy decisions 100 percent of the time.
"All things in moderation," Reynolds says. "We aren't going to make all of the food healthy all of the time because you can have fun and eat something that is not low calorie every once in awhile."
Based on our survey, students appreciate this mentality.
"I think that Hockaday does a very good job in offering different food options during lunch to fulfill everyone's dietary wishes, whether you are a vegetarian or you are trying to eat healthier," says one surveyed student. She notes the balance of the "abundance of fruit along with desserts," as well as a salad bar.
"There needs to be a choice," Reynolds adds. "We want to give people the choice to be healthy."
A critical distinction lies between only providing healthy lunches and allowing students to choose the light items for themselves.
Wellness teacher Rebekah Calhoun sees the new light initiative as a teaching tool. "It will create an awareness that there are other choices," she says, "I think    it might make them think about what they choose in the lunch line."
And while Calhoun can see potential in the new offerings, she does not think that the move will change eating habits for the majority of students.
"I don't think the majority are looking at nutritional decisions when they are picking out their lunch entrees, but it will [make a difference] for some," she says.
Opinions like that of seventh grade student Berkley validate Calhoun's uncertainties. When asked if she might try the healthy entrée, Berkley replied, "I would probably just eat the regular thing because I don't really care about the light option," adding, "I don't think [my friends] care—they just eat whatever they feel like."
It is, after all, a personal decision, one that dietician Laura May-Roelse, who specializes in adolescent and adult nutrition, hopes students are prepared to make.
"By the time someone's a teenager, we hope they've gotten a really good sense of 'what are the foods that I need to have on a regular basis?' 'What are the things that are just on occasion?'" she says.
Students surveyed said they understood their choices and often found themselves justifying less healthy ones.
"Unfortunately, because the unhealthy choices are there, I'm more likely to eat the unhealthy option because I tell myself that I've been working hard, and that I deserve it," says one student.
The bottom line is that the alternative is there for the student to choose. "It is always good to have lots of options," Calhoun says.
Boarding students like senior Claire welcome the additions to the food line.
"Eating at Hockaday three times a day definitely has its challenges," she says, noting that she has to ask herself questions to make sure she eats healthily. "Have I eaten enough protein? Did I eat any vegetables today? Did I even drink water?"
So far though, this year has been a little easier to monitor good decisions. "Our new chefs are making steps in the right direction," Claire says.
Mita Basu, mother of junior Rupsha, thinks offering the light items benefits the student body.
"I think they will [take advantage of the healthier options] if they are offered. And why not? Because if there is healthy stuff… then they should be encouraged to eat it."
But the cafeteria certainly is not trying to shove the light items down anyone's throats. (As mentioned earlier, only 39 percent of upper schoolers even knew the option existed).
This poses a potential problem as girls may misunderstand or be unaware of the healthy option and render the movement ineffective.
There are some misconceptions: "Why should our school be able to force us to eat healthy?" asks one student surveyed.
Though it is not the case, another student says, "Hockaday students… get upset that the school is making the choices for them."
Even faculty members seem to be left in the dark. Calhoun poses the question, "What does lighter mean? Healthier? Less calories?"
"I think it would be nice if Hockaday publicized which options were the light ones because I'm sure that would encourage girls to at least try it," one student surveyed says, "Now, no one really knows the difference, and if they know the difference, they don't know the magnitude of difference."
Senior Sarah suggests that the confusion could be avoided with a labeling system. "I think the light items should be clearly marked in the lunch line, along with the vegetarian items, because many times, I have no idea what is what," she says.
Around Campus
Eating decisions aren't confined to the lunch room. As one student puts it, "Food is everywhere" at Hockaday.
Hockaday has developed a food culture that is not always centered around nutritious items, but rather on baked goods and processed snacks.
Where one's decision making skills really come into question is in advisory, where food is always available. One could decide on an  orange, apple or banana provided by the school, but she could also indulge in baked goods or processed snacks brought from home.
The latter often seems to be the preferred. Why? Blame it on the stress. "I find that if I'm a bit stressed, I don't feel like eating healthy," says a surveyed student.
May-Roelse says that stress often influences adolescent eating habits. "The girls are stressed and so food is one of the easiest ways to change and relieve stress." But she emphasizes that the effect does not last. "[Food] changes the brain chemistry temporarily, and sugar and fat raises serotonin."
While stress often prompts girls to eat, so do celebration, socialization and other emotions.
"I think that food plays a sort of the all purpose role," says junior Daly. "If you're stressed, eat something. If you're upset, eat something. Excited, eat something."
English teacher Janet Bilhartz, a sophomore advisor, considers one purpose of advisory to be a place to relax and says she feels "it is [her advisees'] and their parents' choice as to the food that they bring."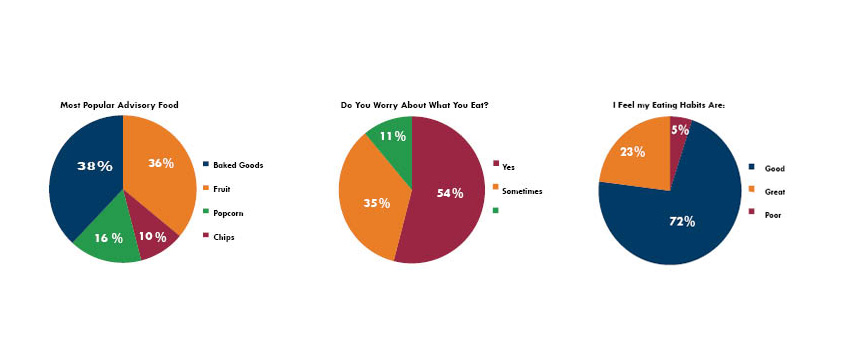 Assistant Head of School for Academic Affairs and Provost Cathy Murphree tries not to let food become the focus of her sophomore advisory.
"I don't think that [food] takes away from advisory—it probably adds to the camaraderie," she says, but she emphasizes, "I don't want [advisory] to become this end all where people are eating unhealthily."
When asked of their eating habits at school, girls in our survey often commented on the junk they ate in their advisory. "People gorge themselves," one student says. "It's gross how much food my advisory has consumed in the past week."
When it comes to food in advisory and around campus, temptation usually plays a factor.
"With all the chances to eat what may or may not be the healthiest food in existence, it severely tests your self-discipline," says junior Emily.
But the consensus is that Hockaday girls would like to be healthier. According to our survey, 63 percent said they would like to eat more healthily in advisory.
"We should eat more healthy foods because even if we don't gain weight, unhealthy foods affect your body in other ways," a student says.
Just as the nation and school are making efforts to eat better, so are the students. All in all, Hockaday seems to be headed in a healthy direction.
—Katelyn