A Pretty "Boss" New Bakery
Once La Madeleine's doors closed in Preston Center, Dallas has been patiently awaiting the arrival of Carlo's Bake Shop, and on Saturday, hundreds of cannoli and cupcake lovers lined up to try some sweat treats.
Carlo's Bake Shop, more commonly known as Carlo's Bakery, first started in Hoboken, New Jersey in 1910, and it's now run by Buddy Valastro, his four sisters and various family members. This bakery became a household name after popular TLC reality television series, "Cake Boss," spotlighted the intricate process behind making their custom-order cakes. The Dallas shop will be their 13th location, with other stores in Times Square, New Jersey, Florida and more.
The grand opening on Saturday, which included a special appearance by Buddy himself, drew in a crowd that wrapped around the building complex. Skipping out on the eight hour wait on Saturday, I returned to the bakery on Tuesday with high expectations, a very hungry stomach and my family in tow. Even three days after the opening, the wait was as low as two hours and up to four hours.
While we were waiting, however, we got to witness the hustle and bustle of the kitchen through the windows, as bakers piped sheet cakes and rolled out fondant. If the hour long lines didn't show it enough, I also realized the extent of the popularity of this bakery. One couple in front of us in line drove several hours from Oklahoma just to bring home a red velvet cake back home to their kids.
"We have it all planned out. We're going to go home, grab the kids, put on our favorite episode of 'Cake Boss' and pig out on cupcakes so now we don't have to wonder what the cakes taste like while we are watching," the wife said. Her husband slowly nodded in agreement.
An hour and a half later, my family finally made it into the actual store, and we met an assortment of cakes, cupcakes, cookies, chocolate dipped strawberries and Italian specialty desserts to choose from. Each customer grabs a number while walking in, and when it's your turn, an employee works individually with each family to pick out their goodies.
The staff was amicable and willing to break down and explain each baked good. I learned that the Lobster Tail dessert was an Italian shell shaped pastry filled with sweet cream, rather than a mysterious seafood-related concoction. With a busy kitchen hard at work, restaurant workers constantly added fresh batches of each item to the display case. The store itself was also very clean and organized, allowing the line to move along very quickly.
By the time we had paid, my family had waited a total of three hours and 45 minutes. We decided to purchase a Tiramisu cake, an M&M cookie, a chocolate cupcake, coconut macarons, Lobster Tails and cannolis. The prices of each dessert were reasonable, with the cookies at $3 and a mini Tiramisu cake at around $7.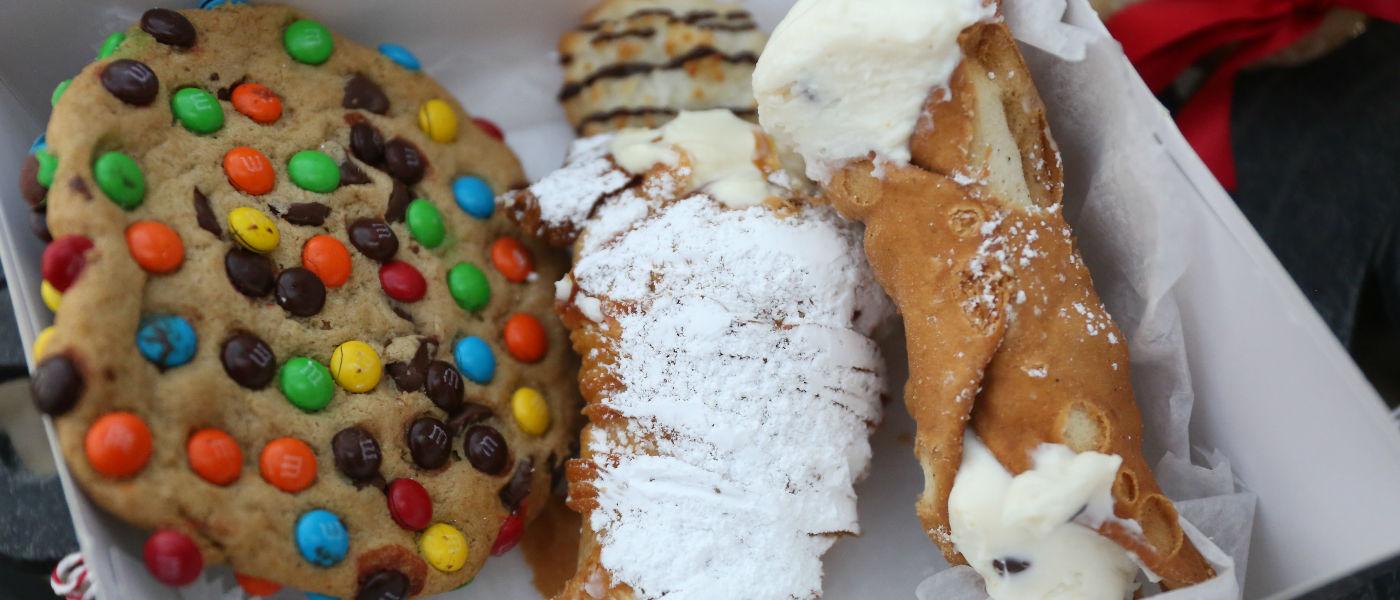 Carlo's Bakery is especially known for their Lobster Tail and cannoli, both of which had great flavor and crunch to it. The Lobster Tail is a must try if you ever get the chance to visit the bakery – the flaky pastry and its milky cream created the perfect combination of texture. On the other hand, the cannoli fell short to all the hype that surrounded it, as I felt that there wasn't anything special to it.

The Tiramisu cake was also a stand out to me and my family. Each Lady Finger biscuit was richly soaked, and the cream was smooth and not too sweet. The M&M cookie, which was the size of my face, was chewy and had a crunch due to the candies on top. Unfortunately, the chocolate cupcake was dry and bland; Sprinkles across the street would be the better option to satisfy a cupcake craving. The coconut macaroons were also good, but lacked the wow factor that the Lobster Tail and Tiramisu had.
While some pastries almost make the ridiculous wait worth it, I suggest waiting a few weeks until the line dies down to try the infamous Carlo's Bakery desserts. Overall, however, this bakery should definitely be added to your Dallas food scene bucket list.
8319 Preston Rd. Dallas TX, 75225
(469) 726-2669
Hours: Sat & Sun: 7-10. Weekdays: 11-9
---
Aurelia Han – Staff Writer