Chasing 2020
Two Hockadaisies from the Class of 2019 reach for the 2020 Tokyo Olympics
Four years. What will have happened four years from today? By then, everyone now in Upper School will have graduated. By then, the United States will be in the midst of a new presidential election.
By then, current sophomores Justice Coutee-McCullum and Carolina Villanueva Suarez hope to call themselves Olympians from the 2020 Summer Games in Tokyo, Japan.

"It's so exciting to even think of this because the Olympics have always been a dream," Suarez said. "But now, it's becoming more of a possibility and a reality."
Of course, the Olympics—the pinnacle for international excellence in sports—entails relentless devotion and unparalleled hard work. Both girls have trained rigorously outside of school for many years in their respective sports.
Justice Coutee-McCullum
Coutee-McCullum began running track eight years ago after a gymnastics coach noticed an affinity for running during conditioning sessions. She began hurdling six years ago and now specializes in the 100-meter hurdles event.
"I didn't decide that I wanted to go the Olympics until a year before the 2012 Olympics," Coutee-McCullum said. "This year was the year I really wanted to go because they had the US sweep [in the 100 meter hurdles], and that was the first women's sweep."
In order to accomplish her goal, she trains five days a week with her coach, Sammy Dabbs, at three different areas: Arlington, DeSoto, and Farmer's Branch. Difficult training sessions—which include practicing footwork and running modified hurdles that emphasize speed—have allowed her to compete in high-level track meets nationwide including the A&M Classic, Texas Relays and the Arkansas Classic.
"We don't really train by hours but more of, 'What do we have to get done, and how long will that take?'" Coutee-McCullum said.
Dabbs, who has been working with Coutee-McCullum since 2013, emphasizes the importance of training in an effective and healthy manner.
"One of my main area of focus with Justice is to continue to allow her to develop naturally, instead of trying to rush results," Dabbs said. "Many times coaches can get overzealous and push too hard, too soon, and injuries occur."
Indeed, Coutee-McCullum is currently on break from training but will resume again next month. After competing in the United States of America Track and Field Junior this summer—and ranking in an impressive second place with a personal record in her event—she decided to take two months off to let her back injury from March heal.
"I wanted to recover first because the injury could possibly put me off for a year and my dream for Tokyo could be pushed back," Coutee-McCullum said.
Coutee-McCullum has been trying to enjoy this last month off; however, once she returns to her regular training schedule, not only will she be forced to give up candy and chips, but she will also have to balance the demands of Hockaday with hours spent on the track.
"During training, I'm stressed about track and I'm stressed about school. I get up really early, around 5:20 a.m., because I live far out," Coutee-McCullum said. "It's very tough trying to train for Tokyo and balance Hockaday as well."
Both Coutee-McCullum and Dabbs ultimately acknowledge that the process of qualifying for the Olympics in the 100-meter hurdling event is an especially difficult and tedious one.
"First, you must run the qualifying mark for the Olympic Trials, which is 13.00 [seconds]. Once you qualify, you must compete against the fastest hurdlers in the world in three different rounds. In the final round, the top three finishers make the Olympic team," Dabbs said. "How hard is that?"
This 13-second cut-off time for the intense event can be daunting, and Coutee-McCullum recognizes that.
"The biggest obstacle would be just overcoming my fears because I know exactly how fast I have to go to get there," Coutee-McCullum said. "I always think, 'how am I going to exceed this?'"
However, Coutee-McCullum believes that her strengths lie in her ability to prepare mentally and get into the correct mindset for her meets.
"My coach always tells me that it's more mental than physical," she said. "Your body cannot withstand very extreme things, but it's really your brain that's going to hinder you."
Dabbs agrees, asserting that it is Coutee-McCullum's focused and goal-oriented attitude that make her a great sprinter and hurdler.
"With my experience coaching in college and professionals, I have a very unique perspective on the Olympics. I think any kid with the talent that Justice has should aspire to one day compete in the Olympics," Dabbs said. "Justice has a lot of undeveloped talent, and I hope we get to tap into her ability over the next three years."
Coutee-McCullum has been thinking about Tokyo a lot lately especially with the recent passing ofthe 2016 Rio Olympics. According to her, the Olympians who competed this year were relatively young and thus have a high chance of returning as athletes in their late 20s. On the other hand, Coutee-McCullum will be 19 years old in 2020.
"It's definitely going to be a challenge, but I think it can happen," she said.
Carolina Villanueva Suarez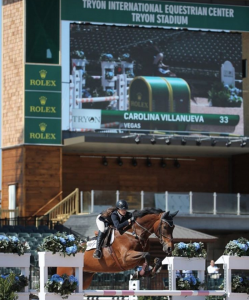 When Suarez was born with a minor disability in her right leg, people told her that she could never walk again. Riding a horse was, obviously, out of the question. Now, surpassing the odds, Suarez participates in the equestrian jumping event at the highest level of her sport, which is Olympic height.
While she has practiced her sport since the age of three, Suarez has been specifically working towards the Olympics for three years now.
"Of course, the four years leading up to [the Olympics] is the most intense training time," Suarez said. "I went to Germany and bought two new Olympic and Grand Prix horses, and I've been training on my weaknesses and participating against the best competitors of our entire sport."
Suarez, who competes in over 100 competitions a year and is in a different state almost every weekend, trains every day after school in Argyle, Texas, with Gianna Aycock of Storybrook Farms.
"We have a covered arena so as long as it's not thundering, I can ride my horses," Suarez said. "If I'm just training, I'll do 18 to 20 hours a week, but if I have a competition coming up, I'll do maybe 30."
In Suarez's event, the jumpers event, riders navigate through two courses. The long course, which contains 12 to 14 obstacles, must be completed within the time limit of 75 to 80 seconds without any rails down or refusals from the horse. In the short course, which contains 6 to 7 jumps, riders aim to complete it in the fastest time.
"The reason I do jumpers is because it's just you against the clock and the field," Suarez said.
According to Susana Suarez, Carolina's mother, the sport requires both unwavering determination and physical endurance while remembering that the horse comes first. In order to support her daughter with this, Susana believes that a balanced approach in parenting works best.
"Dad is much more understanding and relaxed which brings her the level of concentration she needs when competing at such high levels. I am a bit more bold and assertive specially when I think she needs it the most," Susana said. "We have come to the realization that one word of encouragement during a failure is worth more than an hour of praise after a success."
According to Carolina, qualifying for the Olympics in the jumpers event for the American team is very difficult because often older people, who may have already competed in previous Olympics, occupy the top spots in the sport.
"But If I keep going on the path that I'm going, and I keep winning these large competitions even against people who have competed in the Olympics, I will start growing in the ranks," Carolina said.
And she is growing in the ranks: she currently ranks within the top 100 jumpers in the United States. The qualifying process consists of several nationally-ranked competitions jumpers are required to attend (most of the competitions Carolina competes are nationally-ranked). From there, the pool of the best 100 jumpers compete for final spots on the team.
For Susana, making or not making the Olympics is not as important as the discipline, strength and fortitude that comes with growth in the sport.
"As long as she is happy, as far as we are concerned, she has won way more than an Olympic medal," Susana said. "Having said that, you can rest assured she has the skills, discipline, and the character to pull it off, and if she so chooses to do so, you may one day see her on TV representing this country. "
However, Carolina may have a decision to make regarding the team with which she'll compete.
"I'm from Spain, and I have a double-citizenship from Spain," Carolina said. "The qualifying process there is a little easier, so I would have to make up my mind which country I'd like to represent."
Like Coutee-McCullum, Carolina has to juggle schoolwork with her outside training schedule. According to Carolina, doing so has taught her to balance her priorities.
"A lot of people who do my sport and want to rise to the top do online school and can train all week," Carolina said. "Sometimes I'll leave school early because Argyle, where I train, is two hours away. Sometimes school comes before horse riding, so I try to get my homework done in school and in the car."
Now that the date of the Tokyo Olympics is drawing nearer, Carolina has had to adjust to see which competitions she wants to participate in that will allow to her qualify for the international Games.
"We have changed our schedule to fit the horses and the rigor of the sport. We really focus on the horse's mentality, and for me it's all about getting fitter and getting stronger," Carolina said. "There's no room for mistakes, and I'm really excited to see what this next season holds."