Pie Love You
Although Christmas is a few weeks away, you don't have to wait for the big day to enjoy a slice of pie in the Dallas area. While classic pie shops and bakeries, like Emporium Pies, are whipping up their best batches of seasonal pies, don't skip out on restaurant dessert menus because places like R+D Kitchen also offer their take on one of America's favorite desserts. Since there seems to be countless pie flavors from fruit to decadent chocolate, here's your guide to the best pies in Dallas.  
Best Banana Cream Pie: R+D Kitchen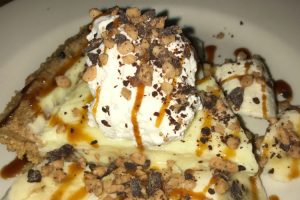 Especially on weekends at R+D Kitchen, reservations go fast, and that's thanks to their well-rounded and impeccable menu. They combine classic American dishes with those of Asian descent, like a specialty sushi menu. However, when it comes to dessert, the classic American banana cream pie hits the spot. Its buttery and slightly crisp crust works perfectly with the smooth banana filling, dollop of whipped cream and drizzle of caramel sauce. Topped with fresh cut bananas, this pie ends a dinner night out on the perfect note. I assure you that you will go bananas for this.
Best Apple Pie: Emporium Pies
Since it opened at Bishop Arts District in Oak Cliff four years ago, Emporium Pies has captured the hearts and stomachs of the Dallas area and has since then expanded to McKinney and Deep Ellum. Every pie on their men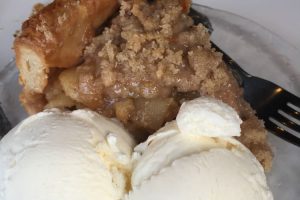 u is a showstopper, but one pie in particular reigns over them all. And guessing by its name, I think the owners agree as well. The Lord of the Pies is a tower of apples baked in housemade caramel inside a flaky crust and topped with a crunchy cinnamon streusel. It's size is perfect to share among two or to devour alone for those hungry folks out there. To take it to the next level, ask for it warmed and a la mode. As the vanilla ice cream starts to melt into the filling, it adds a creaminess that makes this pie the ultimate treat.
Best Pecan Pie: Society Bakery
Pecan pie seems to be, rightfully so, a fan favorite when the fall season rolls around, so it's almost essential that you try out Dallas' best version of this classic Southern dessert. Unlike most pie places or restaurants, Society Bakery's pecan pie comes as a full mini sized pie, instead of a slice. The pecan filling is gooey and decadent but not too nutty for those who tend to stay away from nut pies. Since the bakery is only a few minute drive from Hockaday, add this to your bucket list for an afternoon, post-school pick-me-up.
Best Pumpkin Pie: Village Baking Co.
Pumpkin pie: the pie of all pies. Nothing screams fall or Thanksgiving more than pumpkin pie. It's on every family's Thanksgiving table and has started a revolution of all things pumpkin spice. Around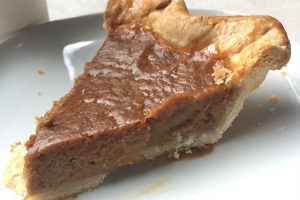 the DFW area, a variety of restaurants offer pumpkin pie, but after scoping out the pumpkin pie scene, Village Baking Co.'s pie has taken the title. While this patisserie offers a multitude of croissants, quiches and other pastries, their pumpkin pie is a must try. The flaky crust gives a good bite to the pumpkin interior that contains a good balance between sweetness and spice. Grab a seat at one of their outside tables, order a latte to pair with your slice of pumpkin pie and enjoy the crisp fall weather.
This holiday season is all about family, friends and food. So grab some of your best foodies and try out one of these pies. From apple to pumpkin pie, there's a pie out there in Dallas for everyone!
---
– Aurelia Han – A&E Editor