Happy Hollandaise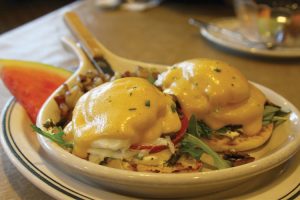 I must admit something: I have a fear of contracting salmonella poisoning from consuming uncooked eggs. The Center for Disease Control says on its website, "When eating out, avoid restaurant dishes made with raw or lightly cooked unpasteurized eggs, and check to make sure the restaurant used pasteurized eggs in foods that contain raw or lightly cooked eggs, such as hollandaise sauce, Caesar salad dressing, and tiramisu."
Nevertheless, eggs Benedict is an exception to my fear of salmonella poisoning.
This delicious dish actually came along by accident. Lemuel Benedict, a retired Wall Street stock broker walked into the Waldorf Hotel in 1894 to find a cure for his hangover. As a result, he ordered, "buttered toast, poached eggs, crisp bacon and a hooker of hollandaise." And thus, the eggs Benedict was born. The maître d'hôtel, Oscar Tschirky, liked the dish so much that he put it on the hotel's menu but with a slight change; he used ham instead of bacon and an English muffin instead of toast.
With this story in mind, I went on a search for an innovative eggs Benedict, one that was unique but also was tasty.
Appropriately, my first stop was Benedict's Restaurant. With locations in both Texas and Colorado, Benedict's truly is an ideal Sunday morning brunch spot. A homey feel results from the simple wooden tables lining the huge windows.
True to its name, there are eight types of eggs Benedict on the menu, each with unique twists such as the Brooklyn Benedict (with pancakes instead of the usual toasted English muffin) and the Smoked Salmon Benedict. I chose the Goat Cheese and Mushroom Benedict.
The service was prompt on the early weekday morning I went. Unfortunately, the poached egg was a little too undercooked for my taste. The Chipotle Hollandaise sauce was the precise amount of tangy to distract me from it, but I almost didn't taste the goat cheese and mushrooms because of the overwhelming amount of sauce. Nevertheless, the fresh arugula and tomatoes balanced out the overall taste, providing a fresh touch. Served with a slice of watermelon as a garnish, the Benedict is nothing less than scrumptious.
Benedict's Restaurant: 4/5 Stars
---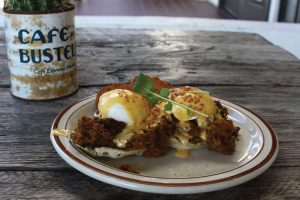 My next stop was Smoke. Located in both Plano and Dallas, it takes traditional barbecue to a whole different level. Unlike Benedict's Restaurant, Smoke serves breakfast, lunch and dinner as well as brunch.
With options centered around brisket, ham, sausage and other meats for lunch and dinner, it seems appropriate the restaurant would offer a Pulled Whole Hog BBQ Eggs Benedict. Unfortunately, this is the only Benedict on the menu.
The brisket and sauce is an unusual variation on the traditional Benedict. Yet, in this case, unusual turned out to be delicious. The meat and English muffin were drenched with a sweet and a little bit sour BBQ sauce that popped with flavor with each bite. With a gooey yolk, the poached egg was cooked to perfection, soaking the entire creation the second it was cut open.
The eggs Benedict also comes with two circular goat cheese potato cakes. With a taste like overcooked hash browns and with a burnt look, they detracted from the overall presentation of the dish.
However, the good thing about Smoke is that you can order this dish until 3 p.m. The lunch time rush on a Saturday was expected, but the service was mediocre. I thought the waiters forgot about me twice because I sat outside on the patio. Upon arriving, no one came to take my order, and I waited 20 minutes for my check to come.
Nevertheless, the eggs were worth the wait.
Smoke: 3.5/5 Stars
---
Sonya Xu – News Editor