Full Table, Full Hearts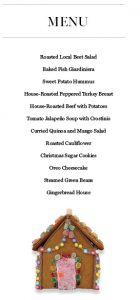 Tis the season for friends, family and feasts. SAGE Dining showcases a variety of their best holiday-inspired dishes. From house-roasted peppered turkey breast to chocolate cheesecake, this food spread is the ultimate way to celebrate the holiday season. However, this table is only a fraction of what SAGE will serve in the weeks prior to the holiday break. Hidden within the cafeteria, the kitchen is a Santa's workshop as the staff are busy whisking, baking and saute?ing away. With fresh and local ingredients, SAGE produces restaurant- quality food daily for the Hockaday community. As they promise variety, balance and moderation, these holiday dishes are delicious yet picture-perfect and healthy.
Roasted Local Beet Salad
This arugula and beet-based salad uses ingredients from across the Dallas area. Seasoned with olive oil, minced garlic and lemon juice, SAGE adds button mushrooms to this classic salad in order to  create a unique spin on the dish.
Baked Fish Giardiniera
The star of this dish is a cod llet flavored with lemon juice, fresh parsley, dried basil, dried oregano, minced garlic and ground black pepper. With their take on the classic Italian giardiniera, or pickled relish, SAGE also includes tomatoes, green bell peppers and yellow onions.
Sweet Potato Hummus
The daily hummus bar, which has been a hit with faculty and students alike, features a different twist on the garbanzo bean-based dish. This hummus variation adds sweet potatoes to savory dip in order to create the perfect combination of sweet and savory.
House-Roasted Peppered Turkey Breast
A timeless yet delicious holiday dish, this house-roasted turkey only needs water and ground black pepper to make the perfect and tender roast. SAGE decorates this dish with fresh rosemary from its Hockaday-based garden and cranberries.
House-Roasted Beef with Potatoes
A staple on almost every family's dinner table for the holiday season, SAGE's house-roasted beef with potatoes combines the flavors of a juicy steak with that of crisp roasted potatoes. Cooked to the perfect medium rare, this dish is one of the table's show- stoppers.
Tomato Jalapeño Soup and Crostinis
SAGE's tomato jalapen?o soup adds a little kick of spice to this classic soup. With the crunch from the toasted crostini and the creaminess of the soup, this dish is the perfect appetizer to a great meal. It's the perfect combination of smooth, refreshing and flavorful.
Curried Quinoa and Mango Salad
Topped with curry powder, the curried quinoa and mango salad mixes two opposing flavors to create a savory and sweet combination. This salad exemplifies the holiday season as the red of the quinoa and green of the lettuce mingle.
Roasted Cauliflower
The roasted cauliflower is one of the Hockaday community's favorite dishes year round. Especially during the holidays, this simple vegetable side pairs perfectly with main dishes like the house-roasted turkey or beef. Prior to roasting, SAGE mixes the cauliflower together with olive oil, salt and pepper.
Christmas Sugar Cookies
Made in SAGE's own "Art's Bakery," as coined by baker Arternio Alvarez, these delicious Christmas sugar cookies add to a show- stopping holiday dessert table. The ornaments juxtaposed with the Christmas trees provide the perfect embodiment of the Christmas spirit.
Oreo Cheesecake
As one of SAGE's specialty dishes for the holidays, this Oreo cheesecake contains multiple layers, including a Graham cracker crust, classic cheesecake lling, a chocolate ganache and crumbled Oreo on top. While it's decadent and rich, it's the perfect sweet- tooth treat for the holidays.
Steamed Green Beans
A staple almost every day for SAGE, these steamed green beans are adorned with a tomato rose with basil leaves. The crunchy, savory side dish seasoned with salt and pepper provides the perfect addition to any holiday dinner table.
---
Aurelia Han – A&E Editor
Katie O'Meara – Photo Graphics Editor