Chewy. Sweet. Milky. Absolute perfection.
When I think of bubble tea, I think of scorching afternoons at my grandparents' home in Shanghai, China. Everyday, my grandfather would take me to the park, and we would get bubble tea after.
Years later, bubble tea is still my favorite drink. Honestly, it's so versatile. You can put tapioca pearls in anything: smoothies, tea, slushies, coffee, you name it. I never get bored of it.
Milk tea first originated in tea stands around Taichung in Taiwan in the 1980s. In 1983, Liu Han-Chieh started adding Tapioca pearls into the tea. This chewy, juicy ball is actually made from tapioca, which is a starch that is extracted from the cassava root.
With bubble tea's rising popularity, I decided to search for the PERFECT, most authentic black milk tea with bubbles in Dallas and surrounding areas. Not only did I consider taste, but I also considered presentation.
I set off to a variety of places all around Dallas. Our first stop was WOW! Bubble Tea and Treats. Located in Addison, WOW! distinguishes itself through the notable cotton candy that tops its drinks.
Aesthetically, the drink looks beautiful—almost like a pink cloud on an already-tasty drink; however, after consuming the cotton candy, I was already full. And although the presentation was well crafted, the tea was not. The saccharine drink was much too milky, overpowering the tea flavor. Frankly, it tasted like sugar and milk. Although WOW! is small, it is well-decorated, with Polaroids of customers lining the walls.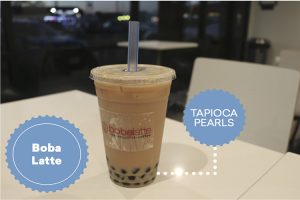 If you are looking for a more open space location, head to Boba Latte. Located in Richardson's Chinatown, the cafe was recently renovated. With its white tables and black furniture, it's both roomy and modern. The balance of sweetness, tea and milk is in harmony. To top it off, the bubbles are not too hard but also not too chewy. Moreover, it's a great location for studying with numerous outlets and free Wi-Fi.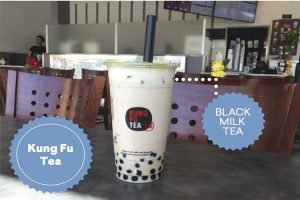 I then headed to Kung Fu Tea in Richardson. As a franchised restaurant, it also has locations in Plano and Frisco. Although the restaurant was spacious, the Kung Fu Milk Tea was subpar with an extremely weak tea flavor. Interestingly enough, it wasn't very milky either. The blandness simply made me feel like I was drinking sweet, diluted tea. However, the bubbles were sweet with a chewy consistency.
My last stop was Sucre Café in Plano. Though I often see their brightly colored drinks on social media, I once again went with the classic black milk tea with bubbles (in a mason jar, which costs 25 cents more). I went on a Monday evening, and it was packed with students typing away on laptops. Nevertheless, the service there was exceptional as well as the taste of the drink. Similar to Boba Latte, the tea flavor was prevalent, but the bubbles were a bit on the harder side.
The man who took my order told me that if I was unsatisfied with my drink to tell them, so they could make me a different one at no extra charge. Knowing that it was my first time here, he even came by my table to ask me how my drink was.
Although we may not be able to go to Taiwan for the most authentic bubble tea, many places around DFW offer a similar experience.
---
Sonya Xu – News Editor