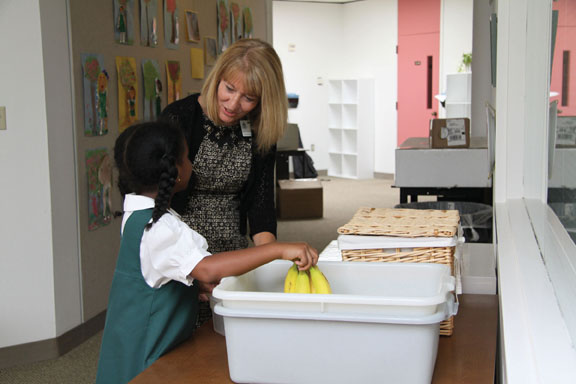 Peggy Bradley entered the Hockaday community 21 years ago as a Lower School math and science teacher. She briefly taught math in Middle School and later committed herself solely to the technology department. But this year Bradley returned to her roots in Lower School to serve as Interim Head of Lower School.
The role, while in the same Lower School that she has always known and loved, is different from other positions she has held.
"I like sharing my thoughts with the parents," Bradley said. "Having two daughters who have gone through Hockaday, combined with my experience as a teacher and a mother, helps me a lot to be able to reflect and have empathy and connect with the parents."
After taking the position as interim head, she realized the strength of Hockaday's community.
"Everyone is supportive," Bradley said. "The teachers all came in for me during the summer…and the parents have been phenomenal about helping me."
Even the Lower School girls are willing to help in any way they can, voicing their opinion on whether recess should be held inside or outside, depending on weather conditions.
Bradley credits Dr. Lisa Holekamp, the previous Lower School Head, with her smooth transition into her new position. Bradley shadowed Holekamp for the last few weeks of the past school year and was able to visit with several prekindergarten, kindergarten and first grade classes.
To further help students get to know her, fourth grader Nathalie interviewed Bradley last year and a video of the interview was played at an assembly for the Lower Schoolers while Bradley was chaperoning the International Student's annual Texas trip. Because of this, some of the girls remember her and are more comfortable with the change.
Although Bradley has left the computer field for now and is enjoying her job as the interim head, she still occasionally helps her peers with technical issues. Bradley said, "The teachers know that I know some things about computers, so I haven't let go of that totally."
– Emily