Where to Dig in on National Dessert Day
PICTURED ABOVE: This neon sign greets hungry guests at Emporium Pies in Deep Ellum. Photo by Niamh McKinney
---
National Dessert Day, which falls on Saturday, Oct. 14, is right around the corner. Go out and celebrate either with pies, ice-cream, shaved ice, boba tea, macarons, frozen custard or even a semi-healthy smoothie.
Almost every Hockadaisy has been in Fat Straws at least once, but the rewards for venturing into Deep Ellum for Bobaddiction is macarons and shaved ice in addition to a cool neighborhood to stroll around and the bubble tea itself, of course. Take your picture in front of the panda mural outside and enjoy the cooler weather this weekend as you walk around Deep Ellum.
Chills 360 is also in Deep Ellum and serves rolled ice cream. The employees pour liquid ice cream onto cold metal, then use cold metal scrapers to roll up the ice cream. Go for the unlimited toppings and stay for the unique flavors, ranging from chocolate and coffee to matcha and lychee.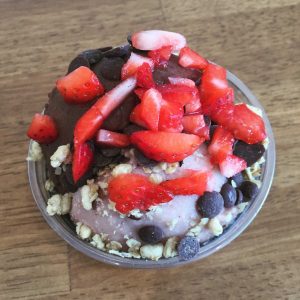 You can find another indulgent twist on classic ice cream at Milk and Cream, where ice cream is served between two warm, donut-like buns. However, if you're in the mood for a healthier treat, Nekter has, acai bowls, juices and a new frozen treat, Skoop.
For a cheaper option, TC Shaved Ice has shaved ice in many interesting flavors such as Leche, Tiger's Blood, Pink Lady, Amaretto and Wedding Cake for only $2. You can add cream, extra juice or even get the Piccadilly, shaved ice with chopped-up pickles on top. The tiny, bright green and pink building is a drive-through, but you can park and sit at a bench in the parking lot or even drive to the Dallas Arboretum, which is only a block away, to enjoy the simplicity of shaved ice.
The classic Emporium Pies is also a great option for dessert, with two locations: a small, adorable cottage in Bishop Arts District, and a trendy Deep Ellum Location. The pies change depending on the season, but right now some of the options are the staple Lord of the Pies, stuffed with 10 apples per pie; Drop Dead Gorgeous, a pumpkin custard with a gingerbread crust; and The Nannerz, filled with bananas and maple caramel and vanilla custard.
---
Niamh McKinney – Staff Writer