PICTURED ABOVE: Senior Cate Ginsberg as Brenna begins the play singing as she folds laundry. Photo by Katie O'Meara.
---
Written and directed by senior Grace Lowry, "Somewhere South of Galway" tells the story of three sisters as they tackle the meaning of sisterhood while romance and the prospect of adventure pull them in three different directions. And that story is simply incredible.
Set in a village along the sea fittingly, somewhere south of the Irish city of Galway, sometime after World War I, the play prominently features the religious conflicts and divides between the Protestant English and the Catholic Irish. Upon the arrival of three sailors played by St. Mark's sophomore Will Mallick, junior Megan Muscato, and freshman Leah Segel, chaos erupts within the sister unit of Brenna (senior Cate Ginsberg), Isolde (junior Kate Short), and Nessa (junior Megan Ortman).
Brenna, already married to childhood sweetheart, Ronan, played by St. Mark's sophomore Thomas Loose, is the mother figure to Isolde and Nessa, until they meet two of the English, Mallick's Thomas and Muscato's Richard.
These relationships represent the mingling of Catholics and Protestants at a time when these two countries feuded as a result of religious divides. These issues with religion also in turn affect the relationship of Brenna, Isolde, and Nessa as Brenna despises Protestants.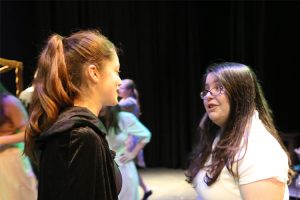 Within the play, Lowry attempts to tackle a range of issues including infertility, death of a parent, and disapproval of relationships. And boy does she do that and more. By the time the lights came up at the end of the first act, I couldn't move. I was in awe. In that hour, Lowry and her expertly casted group of actors had amazed me from their faux accents that reminded me of time in the United Kingdom to singing that I had not expected.
As she wrote the play, Lowry decided to include traditional Celtic music. Throughout the production it incredibly mixed with the plot and became an integral part.
The Ceilidh, an Irish party, utilized this traditional aspect of Irish culture to create both an exciting scene to watch and a fascinating slice of Ireland for the audience. Even though, I proudly call myself Irish (just look at my last name!), the amount that I learned about this culture amazed me.
Not only did Lowry tell the story of both Ireland and English-Irish resentment, but she also wrote an incredible play.
While I have read some of Lowry's other plays and have seen other Hockaday theatre productions, "Somewhere South of Galway" is by far the best production that I have seen, not just at Hockaday, but overall. Personally, this production rivals that of Broadway's "Hamilton." The cast and crew, purely comprised of high school students, is incredible. Until the seniors in the play gifted Lowry with a bouquet of flowers, I completely forgot that the cast was composed of my peers.
While you can't see "Somewhere South of Galway" after this weekend, I recommend that you try and ask Lowry or someone else involved for a private viewing of a taped copy. It is completely worth two hours of your valuable time to put away the homework, SAT study guides, and college applications to watch "Somewhere South of Galway."
5/5 STARS
---
Katie O'Meara – News Editor