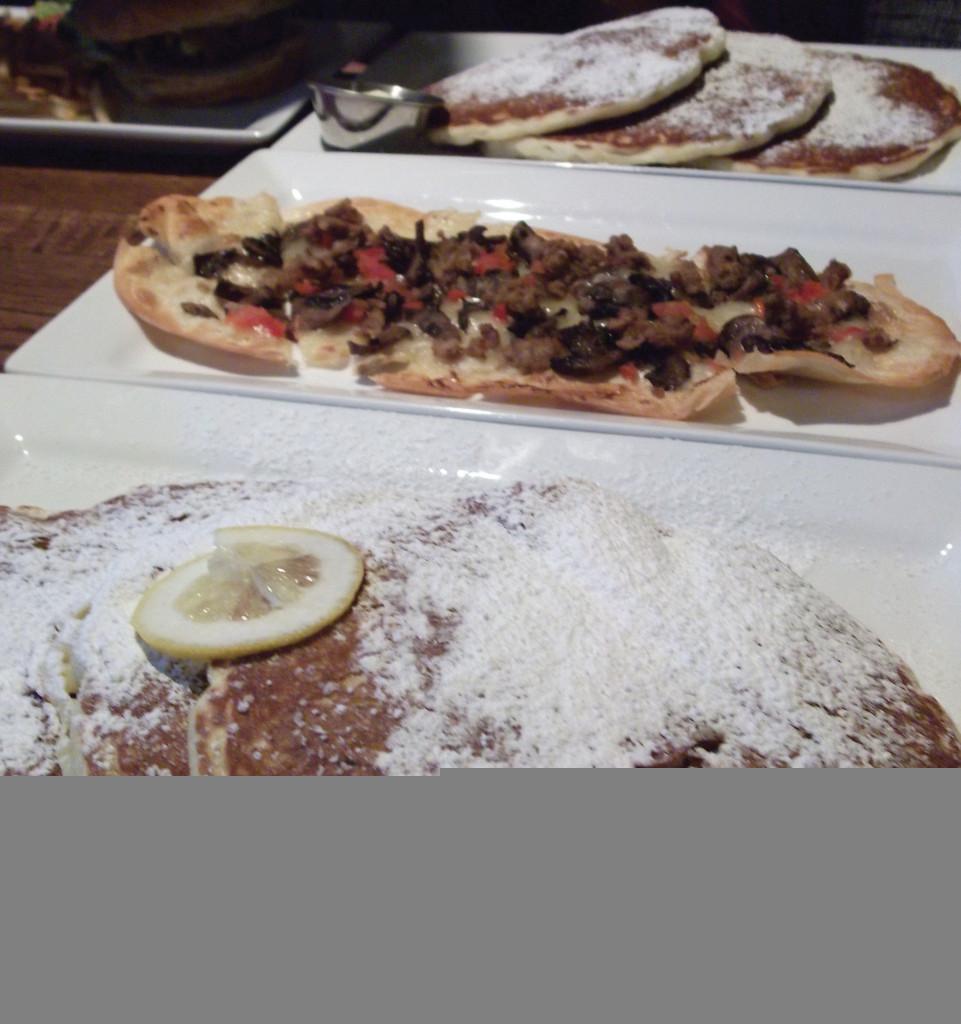 Coffee House Cafe
6150 Frankford Rd.
Don't let the drab exterior deter you—forge ahead and enter the Coffee House Café.
When I first pulled into the parking lot, I have to admit I was unimpressed. The building housing this trendy new breakfast joint is dull grey with little to distin­guish it from any other storefront.
But as soon as you enter you'll be greeted by rows of eye-catching colorful pastries stationed front and center in a glass display case. A mass of silver coffee contrap­tions fills the area behind them. The room is light and open with an earthy, organic feel, bordered by red-brick walls and adorned with a smattering of burlap coffee sack collages.
Sadly, the main dining area, an offshoot of that central space, is not nearly as attractive. I was led to one of many high-backed booths in a dark, sparsely decorated room— cozy, I suppose, but much less in­viting.
Though the atmosphere leaves something to be desired, the friend­ly and accommodating staff, quick service and superb food and drinks more than make up for it. Like most breakfast places, the Coffee House Café offers egg scrambles, benedicts, omelets, pancakes and French toast, but the main event is—surprise!—coffee.
The caffeine menu is extensive, offering everything from regular drip coffee, lattes and iced coffee to French press, espresso shots and cappuccinos, all of which are high-quality. For the less coffee-inclined, like me, never fear—the juice here is fresh-squeezed daily and tastes like it.
All of the food is so fresh and original that, really, you can't go wrong with any of the main meals. Highlights include the chicken apple sausage, which is house-cured, fabulously flavorful and a great substitute for the typical pork breakfast meat; and the thick, but­tery slices of challah bread, which come deliciously toasted with the egg dishes. If you're in the mood for something sweet, the lemon-ricotta pancakes are absolutely divine. The barest hint of tart lemon perfectly sets off the light sweetness of the pancakes; the ricotta makes them especially fluffy and moist.
Dishes are simply but beauti­fully presented and if you come with an appetite, there will be no need to take home a doggie bag.
– Caroline
Gavin DeGraw "Sweeter"
Gavin DeGraw was bru­tally attacked by a group of street thugs in New York City on Aug. 8. The confrontation left him recovering from several serious injuries but luckily his vocal cords emerged unscathed and ready to promote his newest album, "Sweet­er" which dropped Sept. 20.
DeGraw's fourth album will not disappoint loyal fans who fell in love with the honesty and soul of his earlier albums. "Sweeter" retains the distinct sound that De­Graw has delivered since the release of his first album, "Chariot," which solidified his place in the hearts of lovesick teenagers across America ("One Tree Hill," anyone? Yeah, it's still on TV).
"Sweeter" brings a freshness to Gavin's sound and shows a more masculine side to the singer whose previous work had me convinced he was sitting around in his stretchy pants eating Ben & Jerry's after a particularly rough breakup. The al­bum's first single, "Not Over You," is one of a few throwbacks to his old style of songwriting, showing that he hasn't completely abandoned his affinity for the well-timed, tear-jerking ballad.
A refreshing twist comes from the influence of producer Butch Walker and co-writer Ryan Tedder of OneRepublic, who updated DeGraw's sound with stronger beats and more elements of rock. Favorites: the head-bobbing chorus of title track "Sweeter" and "Soldier," a song that will leave fans waving their cell phones and swaying in a pack at DeGraw's concert at Verizon Theatre Nov. 1.
– Christin
Starting from Happy by Patricia Marx
Wally Yez is a scientist. Imogene Gilfeather is a lingerie designer. He makes mental lists of batteries to relax and lost a custody battle with his ex-girlfriend over their pet tur­tle, Stuffy. She only tells her secrets to her dental hygienist and never got her ears pierced because it's "too permanent." What do they have in common? Hard to say, and yet "Starting From Happy" chronicles how they casually and (at least on Imogene's part) reluctantly stumble into love. This is a Woody Allen movie of a novel, full of neurotic characters with such an abundance of quirks that they don't seem quite real—they're like people you might know, only stranger. And yet, those quirks are exactly where this novel excels; the details are precise, cre­ative, and wonderfully off-kilter. Although it sometimes pushes the quirky thing a bit too far—the ani­mal noises in the introduction are only the beginning— this novel is a hilarious, cynical, oddly endearing story of a bizarre relationship.
– Lizzie
"Contagion" Steven Soderbergh
Be warned: after seeing "Contagion" you might experience symptoms like excessive hand-washing and fear of anyone with a cough. When you've just seen how a virus can infect tens of millions of people within months, you have every reason to be paranoid. The realism of the film—it portrays events that could actually happen, a quality uncommon in the science-fiction genre—contributes to its shock value. Because any situation depicted could conceivably occur for the audience, each is that much scarier.
"Contagion" also boasts qual­ity acting to complement its sum­mer flick-esque plot. Matt Damon and Marion Cotillard stand out as characters who are more personally affected by the global epidemic, and Jude Law succeeds in the impos­sible, making himself appear unat­tractive and obnoxious to the audi­ence as well as to other characters.
The film's disease outbreaks, ri­ots and lab experiments keep up a good pace, and its plot-driven nature make some pleasantly surprising al­lowance for emotional moments that don't take away from the movie as a whole. All in all, "Contagion" is worth the less-than-two-hours you'll spend watching it—assuming, that is, that the germophobia is only a temporary side effect.
– Mollie
Staff Pick: ROOKIE MAG
It took us about three seconds to overcome our extreme inferiority complex and fall madly in love with Rookie (rookiemag. com), the brand new web zine (website magazine) project of blogging wunderkind Tavi Gevinson. Yes, the site is edited by a girl younger than most Upper School students. Yes, she is able to attract contributors such as Jack Black and Zooey Deschanel. Yes, even fellow teenage contributors with their self-effacing writing styles and oh-so-artsy slideshows make us feel a little less interesting/funny/creative. But somehow, regardless of whose contribution you read, a visit to the site feels like getting advice from that cool best friend who knows just what to do or say at the end of a bad day. It tackles subjects ranging from "How to turn your life into a coming-of-age movie" to stress relievers to profiles on female teenage activists in the three daily posts (after school, dinner, bedtime) within each themed month with September as back-to-school and new beginnings. Welcome to your new daily must-read.
– Caroline