Spilling the Tea on the Best Tea Rooms in Dallas
After watching "The Crown" religiously for a few weekends, captivated by the strict manners and the daily royal routines, I made it my mission to dine like a royal for a weekend.
For three days, my adventure consisted of high teas and morning brunches. Digging up my cotillion skills, I sat like a lady, drank tea with my pinkie out and documented everything. However, tea is not for everyone, and I get that. I initially wasn't a tea person at all before I conducted this "research." A warm cup of coffee or a tall glass of ice water sounded more appealing than a bland cup of dead plant juice, but now I can say I am a converter. If you want to feel regal for an hour or two, try out a tea room, and you may even walk out with better manners and a British accent.
Forestwood Garden Tea Room (pictured above)
My first stop brought me back to my childhood of frequently visiting the Forestwood Antique mall with my mom. I had always walked by the small tea room in the back of the store, but never tried their wide variety of teas or tempting cakes in the window.
My first impression of the small cafe was that it resembled the hodgepodge of antiques surrounding it's walls. The mismatched tea cups and platters amplified the affect.
I started the meal out with a pot of Marie Bell Loose Leaf tea for a surprising cheap, $3.50. It served two, so my sister shared the deliciously warm and refreshing drink in the tea room's cozy and antiquated atmosphere.
Then, I ordered the Waldorf Chicken Salad because I thought it would resemble a British high tea meal accurately. The salad consisted of crunchy romaine lettuce, topped with a scoop of chicken salad and garnished with crispy, granny-smith apple slices.
Dipping the apples in the chicken salad, the sharp sour taste of the apple slices complemented the creamy chicken pieces.
Priced at $7.50, the plate was rather large and when paired with piping hot tea, I felt like British royalty in the heart of Dallas.
After spotting a brightly decorated pink cake on the tea room's website and in the display right as I walked in, I decided to taste a slice of homemade strawberry cake for myself.
Garnished with strawberry slices and consisting of a hot pink batter, I gobbled it down in less time than it took to cut it, even though my stomach was far too full from the salad and the tea. For such a large piece of cake, it was only $4.50, and I don't regret my decision.
Open from 11 a.m. to 7 p.m., the hours are kind of tricky, but if you happen to be free, it is worth the quick three minute trip from Hockaday. I highly recommend Forestwood Garden Tea Room as a cozy stop when you are perusing through the endless halls of antiques.
4 OUT OF 5 STARS
5333 Forest Ln, Dallas, TX 75244
(972) 308-0060
Teavana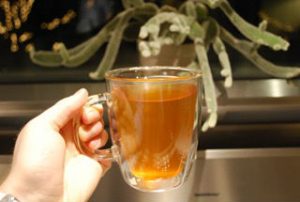 After my trip to Forestwood Garden Tea Room, I headed to NorthPark to catch up on my Christmas shopping. There, I stumbled across another well-known tea shop: Teavana.
Having moved locations from across Zara to its new location right next to Vera Bradley and across from Great American Cookies, I was shocked to realize they were soon going out of business since Starbucks recently purchased the large tea empire.
Usually Teavana is insanely overpriced, as my family unknowingly spent well over $100 on a bag of their tea, but today was different.
For a limited time, Teavana is holding a huge sale for their loose leaf tea and their infusers. I managed to snatch a great deal on their 15 oz White Chocolate Peppermint loose leaf tea and bought two large containers of the addictive drink for the price of one, coming to a total of 69 dollars.
Brewing the tea at home, it was incredibly simple to operate the tea infuser I already owned. If you don't own one, you can pick up some tea bags to be filled with the loose leaf tea or an infuser at Target or Teavana.
It took me around ten minutes to brew the peppermint drink and I added a little stevia to enhance the flavor. Sitting by the fire on a cozy winter night, I sipped the tea along with a few Christmas cookies.
I have to admit, I came in with unrealistic expectations. When I read the label "Chocolate Peppermint" I was expecting an oozy, sweet, chocolate drink, maybe even resembling a peppermint hot chocolate from Starbucks, but after the first sip, I realised that was not going to happen.
Although you can notice the chocolate, it is definitely more watered down pepperminty than anything. The scent on the other hand is extremely satisfying and exudes a chocolaty aroma.
With the size of the containers, it was a great deal as it will last me for months to come, unlike the other tea I have purchased in tea rooms. I would recommend trying out Teavana's tea, especially with their amazing current deals, before they close for good!
3.5 OUT OF 5 STARS
8687 N Central Expy Suite 782, Dallas, TX 75225
10 a.m. – 9 p.m.
(469) 232-4519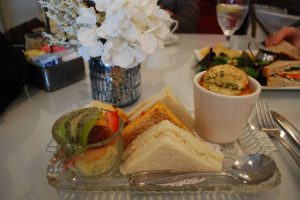 Chocolate Angel Cafe & Tea Room
For my last tea endeavor, I visited the popular Richardson hot spot, Chocolate Angel Cafe & Tea Room.
Upon entering, I was curtly told that I might not be seated without a reservations even though many tables were vacant. That was the only mildly unpleasant experience my family had, as the sweet smells of tea and scones drew us forward.
We noticed the large amount of mothers and daughters enjoying a Sunday high noon tea together and many groups of older ladies, ordering a wide array of cakes, such as Coconut, Strawberry Cream and Butter Yellow.
First, we were presented with many options of loose leaf teas to choose from. We decided to order the Signature White Tea, after smell the many possibilities. The pot was a good size for a party of three, and we finished it quick fast.
In the Signature White Tea, there are hints of sweet coconut, papaya and zesty pineapple. Adding a sugar cube or two wouldn't hurt, as I thought it brought out the taste even more.  
With many different options for our lunch, we were informed of the most popular entrees, which included the "Some Like it Hot" plate, which was featured in "Southern Living."
For my main meal, I ordered their delicious Chocolate Angel Tea Sampler which consisted of cucumber, pimento cheese and tuna finger sandwiches, your choice of a cup of piping hot soup, fruit and an amazing, warm, gooey scone, that fell apart as I bit into it.
Chocolate Angel was the more upscale tea room I visited, as my tea sampler was $10.29 and a pot of tea is five dollars. The hours were more flexible than Forestwood Garden Tea Room, as Chocolate Angel is open Monday to Saturday from 10:30 a.m. to 5:30 p.m.
It was well worth it though, with such an inviting french, shabby chic atmosphere, I would love to visit again and crown it my favorite tea room in Dallas. 
4.5 OUT OF 5 STARS
635 W Campbell Rd #310, Richardson, TX 75080
10:30 a.m. – 5:30 p.m.
(972) 234-8099
---
Story and photos by Paige Halverson, Castoff Editor