Miraculous Mitsuwa Marketplace
PICTURED ABOVE: The brightly decorated aisles enhance your overall experience. 
---
Dallas is well-known for its greasy BBQ, addictive tacos or even our infamous Tex-Mex, but it might as well be recognized for something just as tasty and widespread in this diverse city: its Asian food.
Not only have populations from Korea, Japan, China, and many other Asian countries grown in Dallas, they have brought their different types of customs, traditions and most importantly, their food.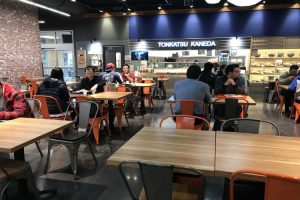 Mitsuwa Marketplace, which opened in April of last year, is a Japanese supermarket and food court, located in Plano, Texas.
The location of this specific continuation of the massive Mitsuwa Marketplace chain is situated in Collin County, with its thriving Asian population on the rise. According to the U.S. census in 2015, 13 percent of the Collin County population was Asian, which is way over the national level of 5.4 percent.
Now, what makes a glorified grocery store so special, you may ask, but trust me. If you are a Dallasite like myself, the short jaunt is well worth the mileage.
As you enter its doors, you seem to be thrust into another culture, as beautiful Hiragana and Katakana is scrawled across every sign, food item and check out line.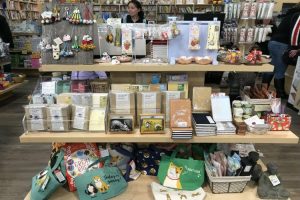 For those who speak only English or are unacquainted with Japanese culture, at first it may seem a little daunting, but after a few minutes perusing the book section or the vegetable aisle, you will feel prepared to do some major shopping.
The building consists of a grocery store, with products ranging from ripe mangoes to pickled sardines, a small gift shop, where you can purchase and keep up with current Japanese pop culture, and seven other small restaurants sprinkled around the small space.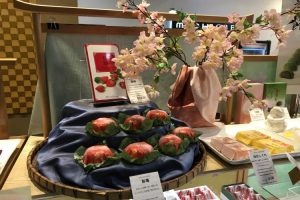 Some restaurants or boutiques include Matcha LOVE, which is a small, bright green store, stocked with matcha ice-cream, teas, juices and lattes. Another crowd favorite is J. Sweets. Filling the glass with gorgeous confections of chocolate and raspberry, if these temptations don't make your mouth water, you are probably in the wrong place.
Lastly, there are three restaurants that serve hot, authentic Japanese food either to enjoy on the go or to eat in Mitsuwa's modern and plentiful seating. I could see the cuisine must be tasty since all of the seats were taken by slurping children or munching shoppers.
So, as you cruise your car towards your neighborhood, boring grocery store, on another daily excursion, head a little north, and imagine the bountiful abundance of hot noodles and creamy mochi waiting for you at Mitsuwa Marketplace.
Store Address:
100 Legacy Drive,
Plano, TX 75023
(972) 517-1715
Store Hour:
Daily 9:00am – 9:30pm
Restaurant Hour:
11:00am – 8:30pm
---
Story and Photos by Paige Halverson, Castoff Editor