PICTURED ABOVE // Upper School English Teacher Sarah Traphagen holds up her arm to show off the tattoo on her wrist. Photo by Charlotte Dross.
---
There are many different ways people express themselves. Some people write, others paint and many get inked. A tattoo, a permanent design marked into one's skin, has a personal meaning to the person who bears it. According to Psychology Today, "nearly one in three Americans have a tattoo—and most people with a tattoo have more than one." Several teachers in the Upper School are part of this trend and bear tattoos with symbolic meanings, ranging from religious ideals to decisions made when they were younger.
Sarah Traphagen
Upper School English teacher Sarah Traphagen has one black, simple tattoo, a cross on her left wrist. Traphagen got this tattoo in Aug. 2016. As a result of her being Christian, she desired to have a reminder to keep her faith and always stay in the present. "It helps me keep my faith and focus on my spiritual life. I want to emphasize spirituality versus being religious," Traphagen said.
Laura Day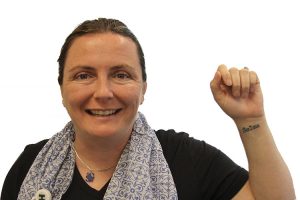 Written in a black, bold font, the word "Selma" lays in the middle of her wrist. It is permanently inked there for a reminder of the past and what people can do to each other. Laura Day, Director of Service Learning, received a grant from the Jennifer Stowers Foundation to film a documentary when she was 26 years old. She traveled to historical sites like Selma, Alabama to film about post-race relations. "When I was in Selma, I met a woman who marched across the Edmund Pettus Bridge and got hit with a rock, but was part of the movement with Martin Luther King," Day said. The women gave her a private tour of the city and at the end, gave her a rock from the site where they had all gathered before they marched across the bridge. "She said, 'Never forget what you learned here, never forget what people can do to each other.' I was beyond moved by the journey we all experienced together," Day said.
Chuck Walts
Last fall, Director of Debate & Forensics Chuck Walts, got a medium-sized, black swirled skull—a memento mori—on his left arm when he turned 40 years old. These mementos are a reflection of one's life and values rooted from a Latin Christian theory, meaning "remember that you have to die."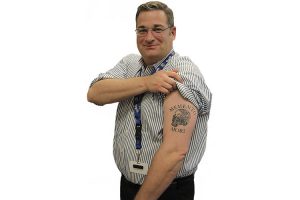 Walts looked back on his life and what he had accomplished. He was reminded of the impact he has had on the kids that he has taught over the years. "I wanted something to remind me that I shouldn't get too proud of the material things I require, but remember that after I depart there will be people whose life I positively affected," Walts said.
---
Story by By Julia Donovan.
Photos by Charlotte Dross.