Out of the Box Desserts
PICTURED ABOVE // An Instagram-worthy wall at Bingbox, located on Singleton Ave.
---
Calling all sweet tooths and foodies: a modern bingsu—also known as Korean ice—café opened in Dallas this past June. If you are a Korean ice aficionado, or just have a sugary craving for unique and decadent flavors, I'd highly recommend heading to the Bingbox located on Singleton Ave. in the ever-so-trendy Trinity Groves area.
Even though the shop is surrounded by popular restaurants, coffee cafés and murals on the exterior, I would argue that the inside is even more adorable. Bingbox has a clean, white aesthetic that features bright turquoise pops throughout the whole restaurant; one wall even equips all customers with an 'insta-worthy' picture location—a quirky, detailed mural paired with a neon sign.
The Bingbox staff was equally as inviting as the atmosphere, offering samples, flavor suggestions and a smile.
The menu offers four main types of desserts: soft serve ice cream, smoothies, various tea drinks and their specialty—Korean shaved ice.  According to the Bingbox website, they "represent an innovative take" on the classic bingsu dessert.They also use low-fat creams and milk bases to create a lighter texture for their range of snow cream flavors.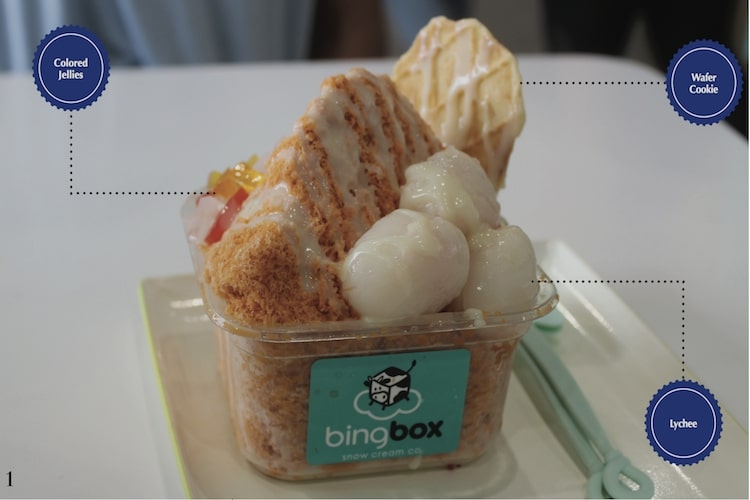 Being a caffeine junkie myself, I had to order the Thai Tea Snow Cream. The delicious dessert, which was topped with a wafer, lychee and rainbow jellies, was the absolute perfect blend of both velvet and light textures. Since the dessert is a shaved ice infused with cream, it didn't feel too heavy, but it still had a velvety texture and a vibrant pop of Thai tea flavor.
I will say that it took a few minutes for the dessert to be made, but , it was worth the wait! You could easily catch a glimpse at the shaved iced being delicately made: I'm not sure about their exact technique, but it was a very intricate-looking machine that filtered the Thai tea into the base. It made the dessert feel very special.
My friend opted for a soft serve swirl with chocolate and banana. Not only was it some of the most beautifully prepared ice cream I have seen in my life, but it was thick, flavorful and the perfect texture.
I had zero complaints about the Bingbox menu. Every single option is customizable, comes in a variety of flavors and is simply delicious. I would, however, like to comment on the only downfall of the dessert shop, in my opinion: the price.
The cheapest option on the menu is $4 for a cup of tea, and the rest of the menu can climb up to about $9 because of added toppings.
While the calories and expensive cost of the desserts are definitely a cheat-day rarity, I would ultimately recommend that anyone to try Bingbox. The treats were delicious, the store itself was the quintessential location for a food pic to post, and it bodes well for a girls-night-out or family outing location. Head over to Trinity Groves to start your weekend off the sweet way.
---
Story and photo by Eliana Goodman