Chop to the Top
A massive poster, adorned with many pictures of colored cauliflower fresh avocado and green-smoothie-type concoctions caught my eye during one of my frequent visits to the Shops at Legacy. A new restaurant, the Original Chop Shop, was going to open in August and bolstered the mantra "Just Feel Good Food." Now, it is finally here.
While I wouldn't consider myself a foodie, I am very picky about the food that I eat and try to exclusively eat healthy foods. So the arrival of a Flower-Child-esque restaurant that didn't entail a 30 minute or more commute sounded otherworldly for a Plano native like myself. They also have a location in Irving and are opening another one in University Park by the end of 2018.
The restaurant itself, which is located in the forever-trendy Shops at Legacy, has a clean and open décor theme. They have wooden accent tables and shelves which give the café a more rustic feel and adorably vibrant yellow chairs. At first glance, I was very impressed with the atmosphere of the Original Chop Shop.
All of the employees greeted me with a smile and I felt very welcomed. The service was quick and my table received the food we ordered within 15 minutes.
The menu offer a variety of healthy options: any kind of juice, smoothie, salad or nourish bowl you could imagine.
My favorite item on the meu was definitely "The Hydrator" juice. Because it's only ingredients are cucumber, pineapple, lemon, coconut water and aloe vera, I felt instantly refreshed and satisfied. I will say, however, that the juice itself might not be filling enough for an entire meal.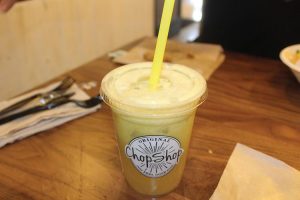 I recommend pairing "The Hydrator" with a piece of avocado toast. As an avocado-holic myself, I have tried avocado toast at several brunch places and I think that the Original Chop Shop does it best. The creamy avocado blended well with the toast's seasonings, tomatoes and grain toast.
However, I don't recommend trying the grilled protein bowls. I eat similar entrées for dinner quite often and, frankly, theirs was bland. The vegetables and tofu were cooked nicely but there was no spice, tang, zest or kick. Even the sauce glazed on top had lackluster flavor.
For a restaurant with sustainable produce, the Original Chop Shop had very reasonable prices: the bowl was $7, the juice was $5.75, and the avocado toast was $5.
Overall, I would recommend the Original Chop Shop for those who have a knack for health foods or consider themselves avocado aficionados. But, I would definitely suggest sticking to their juices and appetizers rather than the actual entrées.
If you're in the midst of a health kick, looking for a post-workout snack or even just want to take the trek to Plano to try out a new restaurant, head over to the Original Chop Shop and eat feel-good food!
---
Story by Eliana Goodman
Photo by Eliana Goodman