Little Mix is a British quartet girl group that at mainly works in the pop, dance and rhythm and blues genres. They are one of the first British group to list their debut album, "DNA," on the top of the American charts. They released their fifth and the newest album, "LM5," on Nov. 16.
The album opens with the song "The National Manthem," five short statements sung in a cappella by all four members. Their lyrics warn that men must treat women with respect. It strongly declares feminist messages that many later songs in the album will contain. In the beginning, I was excited about the album because of the messages it contains; I was partially right in my initial opinion.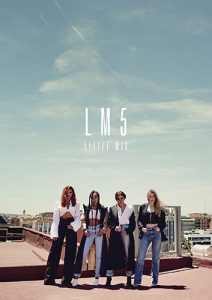 Their sixth song, "Joan of Arc," praises women's beauty and promotes self-worth. They also attack those who challenge women with phrases such as "Oh you are the feminist type?" by responding with "Hell yeah, I am." Little Mix brings awareness to prevalent shaming of body confidence and attempts to normalize self-confidence.
"Woman's World" points out existing gender inequality, especially in the workplace. The song begins with a other warning the daughter the many challenges women face in today's society. Little Mix smoothly integrates feminism in their music by bringing awareness of existing inequalities in daily lives in popular media mainstream.  
Little Mix takes a step further into examining the objectification of women as well. Only "want[ing] the body and not the brains" is problematic, and "woman's world" is where females are silenced and censored. Later in the song, they hope for a change in the world, where everyone is equal, stating that "it's the one way it's gotta be."
"Told You So" takes a break from the group's usual pop style in exchange for an acoustic song, a calm and simple melody. The guitar and the abundant a cappella gives an image of a girls' night, sisters circling together to encourage and reassure each other about relationship problems. Little Mix calms an unknown girl, presumably in a problematic relationship with a boy, and most importantly, never blames her for it. They take the high road, never saying "they told you so" but instead only comforting the girl. I appreciated the calming melody; however, the acoustic theme felt misplaced among their usual pop style.
In my opinion, "Strip" is the most empowering of all. It talks about women removing makeup an appreciating the true nature of themselves, in spite of body image that may be perceived as negative to the society. In this song, Little Mix also shines a light on racial minorities and the LGBTIQA+ community, denouncing those who judge people based on their sexual identity or race.
Other songs in "LM5" are disappointing. "Notice" is very repetitive; only two stanzas out of nine are different, and the rest just repeat themselves over and over. The meaning is shallow—the narrator expresses that her significant other is becoming indifferent of her, and nothing matters from that point. After such inspiring and powerful messages about feminism in other songs, Little Mix presents anticlimactic, one-sided relationship songs that tear down the entire album.
Their other song "Forget You Not" talks about how the narrator has gotten more attractive, and she will do better without her ex. The story is basic and has no particular interesting features to it; the usage of cliché phrases ruin several of their songs, including this. Out of 60 lines, 12 lines were "Bada-bangbang," a meaningless phrase used just for aesthetics, and the phrase "I'll forget you not" repeated itself another 12 times. There's more, but to avoid repetition, I will stop here.
The music in almost all of the songs is typical 2017-18 American Pop with no distinct features. Little Mix has a habit of overusing R&B bass and futuristic piano in so many of their songs to a point that they all sound similar. There is no "hook" because of the base, finger snaps, heavy drums and background bass. Little Mix's music sounds like they are trying to follow the trend of current pop, but it was executed quite late so that it lacks freshness. Without carefully listening to the lyrics, one—including myself—might find these songs no different than other songs on the radio. If they could write some empowering lyrics, why couldn't they have original plot in their lyrics or music?
I could not see any distinct style of Little Mix. I was previously unaware of the group, and I found no further interest in it because their lack of originality in melody. Lyrics and the message must be held importance, but if the music is unappealing and hard to distinguish from others, it overrides any strength gained from powerful lyrics, ultimately failing to put the great message across.
Through many of their songs in LM5, Little Mix promotes self-worth and feminism. I applaud them for such empowering messages; however, the hackneyed music style and mediocre lyrics in half of the songs ruin the album from creating a major breakthrough and reevaluation of the group.
---
Story by Eugene Seong
Photos provided by Wiki Commons