Rush to Roti
4 stars
Roti Modern Mediterranean Grill
8301 Westchester Dr, Dallas, TX 75225. 972.982.7118.
A spicy yet fresh smell wafted into my nose as I surmounted the out-the-door line and made my way to the front of the bustling restaurant new to Preston Center. Roti Modern Mediterranean Grill, the casual restaurant that replaced Chipotle Mexican Grill earlier this year—but has adopted the same restaurant concept as the mexican chain—promises to serve healthy, substantial "food that loves you back."
Despite my love for Zoës Kitchen, I would not consider Mediterranean food my go-to. However, the casual, upbeat environment and expansive menu selection drew me in as I navigated around University Park searching for a place that would promise me a quick and fulfilling lunch.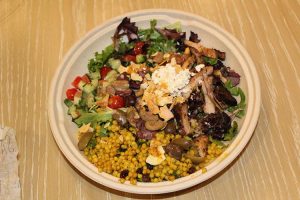 While the long line appeared daunting at first, I quickly made my way to the counter, where customers have the opportunity of viewing all of the proteins, toppings and sauces on display before they select the contents of their meal. Although I went back-and-forth in the line on which base I would choose, I ultimately decided on a rice plate, trumping the salad and pita sandwich options available.
The employees, friendly and helpful to a Roti newcomer like me, happily guided me through my decisions as they assembled my plate in front of me. Unlike other restaurants with the same ordering format, the customer's choices are unlimited—which certainly made it quite difficult for my indecisive mind to conclude what would make up my meal.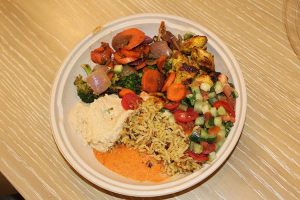 Shortly after I paid, my meal was ready. Though the presentation of my plate appeared sloppy and unappealing, I quickly returned to my seat, the spicy scent of the chicken and colorful vegetables making me impatient to devour my meal. The generous amount of chicken on my plate was flavored to perfection and paired nicely with the vegetables and S-hug sauce, composed of spicy red peppers.
While my meal was delicious, the disposable containers that the restaurant used offset me, as the line out the door hinted that they definitely disposed of over one hundred paper plates and plastic cups a day. However, they seemed to work for the casual vibe of the restaurant, making it easy for customers to quickly enjoy their meal and employees to minimize the wait time.
My rice plate was both flavorful and fulfilling, as the portion size was perfect for a late lunch, and I left the restaurant feeling full yet refreshed. The chilled vegetables were a nice contrast to the steaming-hot chicken and rice, and the sauces I chose tied the whole meal together. While I was satisfied with my lunch, I couldn't help but enviously watch my friend eat her pita sandwich, which seemed to be a satisfactory and dependable choice for picky eaters.
While it wasn't the most unique or memorable meal I have had, the presence of another Mediterranean restaurant within the Dallas food scene gave me yet another cheap option for a quick lunch or dinner. I would recommend Roti Modern Mediterranean Grill for those like myself, who enjoy trying new foods and are in need of a new find to sample. As for my next visit, it will definitely entail a chicken kabob pita sandwich!
---
Story by Shea Duffy, Sports Editor