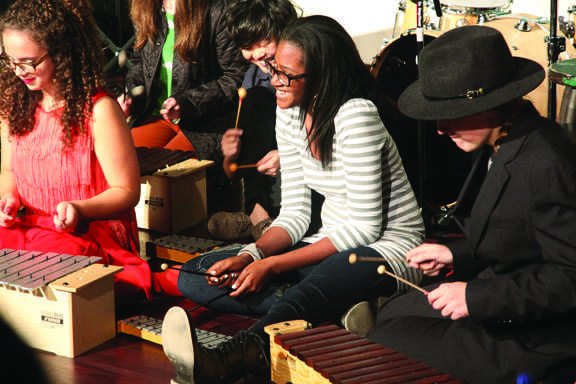 Orff adopts 30 new members into the family
Orff Orff Orff…EVERYBODY!"
At Coffeehouse Saturday, November 5, the audience was treated to a new rendition of the popular song "Shots." Thirty new Orff club members belted it out, with their two conductors in the lead. No one could have guessed that at the end of last year, those two conductors were the only members of the club.
Senior Megan and junior Evi found that at the end of last year, the seniors who had made up almost the entire club had all graduated, leaving just the two of them behind. The surprising thing? The two were never fazed.
As Sabrina Kessee, the club's sponsor and a Lower School music teacher, said, "It's definitely a success story."
Both Megan and Evi contacted Kessee separately about their interest in keeping the club alive. Later, the pair came together and did their best to publicize the club, expecting that they would need as many sign-ups as they could get.
The first morning meeting revealed that their efforts had paid off beyond their expectations.
"I came in here and there were people spilling out of my room!" said Kessee.
Rather than struggling from lack of musicians, the club has outgrown its supply of instruments, having climbed to a total of about 30 "Orffans."
Right now, the club has three of its own xylophones in Kessee's room, as well as access to 16 of Kessee's. To deal with this problem, Orff wants to buy more xylophones. But at a $200 to $700 price range, even a second successful bake-sale this year will only buy two to four.
Instead, the club presidents, Megan and Evi, worked with Kessee to recycle a concept developed last year:
"Last year we split up in terms of level," Kessee said.
There were two groups of Orff, one for girls who had been in Orff before and knew the songs, and another for those who were new and working to catch up. They recycled this idea but ultimately split the group solely because of size.
Now randomly selected, one group meets in Kessee's classroom Wednesday and the other Friday, both at 7:00 a.m. Level isn't an issue this year, since no one has prior experience. They will both play in the same concerts, though they will have learned different songs.
"The issue with Orff in the past has been it has been getting smaller and smaller, but this year, it exploded!" said Megan. "We felt bad, but we actually had to make Orff seem less appealing so people would drop out."
Although Orff wants everyone to be able to play, Megan and Evi agree that attendance is critical.
"We want everyone to understand there is a commitment factor," Megan said. By stressing this, and the fact that Orffans do have to get up early for their 7:00 a.m. meetings, they convinced a few girls to drop out.
The instruments take some practice, and with groups like these, a little time each week is required. This is especially true because Orff is very much like an Orchestra, not only because it has conductors, but because the girls split into small groups that each play a different part at the same time.
"The first two Orff meetings, we played all the parts," said freshman Aashima, a new Orff club member. This gave members an opportunity to try all the instruments before the performance, finding "which one we felt more confident with," Aashima said. After the first meeting, Aashima adds, "I knew I wanted to stay in the club because not only was it fun to play the xylophone and learn the songs, but the people in the club make our meetings so much more memorable."
For those who are unfamiliar with Orff, books of music are the basis for many songs. However, Megan and Evi are translating songs onto the xylophone by themselves.
"We're trying to figure out some music to more popular songs," Megan said. The rendition of "Shots" should be the first of several.
– Emily