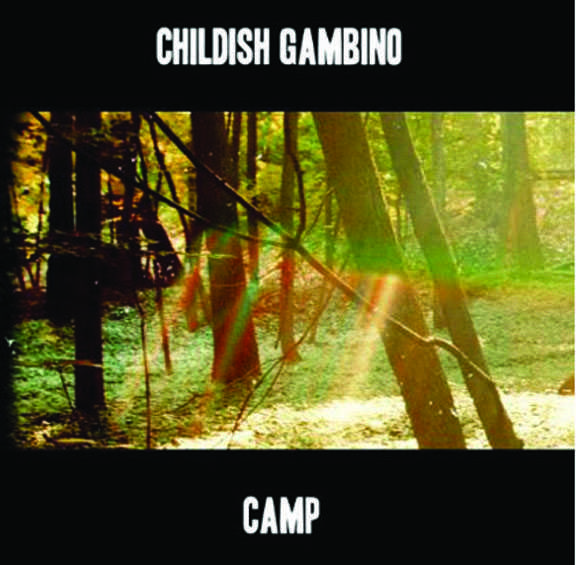 Camp by Childish Gambino
The music video for "Bonfire" off Childish Gambino's (Donald Glover) "Camp" stands out among others in the rap genre, for one, because Gambino wears less clothing than the girls featured.
For another, it depicts a perverse lynching scene.
"Man, why does every black actor gotta rap some?/ I don't know, all I know is I'm the best one," he asks with his signature self-assured bravado. This attitude permeates Gambino's first official album, released Nov. 15, reminding the listener of the complexity of the black experience in America today. His lyrics play in the space between growing up in the projects and his current life in his role as Troy Barnes on "Community." For this reason, the album is intensely personal, with a voice and a message only Gambino can deliver.
It's tracks like this that rapgenius.com exists for, listening to his lyrics is like playing auditory "I Spy," with each replay revealing yet another allusion from his vast store of cultural references past and present. Off of Bonfire, exhibit A: "It's Childish Gambino, homegirl drop it like the NASDAQ."
The album runs a fast paced 56 minutes but the last five, a monologue flashback to summer camp as a 13 year-old told over a surprisingly delicate arrangement, is absolutely the highlight.
– Caroline
Princi Italia (5959 Royal Lane)
Princi Italia, the Italian restaurant on the northwest corner of Preston and Royal, has been open for about a month and if at 6:15 pm on a Saturday evening the place is completely full, with at least 20 people waiting to be seated, they must be doing something right.
The restaurant is reminiscent of a rustic cottage or beach house—light and open, dominated by a sophisticated color combination of pale wood and pale blues, and accented with blown glass, mirrors and dark wood. Considering this, Princi Italia would seem like a restaurant no casual, jeans-wearing diner would enter, but the two TVs at the bar make it a little less formal.
The food, also, is quite good. Princi Italia, in keeping with a goal of creating authentic Italian food, makes its own meatballs (chicken, lamb and beef), sausage and several types of pasta, including fettuccini, tagliatelle and ravioli. Those meatballs, which I tried in the Italian Wedding soup, taste like no meatball I've had before, but their unique flavor, with delicate spices that emphasize rather than overpower the taste of the meat, makes them delectable. Most of the pasta dishes are simple, with few ingredients, and let the singularly delightful texture and taste of the homemade pasta shine. The restaurant also has its own wood-burning stove for pizzas and flatbread. So you can't go wrong with any pasta, meat-based or pizza dish, which is most of the menu.
"Save room for dessert," the menu orders (in bold print at the bottom of the page). And you should. I tried the lemon tart, and though I usually prefer chocolate for dessert, I would choose that over chocolate cake any day. The lemon filling has a texture almost like whipped cream and practically melts in your mouth, nicely balanced by the soft graham-cracker crust.
So stick around, even if there is a long list of names on the hostess's list—the food's worth the wait.
– Caroline
"Toast"  by S.J.  Clarkson
Who said that boys can't cook? Toast, the UK film based off food journalist Nigel Slater's autobiographical novel, proves that this stereotype is indeed incorrect. As a young boy growing up in 1960s Britain, Nigel (Freddie Highmore) becomes mesmerized by food and cooking despite (perhaps because of) living in a household with a mother whose only successful dish was toast. Watching the young Nigel Slater, played by British actor Oscar Kennedy, stimulate his culinary side by helping his mother cook takes us back to our fond childhood memories of baking cookies with Mom. As Nigel's gets older, cooking becomes a way for him to win the affection of his gruff and temperamental father (Ken Stott) who shows more affection toward their cleaning lady, the chain-smoking and garish Mrs. Potter (Helena Bonham Carter) who manages to win her way to Mr. Slater's heart through his stomach. Whether you're a gourmet or a chef, a foodie or a baker, or someone who simply enjoys eating as a form of pleasure, you're bound to have your mouth watering by the end of the film. Freddie Highmore successfully plays the teenage Nigel Slater with his quiet charm and gentle demeanor, while Helena Bonham Carter manages to seduce the audience portraying the sensual Mrs. Potter –a character whom we all learn to disdain, but also appreciate after seeing her one sumptuous dish after another- most notably, a lemon meringue pie. With 1960s period charm and lovely British accents, those who see Toast will be in for a real treat.
– Blair
Staff Pick: Gautlier at the Dallas Museum of Art
If the 661,509 visitors to "Alexander McQueen: Savage Beauty" at the Metropolitan Museum of Art made one thing clear, it was this: fashion caters to the aspirational fantasies of museum goers and, most importantly, sells tickets. Though it doesn't look like the McQueen exhibit will be touring anytime soon, The Dallas Museum of Art has taken a cue from the blockbuster exhibit, presenting "The Fashion World of Jean Paul Gaultier: From the Sidewalk to the Catwalk" which opened Sunday. Featuring sketches, film clips, photography and, of course, 130 looks off the runway and the backs of celebrities (Madonna's signature corsets are on display), the exhibit is the DMA's first with a focus on fashion.
Though I've visited the DMA countless times over the years, the gallery space at the Thursday night member preview was virtually unrecognizable, fitted with nooks displaying haute couture vignettes and painted with graffitied walls. The exhibit is divided into six themed rooms: "The Odyssey of Jean Paul Gaultier," "The Boudoir," "Skin Deep," "Punk Cancan," "Urban Jungle" and "Metropolis." Many mannequins wore animated projected faces which spoke to visitors as they passed through the various rooms, adding a chatter that recreated the minutes just before a fashion show. Gautlier has mastered the trompe-l'oeil effects of the French tradition and his fierce interpretations of classic looks have garnered him a fan base including Carla Bruni, Lady Gaga and, of course, Madonna, all of whom have lent pieces for the exhibit. Regardless of your views on horizontal stripes, the exhibit is worth a visit.
– Caroline