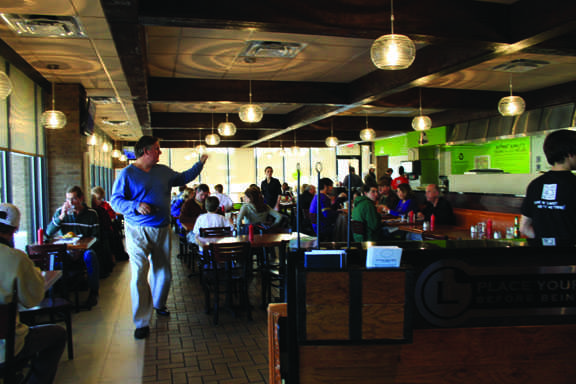 Liberty Burger
5211 Forest Lane
Liberty Burger, conveniently located at Forest and Inwood, promises "to serve a great burger, in an inviting environment, with friendly service" as well as the liberty to be adventurous with its 11 different specialty burgers.
Upon entering the restaurant, I was absorbed in the lime green décor and modern lighting that adorned the restaurant, giving it a young, hip vibe. As I waited for a table prior to taking my order (the restaurant gets pretty busy), I glanced at the menu mounted on the wall which provided me with images of each burger, side, and salad. Burgers range about from $6.50 to $9.50 and sides are around $3. It's a bit pricey, but well worth it.
I decided to try the Liberty Burger with a lean bison patty and the "Jackie O," Greek-style lamb patty with feta cheese, baby spinach, oven-roasted tomatoes and tzatziki sauce (in reference to former First Lady Jackie Kennedy Onassis's marriage to a Greek man). Both burgers were very flavorful and had the perfect balance of meat and toppings. Despite the lower fat content of the bison burger, the patty managed to be savory and juicy and the Jackie O served up authentic Greek flavor. On the side, I tried the skinny fries, sweet potato fries, and "big O"(onion rings) which perfectly complemented my burger; however, I had to ask the waitress for another batch of sides because my first batch arrived lukewarm. Fortunately, the warm and friendly wait staff and more than willing to give me a second batch. All of the sides were light and full of flavor, not greasy at all compared to run of the mill fries and onion rings. I managed to leave some room for dessert, a chocolate meringue pie fresh from the oven. The chocolate filling was still warm and the meringue added a lightness I was not stuffed, but satisfied.
While some might be hesitant to plop down more than $10 for a burger, side and drink, Liberty Burger gives you more bang for the buck. Everything is prepared using high quality ingredients, from the patties, to the produce, to the buns and its eco-friendly thanks to "tree-free" compostable packaging and re-usable bags for carry-outs. Our own special eco-perk: it's less than a mile from Hockaday, which means less gas—or to even consider walking.
– Blair
Higher Gossip
John Updike
Compiled after John Updike's death by editor Christopher Carduff, the posthumous volume "Higher Gossip" presents a miscellaneous assortment of his most eloquent, insightful and exquisite prose.
The collection opens with a nostalgic and intimate essay entitled "The Writer in Winter." In this self-portrait, Updike wistfully recollects his early works and reflects upon the various stages writers experience as they develop their craft.
At times, the collection feels random, scattered—embracing works of both fiction and nonfiction across a range of topics. Carduff includes numerous short stories, poems, essays, and criticisms. In particular, his masterful reviews of Toni Morrison, John Cleaver, and Ann Patchett, among others, resound from the pages.
This wide spectrum of genre and subject matter attests to Updike's deep love of writing. It demonstrates his strong belief that every thought, idea—no matter how consequential—merits recognition and printed preservation.
Some of the other pieces in this volume, especially his essays on golf, resonate with ideas discussed in his previous works. His essays on art criticism also tend to mirror those from his earlier books "Just Looking" and "Still Looking." Nonetheless, such pieces are highly engaging and have much to offer—each essay revisits these topics from a new angle and impresses the reader with a fresh perspective.
– Blair
Hugo
Martin Sorsase
A Parisian train station forms the backdrop for "Hugo," a film based on Brian Selznick's novel, "The Invention of Hugo Cabret." Hugo (voiced by Asa Butterfield), a young orphan, obtains an old automaton which he believes contains a secret message from his deceased father. After meeting a young girl (Isabelle, voiced by Chloe Moretz) who can help him unlock the secret, Hugo and his new friend embark on an adventure of learning, danger and excitement. Although most of the movie is set in the train station, Hugo's adventures have no limitations. Director Martin Scorcese, who also directed "Shutter Island," intertwined historical references and flashbacks throughout the movie that transported viewers between various scenes. A quaint Parisian apartment, a bleak World War I era Paris and colorful 1900s movie sets help transition the movie and allow for an escape from the monotony of the primary train station set. While the movie scenes were captivating, I found the acting a major highlight of this film. Butterfield and Moretz vividly capture the personas of children in their characters' situation and time period. Even though Butterfield has little prominence in Hollywood, his performance made me just as scared or happy as he was in each of his scenes. The icing on the cake, 3-D effects made each set more vivid and each character more exciting. For families looking for an adventure-filled get away without traveling this holiday, Hugo is a must-see.
– Ansley
The Muppets
Walt Disney Records
Laughter is rarely found in an album that is also acclaimed for its musical achievements; however, the soundtrack to the Muppets movie manages to do so. Co-written by one of the human stars, Jason Segel, the feel-good album dropped on Nov. 21 and features special appearances by Fiest, Joanna Newsom and Nathan Pacheco alongside Jason Segel (How I Met Your Mother) and Amy Adams (aka Isla Fisher). The cast captures corniness in a sweet way that helps remind audiences how great Kermit and the Gang can be. Full of upbeat, wide-eyed, innocent tracks like "Life's a Happy Song," "We Built This City" and the famous "Rainbow Connection," the album shows us why all ages love the Muppets.  Other highlights include Camilla and the Chickens clucking Cee Lo Green's "Forget You," and hilarious one-liners from "Me Party" (I'll save the last dance for me, I'm such good company!). The one drawback to purchasing it as a whole is that many clips of dialogue are also included in your purchase, something I could have lived without. But living in cynical times, the Muppets are a spunky and needed reminder of all there is to be happy about. They give us something to celebrate, all while giving you what they believe to be the third greatest gift, laughter.
– Molly