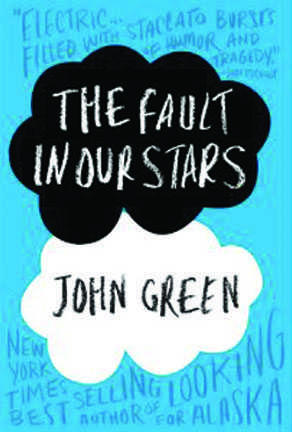 Book: The Fault in our Stars- John Green
Sometimes," says John Green's protagonist, Hazel Grace Lancaster, in "The Fault in Our Stars," "you read a book and it fills you with this weird evangelical zeal, and you become convinced that the shattered world will never be put back together unless and until all livings humans read the book." In his fifth novel, Green aspires to write such a book.
It is the story of two teens' struggle with cancer and the limited time they have together, the story of first love mingled with fast approaching death, the story of a drowning girl in a drowning city. It also happens to be hilarious.
Hazel has thyroid cancer which has spread to her lungs. She survives with the help of miracle drug Phalanxifor and her ever-present supply of drizzled oxygen. Augustus Waters' "gait [is] crooked like his smile"—he lost his right leg to osteosarcoma but when we meet him, he is in remission.
Their relationship progresses quickly because unlike in most young adult novels, the narrative tension stems not from how the couple comes together, but from how they will eventually be torn apart. Green does not use cancer as the platform for a heart-wrenching love story or the premise for well timed miracles.
When Augustus uses his wish from the Genie Foundation (a thinly veiled Make-A-Wish) to take Hazel, mother in tow, to Amsterdam in search of her favorite elusive author, Peter Van Houten, the trip is anything but a young couple's bucket list European adventure. Van Houten turns out to be a far worse person than author and the canals of the city and the exhibits at the Anne Frank Museum are pressing reminders of passing time and encroaching mortality. Love, like disease, exposes our vulnerabilities and so the characters are laid doubly bare in the pages of the novel.
Often, they confront this ever-present mortality with bravery beyond their years. But just as frequently, what the "New York Times" described as their "improbable wit" cannot cover the very real challenges and pains of life through the lens of a short life.
This is not a story about love or faith or friendship or family conquering all. It is a reminder that, as the title's Shakespearean origins suggests, "we are underlings." Please, please read it.
– Caroline
Food: Easy Slider- the Streets of DFW
The burgers at Easy Slider, Dallas' first gourmet slider truck, may be miniature, but "cute" is the last word to describe them. Don't be fooled by their size—with unique flavors and textures, these burgers pack a punch. Each slider holds a generous three-ounce portion of meat, a bargain at $3.50 a piece. The Texas-sourced beef gets an almost caramelized crust from the griddle, and the thickness of the patties prevents them from becoming overly chewy.
Based on Southern—particularly Texan—flavors, the creative menu changes weekly, rotating through its signature eccentric yet delicious toppings like peanut butter and bacon or goat cheese and strawberry jam. While the flavor and texture of the toppings shine in each burger, they enhance rather than overshadow the flavor of the meat, which remains the focus. My personal favorite is the Roadside, topped with melted, tangy cheddar cheese, smoky and sweet truck-made barbeque sauce, crisp fried onions, chewy bacon and slightly-charred jalapeños that add a lick of heat at the end of each bite. The menu's only flaw is its limited vegetarian options. When I visited, the Baby Bella—a juicy Portobello topped with bright pesto and refreshing mozzarella—was the only non-beef item.
I recommend hunting down the truck with a friend or two and ordering the "Slider Suicide," a sampler that includes every slider on the menu for about $22 without chips or drinks. If you have any room left, don't miss out on Rockstar Bakeshop's Whoopie Pies. The Banana Pancakes flavor, exclusive to the Easy Slider truck, has a nostalgically-artificial banana-ness reminiscent of your favorite boxed pudding.
The electric blue truck, usually parked around downtown and the Bishop Arts district, is open  seven days a week: lunch from 11 a.m. to 2 p.m., dinner from 5 p.m. to 8 p.m., and the occasional "late-night" from 11 p.m. to 2 a.m. Check their website, easyslidertruck.com, for that week's menu and precise location details.
– Christin
Movie: Big Miracle
Big Miracle" could have been just another cheesy animal movie with over-the-top efforts to move the audience.
Directed by Ken Kwapis—who has directed other hit movies such as "The Sisterhood of the Traveling Pants" and "He's Just Not That Into You"—this film defied preconceived notions and came out on top as both a poignant and touching film. Managing to be captivating, lighthearted and historically accurate all at once, this is a movie that will interest people of all ages.
The film focuses on the political climate of the 80s, during which Big Oil strived to move forward, drilling into reserves, while Greenpeace fought to hold them back for fear of endangering the environment and lives of animals. In the middle of all the political issues, though, were three whales trapped and surrounded by frozen Alaskan ice, needing a way to escape back into the ocean. "Big Miracle" depicts the way these three suffering whales brought together people of all backgrounds and all political standings.
The film includes actors such as John Krasinski, Drew Barrymore and Kristen Bell. Kransiski gives a stellar performance, stepping out of his normally comedic personality he plays on TV's "The Office" while Bell gives a decent performance as a snobby news anchor. Barrymore steps fully into her character, playing a convincing hippie who cares so strongly about the environment and the animals around her that she sometimes gets a little too emotionally invested in it, yelling at and insulting most of the people she confronts on political issues.
Though "Big Miracle" is lengthy at almost two hours, the film along with its diverse cast will not disappoint any viewers in need of a feel-good movie.
– Hunter
Music: Out of Frequency- Asteroids Galaxy
If you've ever wished you could live in an alternate reality, The Asteroids Galaxy Tour may just be the band for you. This Danish pop group seems to operate in some strange sphere where disco never died, psychedelic brass bands wail at every opportunity, and everyone is a groovy super spy in some extremely bizarre James Bond movie. The band's sophomore album, Out of Frequency, is teeming with the aforementioned brass, the reverb-laden wail of singer Mette Lindberg, and inexplicably catchy beats. Despite its retro leanings, the music also manages to incorporate hip-hop grit, techno synths, and that high-pitched Scandinavian indie quirkiness that's worked so well for artists like Bjork, Jonsi and the Do. And yet it is the band's fundamental funk, that driving soulful jazziness, that keeps the whole record from delving into some weird trip where chipmunks shoot rainbows from their eyes and try and sing like Adele. Lindberg's voice grates occasionally, but the brass, the beats, and the synths keep things irresistibly upbeat. The whole album grooves like a crazy dance party accompanied by Jefferson Airplane-meets-MGMT, crazy outfits included. And tracks like Cloak and Dagger, Mafia, and Heart Attack will keep you dancing all night long—but weirdly so.
– Lizzie
Staff Pick: Pinterest
While many may tumble, we were born to pin.
You don't need a brooding poet or starving artist act to pull off this website. And while instagram may be great for daily use and the occasional attempt to capture the essence of a sunset with the many filters the application offers, this is the big leagues and everyone has been there and done that.
Upon first encounter with pinterest.com, the user— bestowed with an official initiation from the website or another user—has access to the most beautiful fashion spreads, the most futuristic architectural designs and the artsiest pictures of random household decor you've ever laid your eyes on at the click of a mouse. This is Pinterest, and your journey to imagining your new life has just begun.
– Katie