Hockaday Community Service Board hosts first annual Chick-fil-A Day to benefit Jubilee Center
Athletes often make pit stops before practice to pick up some of the famous waffle fries, and seniors frequently take advantage of their off-campus privileges to lunch on chicken nuggets. It has even been rumored that the Inwood Chick-fil-A, with its Hockaday, St. Mark's and Jesuit patronage, is the highest grossing location in the country. Though it has been confirmed that this is not true, many students were not too surprised by this speculation.
"Everybody likes Chick-fil-A," said Community Service Board Co-President senior Olivia, who initiated and had been making preparations for Chick-fil-A Day since the past school year.
The event took place April 5 at Chick-fil-A's Inwood location, where students from Hockaday, St. Mark's, Cistercian, Jesuit and Ursuline were able to donate a portion of their receipt to The Jubilee Center, a community center in Fair Park where many Hockaday volunteers tutor and form relationships with the children and adults there on Saturday mornings.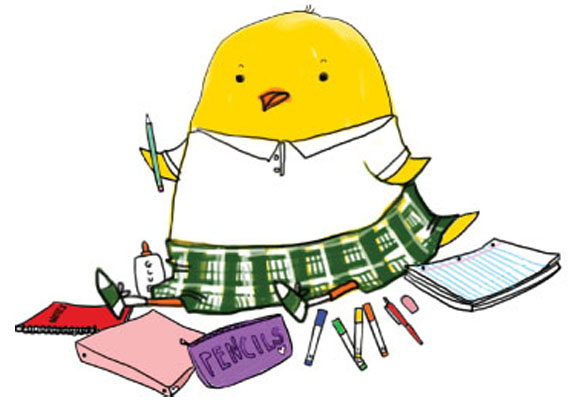 "It's really nice that the money is going to Jubilee, because we go to Jubilee every week, see all the kids, and know the place where the money is going," said sophomore Emily, who regularly volunteers at Jubilee.
Chick-fil-A Day, inspired by the annual St. Mark's McDonald's Week which benefits Austin Street Shelter, lasted a full day, starting at 6 a.m. and ending at 10 p.m.
"Hopefully the basic structure of McDonald's Week will help Chick-fil-a Day be successful and continue next year," St. Mark's Community Service Board Co-Chairman senior Richard said, who also served as the St. Mark's representative for Chick-fil-A Day.
In order to make the event as successful as possible and to form better relationships between the schools involved, all Upper School students from all single-sex schools in the area were welcome to participate in the fundraiser.
In addition, Hockaday underclassmen advisories were permitted to walk to Chick-fil-A together during the conference and lunch periods that day, which packed the restaurant with students placing their orders and donating to Jubilee.
The event included a raffle, open only to Hockaday and St. Mark's students. Raffle tickets were handed out to students who brought school supplies for Jubilee. The winner, junior Charlotte, split coupons for free Chick-fil-A food for a year with her friends.
"Technically it was a group effort. Grace, Taylor, Julie and I teamed up to donate a ton of school supplies all in my name," said Charlotte. "Bottom line: we really wanted to win."
Depending on the amount of revenue generated from the fundraiser, Chick-fil-A promised to give a still to be determined portion of the money from purchases made by participating students, as well as 100 free chicken sandwiches and one of Chick-fil-A's signature cow statues to Jubilee on an upcoming Saturday morning in April. Though Chick-fil-A Day had only two sponsors, Chick-fil-A itself and Eiseman Jewels, while the 2011 McDonald's Week garnered 17, Chick-fil-A offered to give 15 percent of their sales from the day, a higher percentage than McDonald's donation to Austin Street.
The event only lasted a single day rather than a full school week like McDonald's Week, but it required almost a year of advanced preparations. Olivia first had to receive approval from the school's administration to start planning the fundraiser and then met with Chick-fil-A's coordinator for school relations Cindy Threet to decide how to most effectively raise funds and finalize details. Lastly, she met with community service representatives from the four other participating schools.
A couple weeks before the scheduled event, the community service boards from the five different schools posted flyers, made announcements and sold T-shirts to further publicize and garner excitement. Freling, who assisted Olivia in designing the T-shirt, believes that "the advertising beforehand [was] the key to [Chick-fil-A Day's] success," and that it was important that the strongest effort be put in to bring as many possible St. Mark's students to Chick-fil-A that day to support.
Students anticipated the event, as Chick-fil-A Day was regarded as both a social and community service event with so many people invited to attend as well as the efforts made across the Dallas single-sex schools to raise as much money possible to donate to a center so special to many Hockaday volunteers.
"It's great that Hockaday has found a McDonald's Week equivalent," sophomore Anna said, "and that there are so many schools involved to open it up for more contributions."
Olivia looks forward to hearing of Chick-fil-A Day's progress in the coming years, such as it becoming an annual, weeklong event similar to McDonald's Week. She took care during her preparations for the benefit to enlist sophomores and juniors. "I want to make sure that underclassmen know how to reach out to other schools and talk to Chick-fil-A and administration so that it does get better and better," she said.
Though it has not been decided if future Chick-fil-A Days will always benefit Jubilee exclusively, Olivia hopes that is the case: "I first started going to Jubilee every week since I was a freshman, and it has always been my favorite project to do."
In any case, Hockadaisies' love for Chick-fil-A combined with an opportunity to help an organization close to the school is sure to make future Chick-fil-A Days successful.
– Amy
Video by Amy and Tiffany