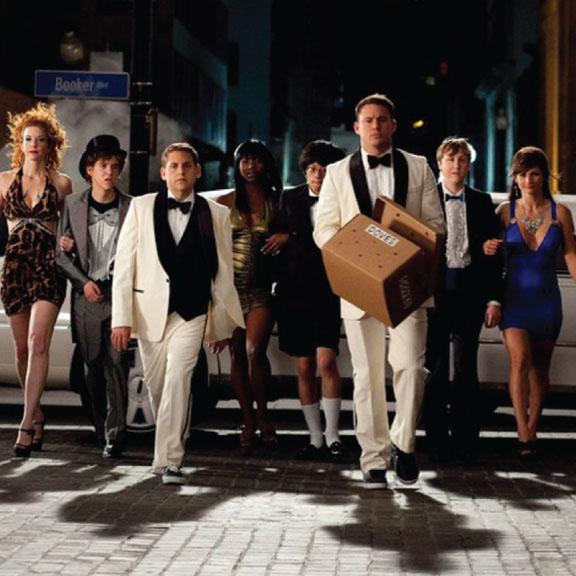 Movie: 21 Jump Street

Phil Lord and Chris Miller
Twenty-One Jump Street is a successful marriage between a heroic action movie and a comedy. In this slightly raunchy, humorous film based off the 1980's crime television series of the same name, two young cops, Jenko (Channing Tatum) and Schmidt (Jonah Hill), return to their high school as undercover cops to stop the spread of a new drug. But while Jenko expects to return to the all-star homecoming king status he enjoyed in high school, Tatum dreads reliving his years as a socially inept band geek. High school stereotypes are reversed as the earthy, enviro freaks, led by Eric (Dave Franco), are the popular kids while the academic probation-bound bullies are outcasts. Tatum and Hill have a tumultuous partnership as Hill becomes the cool kid while Tatum feels like an outsider. Tatum's suave-man demeanor and composure effectively masks this label, but while we may initially adore Hill's squishy-soft character as the more vulnerable cop, one may take slight disdain to the sense of pretension that arises once he can finally fit in. And despite the cops' ultimate goal of busting drugs in the possession of Eric (Franco), Franco's good looks and witty persona almost make us want to side with him and his drug-dealing posse. Be warned though, the excessive use of profanity and sexual references is not for the well-scrubbed. Ice Cube, who portrays the potty-mouthed, yet extremely comical Captain Dickson (head of the cops' division), successfully puts his own stamp on the role thanks to his signature menacing scowl.
For those of us who enjoy comedy and action films, 21 Jump Street may just be the movie to see. And for those of you who remember the original TV series starring Johnny Depp and Doug Renhall, you may just get a feeling of déjà-vu.
– Blair
Restaurant: Townhouse Kitchen + Bar
13720 Dallas Pkwy
When I first walked into Townhouse Kitchen + Bar, the first thing I saw after the huge sports bar was a family of four, parents with two 5th or 6th graders, happily clustered around a platter of what looked like cheesy flatbread. This probably sums up the restaurant's atmosphere and cuisine—casually American chic but family-friendly.
The décor is sleek and modern without being stuffy: floor-to-ceiling windows invite natural light and, combined with high ceilings, open up the room. Extensive bar space, long tables and groups of people clustered around platters indicate that, if you want an appetizer or dessert with friends, this is the place to go.
Though the menu is broad and extensive, tackling a variety of foods satisfactorily and with reasonable portion sizes, it is not unique—the typical classy American fare we've seen at Hillstone, Café R&D and the occasional country club (the taco section of the menu, however, is unexpected, with options such as kimchi duck and shrimp kung pao). Even so, Townhouse's offerings are all decent, with a particularly impressive health-food-in-disguise menu for the kids and a few standouts for the rest of us.
The appetizer pulled barbecue pork sliders are quite delicious—the meat comes on a buttery, slightly sweet roll with crunchy pickles and a side of thin onion rings, which are crispy but have too much oily batter for the proportion of onion. The grilled Atlantic salmon is flavorful and nicely paired with tender sautéed artichokes. The Chinese chicken salad and the chicken club sandwich are both tasty, but nothing extraordinary.
The restaurant's specialty dessert, bacon doughnuts, sounds oddly intriguing, but not particularly tempting, so I went for the chocolate and vanilla panna cotta instead. It was by far the best thing I enjoyed while at Townhouse Kitchen + Bar. The dessert, a type of custard, is two layers, one each of richly flavored chocolate and vanilla. It is decadent but not heavy, richly flavored but not overpowering and accompanied by a tangy, sweet balsamic sauce and strawberries tossed in basil, an unusual mix of ingredients that collaborate to make the whole dish original and absolutely fabulous.
The restaurant's convenient location at the Galleria, NE corner of LBJ and Dallas Parkway, makes it a good eatery in which to collapse and re-energize after a day at the mall, but not one that I would go out of my way to visit—except maybe for that panna cotta.
– Caroline
Port of Morrow
The Shins
Upon downloading the single, "Simple Song," in anticipation of the Shins' new album, Port of Morrow, I was—I admit—taken aback. The amps had been turned up a bit more, drums were beaten a tad harder; James Mercer's voice, however, remained the same. It seemed like they added some red chili flakes into their typical sweet rock—not a bad flavor palate, just different. So by the time they released the rest of the album on March 20th, I had become accustomed to the rejuvenated sound. The lyrics of "It's Only Life" and "The Rifle's Spiral" rival, and might even surpass, the older songs from the Shins: both are very fluid, telling stories instead of just saying rubbish to a beat. The album has not been consistently well received because it seems like a completely different group: if you listen to "Fall of '82" from Port of Morrow and "Girl Inform Me" from Oh, Inverted World from 2001, one could be forgiven for missing the connection. So, if you were offended by the Shins' new style, I suggest listening to it again, leaving your preconceptions about the band behind. If you can erase your prejudices about the much anticipated album, several tracks will soon be on your "Most Played" playlist on iTunes ("Simple Song" has already passed "New Slang" and "Phantom Limb" for me—which is seemingly impossible).
– Megan
Hot  Pink
Adam Levin
In Hot Pink, Adam Levin offers an artful take on the world's absurdities in short stories (and short stories within short stories, in one case) depicting moments in the lives of sharply crafted characters. In one, a doll maker struggles with his deteriorating family life; in another, a crack in a wall won't stop oozing gel. The oddness of Levin' chosen subjects makes for an interesting read, and the images that linger after each story are given depth and meaning by his skilled writing—in even his most outlandish tales, Levin manages to capture something essential about the way we live.
– Mollie