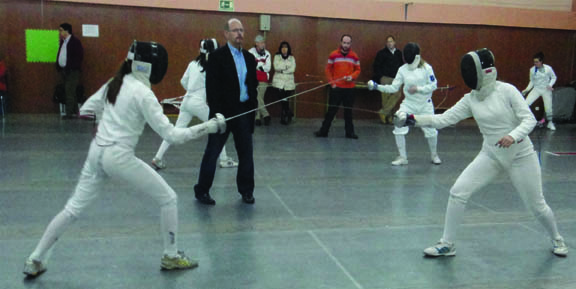 Former gymnast junior Alice qualifies for Spain's first National Women's Fencing Team
After an especially long, grueling weekday last Sept., junior Alice returned to her dorm room to relax and catch up with family and friends. Scrolling through her inbox, her eyes immediately fixed upon an email with the following subject line: "Read this!" So she did. And the email not only completely turned around her day, but it also brightened her future.
Alice, an exchange student from Spain spending her junior year at Hockaday, had qualified for Spain's first National Women's Fencing Team.
"I was both surprised and thrilled," Alice recalls. "It's an incredible honor."
No novice to athletic feats, Alice had enjoyed success and challenge before in competitive sports. She pursued gymnastics for many years, winning a number of titles; however, this goal was dashed when her coach informed her that her height would prevent her from achieving further national success.
"That year, after winning my last National tournament in gymnastics, I left the team."
Alice acknowledged that this reality was a tremendous setback, leaving her extremely disappointed. But not one to dwell on life's frustrations, she turned to fencing in 2008.
"I went to Beijing that summer to see the Olympic Games and met a Spanish man who had just won third place in the epee. So when I came back to Spain and I saw that they were opening a fencing club near my house, I signed up."
Alice quickly discovered that she really liked the sport, but still never imagined competing, much less qualifying for the National Team.
"I joined for two reasons," Alice recalled. "One, the man I met was so nice, so I decided that fencers must be really nice—which they are!—and two, I did not want to compete in sports anymore, so I thought this would be a sport I could just do for fun. Though the "not competing" part didn't work out really well."
The more Alice fenced, the greater her love for the sport grew—especially its strategic elements.
"I love the thinking part of fencing…studying the opponent, anticipating what they are going to do next…many people describe it as chess, and that's absolutely true."
In the fall, Alice participated in Hockaday's fencing program with St. Mark's. Looking back on the season, Alice said, "The most valuable part of my experience was getting to know all the fencers on the team. When I fenced in Spain, everyone fenced against me…we were all in constant tension. But here I could fence just for fun. We were really a team, and we were all there to help each other."
Alice's Hockaday teammates also enjoyed having her on the team.
"She's one of the hardest workers I've ever met," said senior Avery. "She's extremely dedicated, and she never gives up."
Senior Isabella added that Alice "just has so much raw athletic talent," and with her kind, cheerful nature, she provided "a great source of spirit for the entire team."
When Alice returns Spain next year, she plans to "try to recreate the friendly atmosphere of fencing at St. Mark's."
After fencing, Alice joined the swimming and currently runs distance on the track team. She highly values all that she has learned through team sports at Hockaday, and claims that they have been "one of the greatest parts of [her] year here."
Though Alice does not aspire to fence in the 2016 Olympics, she certainly plans to compete nationally next year and continue fencing throughout college.