I'll be honest: I'm not exactly an expert on rap music. And the Wiz Khalifa concert, part of his "2050 Tour" at Dr. Pepper arena on Nov. 19, while not the type of concert I would normally attend, was certainly, well, an experience.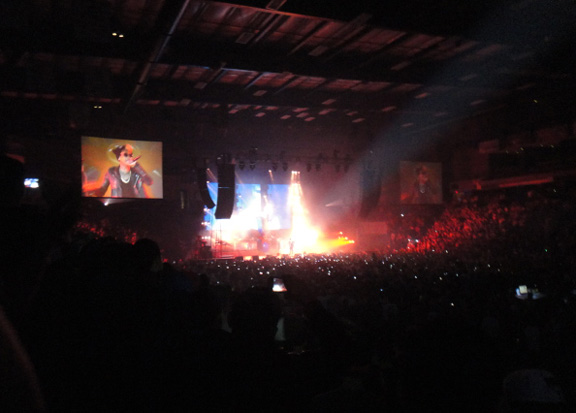 It took a solid 10 minutes for my friend and me to find a parking spot because the parking lot was so packed. Although we waited in a long line that wrapped around the building, employees swiftly ushered hordes of the 16- to 21-year-olds into the arena.
Everyone received an assigned seat on their ticket, but most had access to the floor at the base of the stage. Opening acts included Lola Monroe, Chevy Woods and Juicy J. Lola Monroe and Chevy Woods were OK, but Juicy J (best known for his song "Bandz a Make Her Dance"), rapping with more rhythm, was an improvement from Monroe and Woods's performances.
The arena smelled terrible. I was literally downing two plastic cups of water and stuffing my nose and mouth into the cup, which served as a makeshift oxygen mask. Therefore, my friend and I decided not to walk down into the floor to join the growing crowd of Wiz Khalifa fans.
If it sounds like I was not having a fun time, honestly, I wasn't.
But I have to hand it to Wiz Khalifa: he knows his audience. The fans were wild for the opening acts and for Wiz—many were bobbing their heads up and down to the rhythm, rapping the lyrics or dancing to the beat. The crowd was very energetic and excited to see Wiz in concert. When he finally walked onto the stage, the crowd went wild, and Wiz was quite good live. But with my cough worsening, my friend and I left early. At least we beat the traffic.
Overall, while the concert was well-organized, it just wasn't my scene. I'd rather listen to Wiz Khalifa on my iPod at home than pay to have a coughing fit.
If you like not being able to breathe, see Wiz Khalifa live. If you like blaring rap music, see Wiz Khalifa live. If you like crowds of wild teenagers and young adults, see Wiz Khalifa live. But for any unsuspecting, self-respecting Hockaday girls, I do not recommend seeing Wiz Khalifa live.
-Tiffany