Higgins to Grow Holocaust Museum's Infrastructure Base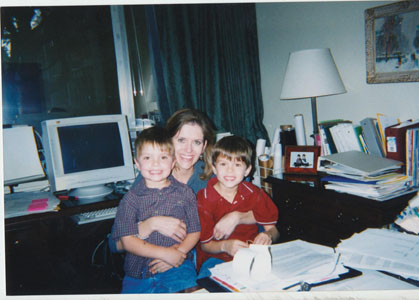 Though most students may not have daily contact with Chief Financial Officer Mary Pat Higgins in their classrooms or in the hallways, her presence has affected the lives of Hockaday girls for 22 years. 
 "We all owe more [to her] than we could possibly understand," Eugene McDermott Headmistress Kim Wargo said. 
Though she will leave in January to take the position as President and CEO for the Dallas Holocaust Museum/Center for Education and Tolerance (DHM/CET), Higgins has put Hockaday in a position of financial stability to continue into the next century. 
She spearheaded the growth of the Hockaday budget from $9 million in 1990 to $34 million at present, the growth of the endowment from $20 million to $128 million and $40 million in completed construction projects.
Before these accomplishments, however, Higgins' career at Hockaday had an auspicious start. 
Back in 1990, Higgins was a young certified public accountant working at Arthur Andersen, the accounting firm that had conducted Hockaday's audit.
When Higgins' predecessor resigned precipitously, Hockaday requested that the firm send someone in to stabilize the situation and keep the finances in order while Hockaday searched for a replacement. 
 Higgins, who would have travelled to Bismarck, N.D. in October of 1990 to conduct a coal mining audit, was detained in the office because of a blizzard. The firm sent her to Hockaday instead, and after a couple of weeks, '04-'11 Eugene McDermott Headmistress Liza Lee hired her as CFO. 
 "I did a search, but we didn't turn up anyone who was as special as Ms. Higgins," Lee said. 
Higgins possessed all the traits necessary for an effective CFO: financial expertise, the ability to work with people and the ability to juggle a lot of balls in the air at once, Lee said.
  "It was very brave for Ms. Lee to ask me to take the job," Higgins said in reference to her lack of experience at the time. 
But Higgins learned quickly and presided over the school's growth in size, facilities and endowment. Her compassionate heart combined with a clear vision of Hockaday's mission drove her to success, Lee said.  
With secure finances, two of Lee's initiatives were realized: greater financial aid and increased student diversity. 
Higgins also presided over the school financially through the economic downturn in 2008. 
"She led us very thoughtfully and responsibly and helped me establish some budgetary safeguards," '04-'11 Eugene McDermott Headmistress Jeanne P. Whitman said. 
In Higgins' opinion, however, one of her most important contributions to the school was the building of the Child Development Center . 
Higgins was attuned to the plight of the working mother because she was raising two sons, now ages 17 and 19, while working at Hockaday. She started the CDC after her children entered school. 
 "It didn't benefit her personally, but she had to foresight to see how it would dramatically impact our faculty," Controller JT Coats said. Coats, who has one daughter in Kindergarten and two other children enrolled in the CDC, will succeed Higgins as acting CFO.
Coats said that the CDC is instrumental to her ability to manage being a working mother and will allow her to take on the job of CFO. 
Higgins main legacy, however, is not about the buildings, Business Office Manager Jennifer Knott said. Rather, her legacy is the atmosphere she has created at the school. 
 "She embodies what Hockaday wants for our girls: having a career, being driven, but being compassionate, being involved in the community, having a solid family life and taking time for yourself," Knott said. 
Twenty-two years and three headmistresses later, Higgins will leave her post as CFO to take the helm at another worthy organization as President and CEO of the DHM/CET. 
Having been on the board at the museum for the past two years, Treasurer during 2012 and a member of the Executive Committee, Higgins has experience working for the museum. 
 "We have been so impressed by her leadership skills, her very sound judgment, the way she conducts herself, deals with people, her financial experience and the advice she has been giving us," Chairman of the Board of the DHM/CET Hylton Jonas said. 
 According to Jonas, these skills along with her reputation at Hockaday made Higgins the ideal candidate for the position. 
Though Higgins will be leaving her post at Hockaday in January, she will remain a consultant for the Centennial Campaign construction project.
  "I firmly believe that people are never done with Hockaday," Wargo said. 
The offer was so sudden and surprising, however, that Higgins could not pass up the opportunity. 
"I am very loyal," Higgins said. "It almost had to be slap-me-in-the-face to make me do it. It's like jumping off a high dive, which I happen to be afraid of. I've just taken that leap." 
 Amidst the whirlwind of new responsibilities, Higgins has the full support of her family.
"The upcoming challenges and adventures are going to be energizing for the family," her husband Lance Higgins said.
"I think the museum goals are very lofty, but I have very little doubt that she will be able to accomplish them." Lee, Whitman and Wargo agree that Higgins is taking the job at the museum for all the right reasons. 
 "She is so strongly moved by a sense of mission. She is a person who is so called by the significance of a cause," Whitman said. 
 The job opportunity was so compelling to Higgins because the museum has a mission in which she believes.
"It's in my blood to come to work every day to do something that makes a difference, and the museum definitely does that," Higgins said. 
Though she said her new job will be challenging, the museum needs her to help it grow. 
"It's hard to encounter places that don't run as smoothly and don't have all the financial wherewithal that Hockaday has," Lee said. 
Higgins will be tasked with the planning and execution of growing the museum's infrastructure base, the museum's capital campaign in 2013 and the construction of a new Holocaust museum in 2014, Jonas said. 
Higgins said she is passionate about educating the public about the horrors of the Holocaust and creating a community with greater tolerance.
"I think there's a good opportunity to broaden the scope and to address other acts of hatred and prejudice that happen every day," Higgins said. "If there's a way for me to impact the kids that visit the museum, to help them be kinder people, I will have done my job, and it will be worth all the hard work."
-Mary Clare