Fitness Trainer Marni Holben goes above-and-beyond doing whatever is needed in the athletics department
Up at the crack of dawn, Coach Marni Holben hurries to Hockaday to begin her busy day training clients and Hockaday athletes, working part-time at Cooper Aerobics Center, teaching Lower School P.E. and coaching various Middle and Upper School sports. By the time 6:30 rolls around, Holben heads home to finish designing conditioning plans and rest up for the next day when she will do this all over again.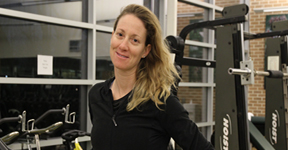 Holben's official title as fitness trainer does not do her justice. Her busy schedule, chock-full of commitments, many of which are not included in her job description, keeps her working from 6 a.m. to 6 p.m. every day and on weekends.
Holben, who has been a trainer for over 20 years, began her work at Hockaday in 2006. Her primary job at Hockaday is to train her clients: students, faculty, staff and parents; trying to get them back into shape or to overcome injuries.
"I have a solid background in the mechanics aspect, and I can adapt to injuries and such," Holben said. "My main job is in the fitness center, training people and teaching them about the benefits of being fit."
Gretchen Chrane, CALT, LDT Lower School Reading Specialist, trains personally with Holben.
"She's very flexible with her work-out hours," Chrane said. "Recently, [Holben] took a weekend trip and returned late on Monday afternoon dog tired, but she still showed up for our 2:30 session and gave me a great work-out."
But that is barely scratching the surface for Holben.
She coaches Hockaday sports teams, creates pre-season workout routines, lifeguards the Middle School swim classes and even drives sports teams to games.
She said it all started when coaches began to ask her to help with their pre-season workouts, and that took her to becoming an actual Hockaday sports coach for both Middle and Upper School, which she said differ greatly when it comes to sports teams.
"For Middle School, it is just introducing them to the sport, hoping they like it, and maybe even getting a little growth and success out of the girls," Holben said. "With Upper School it is a lot more competitive. You want to see them win."
Holben said that although she loves being a trainer, she has been coaching various sports teams for 10 years and loves doing it (and according to the other coaches, it couldn't be done without her).
Holben began participating in Middle School P.E. when Bobbie Barr, Chair of Health and Physical Education and swimming instructor, enlisted her help.
"We needed a lifeguard for the swim classes," Barr said. "So she got herself certified and filled the position. She's just so great to work with."
Holben has coached Middle School softball, Upper School volleyball and will coach Upper School crew in the spring.
However, Holben does not restrict herself to only Middle and Upper School—she even helps out Lower School P.E.
"I love teaching Lower School P.E.," Holben said. "I get to be around little kids and I introduce sports to them that they haven't ever played before."
And although Holben said she loves to help in any way that she can, the job doesn't come without sacrifices.
Not only is her schedule full during the week, her weekends are packed with extra jobs and work. In her free time, she is creating specialized work-out plans for her clients and designing conditioning programs for various Upper School sports team, currently varsity tennis.
"I don't sleep a lot," Holben said. "I drink a lot of coffee, and I try to stay fit because that helps me have more energy."
Amid all of different aspects of Hockaday's athletic program Holben takes part in, she said that her favorite part of the job is helping people understand fitness and find out what routines work for them.
"I would like to think that the knowledge that the students gain from me is something they can carry with them to college and beyond," Holben said.
And the best bit of advice Holben said she can give to students looking to get in shape is to stay consistent.
"You have to find what works for you and then do that on a regular basis," Holben said. "Take note of how well you feel and always remember that that's what it is really about: not only to look good, but to feel good and function better."
She believes that, if you always keep a goal in mind, it is 100 percent possible to achieve it. She added that her goal is to make an impression on whomever needs her help, whether that entails answering questions or formulating entire training programs. But to Holben, doing all of that for her colleagues, clients and students doesn't make her feel like she is going "above-and-beyond." She just likes to do it.
"I enjoy my job," Holben said. "And I just like to share what I know."
-Alexis