Restaurant: Hopdoddy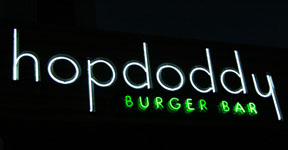 Hopdoddy Burger Bar
6030 Luther Ln Ste 100
In case you've missed the recent multitude of tweets expressing love for truffle fries, there's a new burger joint in town. Originally from Austin, Hopdoddy Burger Bar recently opened in Preston Center.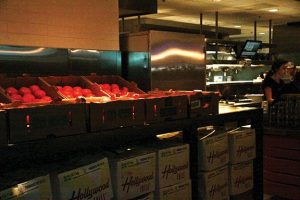 Even though I tested this restaurant at 7 p.m. on a Saturday, the wait was manageable. Similar to Liberty Burger, customers must wait for a table to open after they order and pay at the cash register.
The wait for a table was a bit annoying, especially since there was little standing room besides the bar area (which was understandably crowded since it was St. Patrick's Day). Once we ordered, however, the waiters immediately brought our shakes, making the wait for the burgers feel shorter.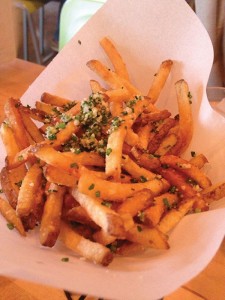 There was a multitude of staff members mulling around, who seemed to only be there to entertain those waiting for a table to open. Once you have a table, one server roams the area, happily chatting and quickly bringing anything you need.
I went with the Classic Burger, with cheese and avocado only. Though I asked for it medium rare and it was a bit overcooked, the overall burger was amazing. The patty was seasoned very well, adding the extra flavor I had missed in my last few burger outings.
My mom was a bit more adventurous than me and ordered the Llano Poblano burger, with pepper jack cheese, poblano chiles, bacon and chipotle mayo. It was full of intense flavor, and she praised how great the bacon was (the perfect amount of crisp, and trust me, we know our bacon).
All the burgers are about $7-$10, comparable to the more pricey various upper class burger joints.
Of course, I could not eat here without trying the Truffle Fries. And they did not disappoint. They are Hopdoddy's regular fries but with truffle oil and parmesan cheese, plus a side of truffle butter. I'm a huge fan of overly crispy fries, and these were some of the best yet.
I rounded out my meal with the plainest milkshake: vanilla bean. (It was the week before I went to the beach, after all.) The whipped cream was delicious, but the shake itself had nothing to offer. Granted, I did stick with simple vanilla, but it did not match previous milkshake experiences. I regret not trying a more flavorful one, such as the nutella & chocolate pretzel shake. Learn from my mistake and report back to me please.
Besides the shakes, Hopdoddy offered a wide range of drinks for those of us under the legal limit. (Side note: apparently they have a great selection of beer and speciality drinks, as well as $5 wine, which came as a great joy to my mother). Their soda fountain contains all the best Maine Root Fountain Sodas as well as a few fruit juices. And the ice was fantastic.
Hopdoddy prizes itself on its fresh, all-natural ingredients, which is posted all across the quirky restaurant. From the gigantic portrait of Willie Nelson to the wall covered in their beer offerings, you can definitely feel the Austin vibe in this place.
All of their ingredients are either made in the store or grown locally. If you're interested, a listing of all the farms and ranches providing ingredients for them is available on their website.
Overall, Hopdoddy lived up to the hype. The restaurant has a great young and lively atmosphere and offers great food for very reasonable prices.
-Megan