Best Tacos in Town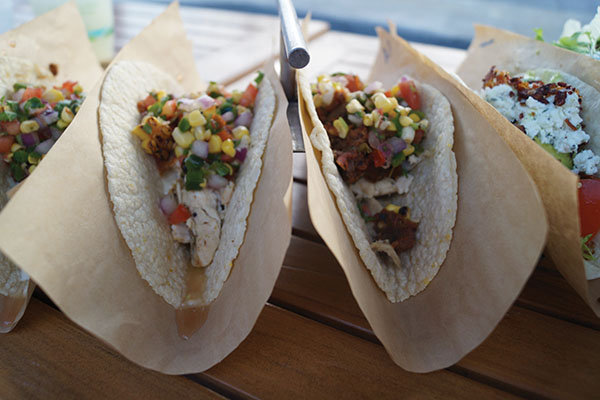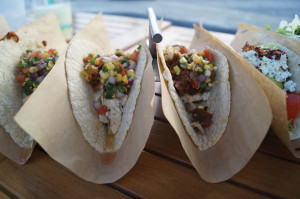 Velvet Taco
3201 N. Henderson
If you're craving a homemade, mouth-watering taco, Velvet Taco is a must-try. The taco joint on Lower Greenville, perched precariously on a peninsula fronting North Central Expressway, has tacos that are self-described as "fresh Mex with a twist."
The interior décor is garage-rustic and environmentally conscious. This hip taco joint, which opened in late 2011, recycles and even levies a 'green tax' of 10 percent on to-go orders. The restaurant, a former Church's Chicken location, has one room with an open kitchen. Seating is communal and limited, with two silver tables only feet from the register, and stools lining the windows. The outside hosts additional seating and includes a misting system to mitigate the Texas heat.
There is always a queue at the counter, but it moves quickly. While they wait, customers can read the life-size menus on the wall or choose from a dazzling variety of beverages including locally-crafted boutique sodas.
Corporate Chef John Franke is responsible for Velvet Taco's amazingly global menu, which offers six types of tacos: chicken, vegetarian, pork, beef, fish and egg. Each option is created with house-made, locally sourced ingredients that faithfully represent the cuisines of the U.S., Mexico, India, Greece and Thailand.
The food is worth the short wait.
I tried one of the most popular menu items: the Rotisserie Chicken taco. It was delectable. The white queso, roasted corn pico and smoky poblano melded with the succulent chicken inside the pillow-soft corn tortilla.
I also sampled my friend's Tikka Chicken taco. Its two crispy strips of chicken covered in spicy pepper sauce, cooled just enough by the cilantro-flecked basmati rice.
The Wild Mushroom Taco surprised me: the tortilla was replaced with a lettuce leaf. This single elliptical lettuce leaf cradled the fungi, creamy herbed goat cheese, tangy onion chutney and purple potatoes.
Velvet Taco's additional menu choices are slim, offering only two sides–rotisserie corn and roasted potatoes–and one dessert option, red velvet cake.
The corn is "elote-style." Elote, which means corn in Spanish, is boiled in the husk, then shucked. The kernels, once shaved from the cob, are then anointed with a range of condiments from chili powder to mayonnaise. Striving to create their version of this traditional Mexican street food, chefs dash some queso fresco, asadero, Valentina, crema and lime atop their perfectly cooked corn. The result is a delicious, albeit caloric, concoction.The potatoes are impeccably roasted and topped with an elegant balance of lemon, garlic, cream and fresh parsley.
And for dessert, the heavenly red velvet cake contributes to half of Velvet Taco's name. It is dense, moist, and homemade.
Despite the mouth-watering food, a word of advice: carpool. Parking is cramped and crowded.
Nevertheless, Velvet Taco delivers high-end dining at a low-price point. Whether you are looking for a quick bite or a taco feast, this restaurant won't disappoint.
$ Inexpensive
214.823.8358
Open Monday-Wednesday 11 a.m.-midnight Thurdsay 11 a.m.-3 a.m.
Friday 11 a.m.-4 a.m.
Saturday 9 a.m.-4 a.m.
Sunday 9 a.m.-midnight
Order online at velvettaco.com
-Vivian Armitage