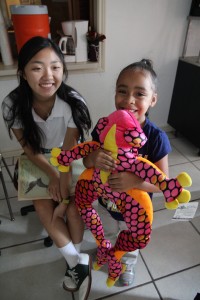 The Community Service Board is collecting new or gently-used coats for the Coat Drive which will be donated to local organizations.
Coats will donated to Austin Street Shelter in Dallas, an organization which provides food, clothes and shelter for people requiring medical assistance, adult rehabilitation or substance abuse treatment. They will also be donated to Gooch and Sudie Williams Elementary Schools, Family Gateway, TR Hoover Child Care Center, which provide educational programs for adults and their children.
Throughout the school year, Hockaday does community service projects including tutoring and Austin Street Bingo and has a close relationship with these organizations.
As the weather gets cooler, many Dallas area kids walk to school or wait outdoors for the bus. It is crucial for them to keep warm in order to avoid getting sick.
"The need for coats in these schools is huge," according to Laura Day, Director of Community Service at Hockaday. "Children have to stay inside for recess because they do not have a coat."
According to Lucy Wilson, Head of the Community Service Board, these coats assist families and allow them to use the extra money they have to provide food and other necessities for themselves. "It gives families that little push they need to get back on their feet," Wilson said.
The coat drive runs through Oct. 18. Boxes to collect coats are placed outside the Upper School office.
– Noor Adatia