JETS Advance to State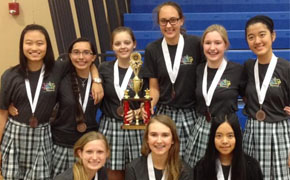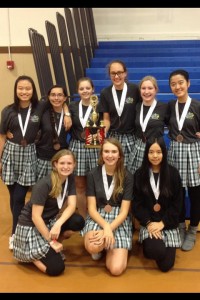 This past Saturday, the Hockaday Junior Engineering Technical Society (JETS) competed in the regional Dallas BEST, a robotics competition. The team worked for six weeks on their robot, staying after numerous hours to construct the robot, write their engineering notebook, and build their booth.
In the preliminary round, Hockaday finished fourth, with a score of 1174, beating sixth place St. Mark's for that round. In the semifinals the JETS finished with a respectable fifth.  Seniors Shelby Anderson, Eliza Cope and Elizabeth Krenek drove the robot, along with Sophomores Cristina Chavez, Kate Clement and Gillian Meyer.
They won Best Notebook and Best T-Shirt. If you would like one of the shirts, contact Kate Clement, [email protected].
With the combined scores on their notebook, booth, interview and performance in the competition, the JETS took home third in BEST, the overall award, qualifying them to compete at the state competition on Nov. 9.