Striving Towards Spirit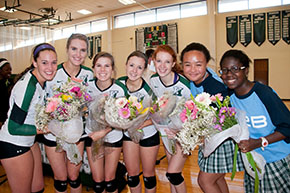 The Athletic Board works to encourage involvement with spirit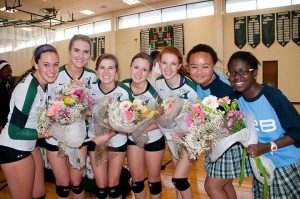 The Athletic board is aiming to bring in more student and faculty support to the fields and courts for the centennial school year. Although improvements were noticed at the end of last year, the board wants to incorporate even more spirit by building excitement among students who are not playing sports as well as those who are.
"Spirit is important because when you are part of a community you need to have some kind of common thing to be excited about," senior Evie Peña, Athletic Board President, said.
Like last year, there will be designated games in each sports season that will have door prizes. Celebrations for the centennial are also set up to raise enthusiasm. Teams will be playing in The Centennial Games, and the board is bringing in food trucks and prizes for some of these special events.
"I think it will be successful in encouraging more people to come out and support our games," senior Emily Marucci said in the incentives that the board is giving.
Not only is the purpose to benefit Hockaday sports teams, but to also to get everyone excited about Hockaday as a school as well.
"We are going to try to incorporate the entire school into spirit" Peña said. This includes Lower School, Middle School and parents.
Hockaday is also hosting a powder puff football game on Nov. 15. All Upper School students will have a chance to sign up to play in the flag football games, coached by the St. Mark's football players, to raise excitement among the grades. Those not participating can attend and cheer on classmates.
For those looking to raise even more spirit, there is a Yell Squad.
"The goal [of the Yell squad] is to have a group that will go to athletic functions and cheer on the Hockadaisies," Karen Sanchez, faculty sponsor of the Yell Squad, said.
To join, contact Jessica Savage, the President of the club.
By providing these different opportunities to showcase support around school, the Athletic Board said they hope the school becomes unified.
– Megan Philips