Food for the Gods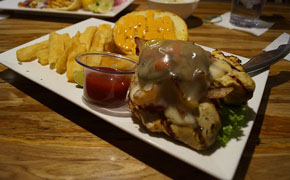 Nazca Kitchen
8041 Walnut
Hill Lane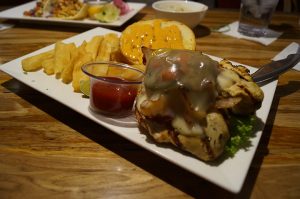 We know what God did those first six days. Yet, on the seventh day, I be­lieve he might've gone to Nazca Kitchen. "Food for the Gods," or so they advertise at this South Ameri­can-inspired café.
Last December, Nazca Kitchen opened in a rather unassuming strip mall off Walnut Hill Lane and N. Cen­tral Expressway. The owner, Craig Col­lins, is a partner of the Red Hot & Blue Southern-style BBQ restaurant chain.
The redbrick front of Nazca Kitchen led to its frosted, double glass doors. Nazca's wait staff, dressed in the classic black pant and shirt, stood eager at the entrance, and we were seated upon arrival. It was well-lit and warm inside. Small wooden tables sat evenly-spaced across the marble floor, and larger dark red booths lined the opposite wall. A large potted palm tree rested in the middle of the res­taurant, and abstract paintings and photographs of South America hung on its simple, white walls. Nazca was a calm quiet compared to outside.
Our waiter arrived—glasses of water in hand—after we were seated. For an appetizer, we ordered the Aji Amarillo Hummus. It was brought out in a matter of minutes on a small platter of homemade pita chips and garden-fresh carrot and celery sticks. I was hesitant at first of the Aji Ama­rillo sauce's striking yellow color, but I quickly discovered that its piquant fla­vor went well with the cool hummus.
We then perused the menu which offers three sections for entrées: Lite, Features, and Hand-Helds.
The Lite menu offers salads, such as the Quinoa Salad, and its well-known Acai Bowl—a small dish of pu­réed Amazon acai berries topped with granola, bananas and a maraculla-drizzle.The Features and Hand-Helds menus offer burgers, sandwiches, steaks and fish; the most popular of these is the Andes Burger, which the menu described as "premium Kobe beef with avocado mash, rocoto pep­per and cheese served on an Amazon crunch bun."
After much consideration, I or­dered the flame-grilled butterfly chicken breast which, its skin slightly charred, arrived on a warm, white plate beside a small bowl of red pep­per and black olive quinoa. The light vinegar glaze had soaked into the chicken, and it (pardon the cliché) cut like butter. The salted white meat hinted of garnish and wood-smoke. I had a bite of my brother's medium-rare Entraña steak, served on a bed of chopped spinach and onions. Both the chicken and steak were tender and thick with flavorful juices.
Somehow, I had room for des­sert. Our waiter brought
out a chilled platter of desserts rang­ing from rum-bread pudding to chocolate ganache. I chose the rasp­berry passion fruit mousse—a three tiered block of brownie, raspberries and passion fruit mousse—in a dark chocolate drizzle and bits of dried strawberries. The mousse tasted al­most light-as-air; it wasn't too sweet or too tart. It was the perfect size af­ter such a generous dinner.
Nazca Kitchen is a dining experi­ence all should have. Nazca might be a little overpriced, but it doesn't hurt to indulge on a meal that is deserving of the "Gods."
Open for breakfast, lunch and dinner.
Sunday-Thursday 6:30 a.m.-9 p.m.
Friday-Saturday 6:30 a.m.-10 p.m.
$$ Moderately Priced
Reservations Available
– Faith Isbell