Must Be True Love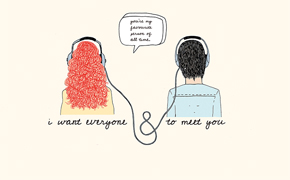 Eleanor and Park
Rainbow Rowell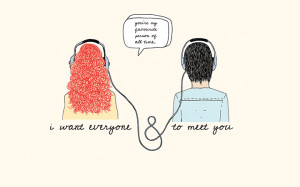 When I started this book, I thought it was one of those classic high school romance stories seen too often, featuring a weak, anti-climac­tic plot: a girl falls in love with a boy, but their relationship ends inevitably due to their naivety. I was proven wrong.
In this author's debut novel, I had a hard time catching my breath. Rowell moves the plot along effortlessly sprinkled with just enough cuteness ex­pected from a love story and storyline to draw in the reader. Set over the course of a 1986 school year, the novel effectively tackles the meaning of true love (despite what little I know about that) and how fragile it can be.
This book definitely drew me in right from the begin­ning. Rowell starts slow, cast­ing the characters in their own separate plots, shifting back and forth every so often be­tween the perspectives of the story's lovers, merging their relationship gradually. Row­ell throws in some dramatic twists to liven up the plot. By the end, the story was so fast-paced and suspenseful that the beginning of the book seemed so long ago.
The relationship that de­velops from the two main characters is so unwonted that it more deeply depicted the meaning of true love. From their quick glances at each oth­er on the bus to the exchange of comic books and mix tapes, Eleanor and Park, such oppo­sites in their personalities, are meant to be.
Eleanor, an awkward, clumsy red-head, is introduced as the new girl with a compli­cated family background. She returns home after her abu­sive, alcoholic and ill-tempered step-dad bans her from the house for a year due to a minor dispute. Shaky and nervous, she goes onto the school bus, where she finds Park as her bus partner.
Park, a half-Korean boy with a passion for comic books and good music, thinks that he is a disappointment to his dad. His dad struggles to accept a son who prefers comic books and music to sports and driving. His younger brother, Josh, is taller and bigger than he is, and the two constantly argue. Over the novel, Park exchanged X-men and Watchmen comic books with her as well as his collec­tion of tapes. They end up talk­ing over these books and slowly their relationship evolves.
In this novel, society around them, as well as Eleanor's family situation, serve as obstacles to their relationship. These obstacles are skillfully woven throughout the book and esca­late quickly by the end.
I admired Rowell's writing style. Her succinct and precise use of words contributed to the beauty and simplicity of this book. Her writing style was also somewhat humorous and funny.
This style allows Rowell to discuss themes like sibling rivalry, friendship and the struggle of broken families, as well as first love's innocence.
And upon close exami­nation, I noticed that Rowell ironically but meaningfully al­ludes to several books including Shakespeare's "Romeo and Ju­liet" and J.D. Salinger's "Catcher in the Rye," adding significance to the novel. By comparing this love story to that of the dramatic "Romeo and Juliet" and "Catcher in the Rye," Rowell captures the power from these stories and reflects it into her own book.
All in all, this book moved me in so many ways and was so inspiring that I breezed through the book in just two days. Even though it was a clas­sic high school love story, Row­ell presents it in such a way I forgot all my previous pre­sumptions about the book and truly enjoyed it. A definite rec­ommendation for teenage girls with opposite love interests.